CHARLOTTE – Linebacker Shaq Thompson is Carolina's 2020 Walter Payton NFL Man of the Year nominee, presented by Nationwide. The annual league-wide award recognizes outstanding community service as well as excellence on the field.
Thompson has emerged as a team leader in his sixth season and has carried that leadership role into serving Charlotte, N.C., and Sacramento, Calif. — communities that are important to him. Naturally reserved, Thompson made his voice heard in 2020 while the nation struggled with a life-changing pandemic and social justice upheaval.
"I'm doing it from my heart," Thompson said. "If you know me, you know I don't like a lot of lights on me. I want to step up as a leader — let my voice be heard and my face be shown."
Early in the spring, Thompson quickly responded to help those on the front lines of the COVID-19 response by donating 2,000 meals to hospital workers. That effort was matched for families in unstable housing situations, as Thompson provided dinners twice a week for displaced, low-income families struggling with temporary living conditions in motels.
"I live here, I love it here," Thompson said. "I care about this community. I care about people. I want them to see that and know that."
Thompson also stepped forward during the social unrest that gripped the country in the wake of high-profile police shootings of Black Americans. He led a player contingent that met with Charlotte-Mecklenburg Police Chief Kerr Putney to discuss bridge-building between the police and community while having difficult conversations about police accountability. He also organized and led a number of players in peaceful community protests to bring further attention to efforts for creating dialogue and response.
This fall, Thompson and teammate Christian McCaffrey partnered to address opportunity access challenges for at-risk youth with the "22 and 54 Together" program, providing $50,000 to cover Police Activities League (PAL) and Boys & Girls Club program fees for low-income youth.
Thompson also continued his ongoing support of youth football with $25,000 in new equipment and uniforms for his high school alma mater, Grant Union High School in Sacramento.
In an effort close to his heart, he established the Thompson Legacy Fund as a way to memorialize and build upon the impact that his late mother, Patty Thompson, did for her community and family. The foundation services low-income students in the Sacramento and Charlotte communities by focusing on mentorship, character development, and dental hygiene, building tomorrow's leaders with the confidence and situational awareness to be successful in any field.
A six-year starter, Thompson was selected by his teammates as a team captain for the 2020 season and serves as the Panthers' NFLPA representative. Currently, Thompson leads the team with 87 tackles and is on pace for his second consecutive season with over 100 tackles. He would become just the fifth Panthers player with back-to-back 100 tackle seasons.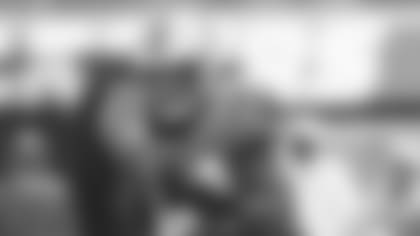 For the third year in a row, all 32 team winners will be highlighted as nominees and recognized for their important work during the week leading up to Super Bowl LV. The 2020 Walter Payton NFL Man of the Year will be announced during NFL Honors, a primetime awards special to air nationally the week of Super Bowl LV on CBS.
All 32 nominees will receive a $40,000 donation in their name to their charity of choice. The winner of the Walter Payton NFL Man of the Year award will receive a $250,000 donation to the charity of their choice. All donations are courtesy of the NFL Foundation and Nationwide.
Fans are encouraged to participate in Nationwide's 6th annual Charity Challenge, a social media campaign designed to support and promote team nominees. Fans can vote on Twitter by using #WPMOYChallenge followed by their favorite nominee's last name. The player whose unique hashtag is used the most between Dec. 10 and Jan. 17 will receive a $25,000 contribution to their charity of choice, while the second and third place finishers will receive $10,000 and $5,000 donations, all courtesy of Nationwide. Hashtag information and official rules can be found at nfl.com/manoftheyear.
New this year, fans can win NFL Shop gift cards and additional money for their favorite nominee's charity. Each Monday during the #WPMOYChallenge, Nationwide will ask fans to respond on Twitter with their favorite nominee and one randomly selected fan each week will win a $100 NFL Shop gift card and $2,500 for their favorite nominee's charity.