CHARLOTTE — Panthers linebacker Shaq Thompson is a dad, so he knows a little bit about working children through anxieties such as going to the dentist for the first time.
But since the first time he went was in college, his own anxiety created a different perspective.
That's why Thompson worked with TeamSmile for an event Thursday for students at Martin Luther King Middle School and Hidden Valley Elementary, at which more than 200 young students got free cleanings and work done, including one young girl who needed to get a tooth extracted.
Thompson sat by her side as the procedure was performed, holding her hand, and eventually pulling up a video on his phone to distract her from the process she wasn't familiar with.
It was a familiar feeling for him.
"She was scared of the needles and the water and the vacuum and the noises," Thompson said. "I was like, 'I understand.'
"I wanted her to know somebody cares and somebody's there for her."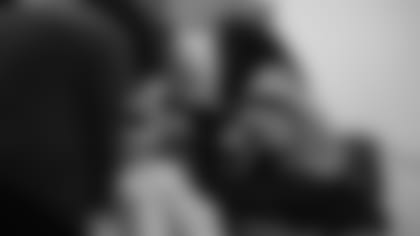 Thompson never sat in a dentist's chair himself until he was in his late teens, when he was required to get checked out so he could get a mouthpiece fitted to play football at the University of Washington.
As he grew up in Sacramento, Calif., there was no dental insurance, so regular cleanings were a luxury that his family couldn't afford. He was fortunate that he didn't have any painful issues along the way. He was also shocked that when he got to the NFL and was able to obtain insurance of his own and make his own appointment, that he didn't have significant problems.
"I was surprised when they were like, 'Your teeth still look good,'" Thompson said. "The only thing I did was brush them, never got them cleaned or flossed or anything like that, so I was surprised when they said that."
But beyond the hygiene, Thompson said he struggled with confidence because of his teeth. He mentioned a "crooked" tooth on his upper left that caused him to keep a stiff upper lip in photographs as a kid, so as not to expose something he was admittedly "self-conscious" about.
"I didn't have much confidence in myself smiling because of that tooth," he said. "Everybody said I had a great smile, but I didn't believe it because I had that crooked tooth that I wasn't happy with.
"Nowadays, kids get bullied for things like that. Back then, for me, it was a self-confidence thing. I wasn't prideful in myself, and it's something I wish I was, a little more."
Panthers linebacker Jermaine Carter Jr., who joined his teammate at the event Thursday, said he couldn't imagine a world where Thompson lacked confidence.
One of the bright spots on their defense this season, Thompson exudes a certain charisma now, but that apparently wasn't always the case.
"I can't imagine that," Carter said with a shake of the head. "He's always a person that brings confidence to the team, on the field and off the field. Just to see him pull this off, he's been talking about this for a while, so it's a special feeling.
"These kids, they deserve it. He didn't have this growing up, so for them to be able to experience this is, that's huge for them and for him."
As Thompson worked through the crowd of kids, he'd stoop down to talk to them at their own level. He also made sure he got their attention to ask how many times a day they should brush, and when the little hands shot up with two fingers, they got high-fives (and bags of supplies).
You could tell by the way Thompson talked about the process, that it was a meaningful one for him.
"I was one of these kids that wasn't able to go to the dentist, or didn't have dental care," he said. "For me to be able to help them get their teeth cleaned, it's just showing me that I can help at the position I'm in.
"What I had to go through, if I can help some of these kids not have to go through that, and show them somebody cares for them, and somebody's looking out for them always. And let these kids have confidence in themselves, and that comes from your smile."
Behind his mask, there was a big smile of his own as he said it. You could tell. And you could tell it mattered to him.