--The Falcons lead the all-time series, 28-18, including a 17-6 edge in Atlanta. The Panthers are 6-5 against the Falcons in the last 11 meetings but will be looking for their first win in Atlanta since 2014.
--Sunday (September 16) marks the earliest meeting since the Panthers and Falcons opened the 2006 season against each other on September 10. In 2009, they faced off in Week 2, but that was on September 20.
--The Panthers could start 2-0 for the eighth time in franchise history and for the fourth time in the last five seasons. Carolina has gone to the playoffs in all but one season (2002) when it started 2-0.
--Panthers defensive coordinator Eric Washington was a training camp coaching intern with Atlanta in 2004, assisting with the linebackers. Falcons defensive coordinator Marquand Manuel played for the Panthers in 2007.
--Panthers defensive tackle Dontari Poe played for the Falcons in 2017. Panthers punter Michael Palardy spent time on Atlanta's practice squad during 2016 training camp.
--Panthers quarterback Cam Newton is a native of College Park, Ga. and attended Westlake High School. In 14 career games against the Falcons, Newton has tallied 18 passing touchdowns and seven rushing touchdowns with a passer rating of 76.7.
--Panthers fullback Alex Armah played collegiately at West Georgia and is from Dacula, Ga. Defensive tackle Kyle Love is from College Park, Ga.
--Falcons safety Justin Bethel is from Blythewood, S.C. and went to Presbyterian College. Falcons wide receiver Justin Hardy is from Vanceboro, N.C. and played collegiately at East Carolina. Falcons defensive linemen Grady Jarrett and Vic Beasley, Jr. played at Clemson University.
-- Carolina extended its league-best streak of 21 games without allowing a 100-yard rusher, holding Dallas running back Ezekiel Elliott to 69 rushing yards on 15 carries. The game marked the third-lowest rushing output for Elliott in his career which includes 26 games over the last three seasons. The Panthers allowed just 94 total rushing yards to Dallas as a team. Carolina has held opponents to 100 or fewer rush yards in 12 of its last 17 regular season games.
-- Carolina has won six straight home games. That streak is tied with the Vikings and Patriots for the longest active home win streak in the NFL.
-- The Panthers ranked third in the NFL in sacks in 2017 with 50 sacks. That trend continued as the Panthers sacked quarterback Dak Prescott six times. It tied for the most sacks in a game for Carolina since Week 8 of 2016 against Arizona (8). Through Week 1, Carolina is tied for second in the NFL in sacks. Kawann Short (2), Mario Addison (1.5), Wes Horton (1.5) and Shaq Thompson (1) all contributed to the sack attack.
-- The Panthers rushed for 147 yards in the opener, the 91st 100-yard rushing game under head coach Ron Rivera. Carolina is 39-13 when rushing for over 100 yards and holding an opponent under 100 yards in the Rivera era. Carolina was led by a team-high 58 rushing yards from quarterback Cam Newton. It marked Newton's most rushing yards in a season opener in his career.
-- Carolina held Dallas to just eight points in the season opener, marking the second-straight season the Panthers have held an opponent to single digits in Week 1. Since the start of the 2013 season, the Panthers defense has held opponents to single digits 11 times, a mark that ranks sixth in the NFL over that time span.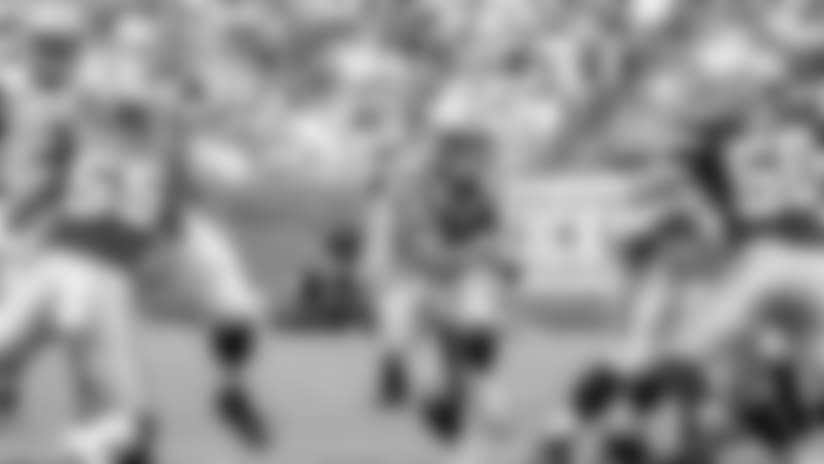 -- A point of emphasis under offensive coordinator Norv Turner is for Newton to get the ball out quicker to his receivers. Newton's average intended air yards after Week 1 was 5.7 yards with a completion percentage of 65.4. In 2017, his average intended air yards were 8.2 with a completion percentage of 59.1. In 2016, the average was 11.0 with a completion percentage of 52.9.
-- McCaffrey's running efficiency (a metric tracking yards gained against total yards traveled, wherein a low number begets more "north-south" running) in 2018 is 3.19, ranking fourth in the league. Last year, it was 4.63 which ranked 42nd.
-- Thompson's sack on Dak Prescott took only 2.2 seconds, the second-fastest sack in Week 1. Whereas Short's average distance to the quarterback at time of throw was a team-best 3.7 yards (league average 4.49 yards in Week 1).