New Panthers linebacker coach Steve Russ presumably landed one of the easiest jobs of any first-year NFL coach.
He was hired this spring by new defensive coordinator, Eric Washington, out of the Air Force Academy where he was the assistant head coach and defensive coordinator.
Russ coached in college football for 17 years after a four-year playing career with the Denver Broncos. His first NFL coaching opportunity is with a linebacking corps that includes one of the top all-time tacklers in the game today, one of the most exciting, up-and-coming young linebackers in the league, and the NFL's unequivocal, statistically superior top linebacker of the last seven years.
"It's an incredible blessing," Russ said. "A tremendous honor and privilege. But it's also a huge responsibility. Those guys are the best and they demand the best. I need to make sure that's where my level of teaching and coaching is at the best because that's what they need. That's what they demand."
There's a motto in the Panthers' linebacker meeting room: "the standard is the standard." Since 2012, the year Luke Kuechly was drafted, the Panthers lead the NFL in interceptions by linebackers (28). Kuechly was selected to the last five Pro Bowls, while Thomas Davis has been to the last three Pro Bowls. Shaq Thompson was fourth on the team in tackles last season and is in line for even more snaps in 2018.
Russ knows that more important than all of the accolades is the collective attitude, understanding and work ethic that the group continues to embody.
Most fans just see it on Sundays. However, visitors to training camp this year saw it on the sideline at the beginning of every practice. After a stretching period finished, the linebackers rushed to their designated area and started a mosh pit.
"That's been a tradition for a long time," Russ said. "In fact, every now and then I forget, and man let me tell you what, that's not a good thing. It's just to make sure everybody's ready to go. It's to make sure our energy level is high, and we're ready to start practice the right way. That's something that they've always done, I certainly didn't bring that here, but I love it. I wish I would've thought of it."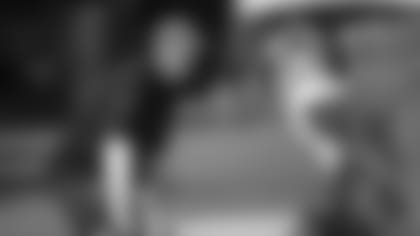 And Russ isn't afraid to jump in himself.
"I definitely get in that," Russ said. "They give it up on that practice field and that's the standard. We want them to have great energy, to hold it. We can't have that, in my opinion, if I don't at least try to go out there and at least do my part. There's no way I can match their level of ability any more, that ship has sailed many years ago. But I can still try to bring my own energy."
The NFL veteran and graduate of the Air Force Academy sells himself short. If there's one impression that the Panthers new linebacker coach has made in six months, it's one of high volume and high energy.
Russ' voice can always be heard over the din of practice, and his involvement isn't lost on the players.
"He's got great energy I think is the first thing, and I think he works his butt off," Kuechly said. "With our group of guys, we've got a lot of guys that like working hard, and the energy that he brings, especially during training camp when things get long and guys start getting tired and bored, to have a guy in our room that can bring that energy every day is big. I think he understands what it is like to play the game."
It's been a learning experience all across the board for the defensive coaches. Washington enters his first year as coordinator with a linebackers coach in Russ and defensive line coach in Brady Hoke who are entering the NFL for the first time. In the first preseason game at Buffalo, they were all just trying to get on same headphone channel.
And yet, the Panthers' defensive philosophy and system comes set and ready-made. This offseason, it was just about refining it.
"The system, the scheme, what we do serves our system of how we do things," Russ said. "And Coach Washington's done a wonderful job of captaining the ship for us, coaches, players, the whole defense. He and I cut our teeth together way, way, back at Ohio University getting into the coaching profession and you knew he was going to be a special guy back then. He just has those 'it' qualities. I really, really love working with beside him."
While the linebacker room already had a slogan before Russ came in, he still wanted to add his own for the year. It comes in the form of T-shirts that he's given to each guy. On the front is a singular word: Currahee.
It's the name of an episode in the HBO series Band of Brothers. A mountain in Georgia. A place where the 82nd Airborne trained prior to D-Day in World War II. For a veteran of the U.S. military, it means something.
"In Cherokee Indian terms, Currahee means 'we stand alone' and the together is implied, but 'we stand alone' is just something that I've always thought resonated in football," Russ said. "But I also think it resonates more so even in the pro football arena because there's so much focus on these guys, as it should be. Even though there's all the hoopla and all the fans and everything, at the end of the day 'we stand alone.' There's eleven guys out there and there's a bunch of guys that have their back on the sideline and it's trying to foster a group mentality where you think more of others than you do yourself. I truly believe that you're going to play hard, you're going to prepare better, you're going to weather storms better if you're out there doing it for something more than yourself."
Russ knows that the spotlight is squarely on his group. He loves it. He embraces it. He knows that he has a group made up of skilled and mentally equipped leaders. But that they all have to embrace their challenge. Their task.
On the back of the shirt, there are four words: dares, sweats, plans…wins. It comes from the British Special Air Service.
Who dares, wins. Who sweats, wins. Who plans, wins.
"Really in those words, it sums up what we do," Russ said. "You gotta plan, you gotta sweat, you gotta dare, you gotta start by daring, you gotta start by planning, you gotta start by sweating, and then get some wins."