Each of the five players the Panthers selected in the 2015 NFL Draft appears capable of helping a position group that dealt with some depth issues last season.
But in the NFL, where the current 90-man roster will be cut down to 53 for the regular season opener, there's only so much room for depth.
At this very early juncture in the process, here's a look at how Carolina's draft picks fit into their position group.
First-round selection Shaq Thompson and fifth-rounder David Mayo both possess skill sets that could help any NFL team. The Panthers could use some helping hands as well, and the linebacker room is now crowded with talent – perhaps overcrowded.
For now, that's a good problem to have with OTAs, a minicamp, training camp and the preseason to come. The competition for roster spots will be heated.
Thompson, Luke Kuechly and Thomas Davis are absolute givens, but what roles they will play are not (other than Kuechly at middle linebacker). Davis has been dominant at weakside linebacker the last couple of seasons but also has vast experience on the strong side. Thompson suggested at his introductory press conference that he might start out on the weak side, but in defensive coordinator Sean McDermott's system, the distinction between weak side and strong side isn't necessarily that important. Either way, we know that Davis will flank Kuechly while Thompson will be given every chance to contribute. Don't forget about 2013 fifth-round pick A.J. Klein and 2014 undrafted rookie Adarius Glanton, who have both started multiple games on the strong side last season. Mayo was a tackling machine in college with abilities that should transfer well to special teams, though he didn't play special teams at Texas State the past three seasons. He may need to prove his worth there in his battle for a roster spot because others in the position group include offseason acquisition Jason Trusnik – who has 76 career special teams tackles – as well as 2014 special teams tackle leader Ben Jacobs. To boot, linebacker Kevin Reddick had a big fumble recovery on special teams in last year's NFC Wild Card playoff victory over the Arizona Cardinals.
That adds up to eight linebackers for maybe six roster spots.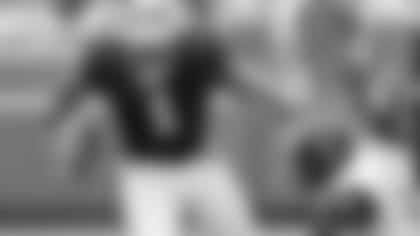 Second-round selection Devin Funchess offers a sizable bookend for 2014 first-rounder Kelvin Benjamin, and head coach Ron Rivera said Funchess is capable of playing all three receiver positions. Funchess is expected to battle for a starting spot right along with a long list of suitors.
The Panthers had just four receivers – Benjamin, Jerricho Cotchery, Corey Brown and Brenton Bersin - on their 53-man roster at the end of last season, and they've most notably added Funchess and Ted Ginn, Jr. But that only accounts for half of the dozen receivers on the roster with the pending addition of undrafted rookie speedster Damiere Byrd.
Funchess has a lot to learn but also a lot to offer. He's a student of the game that comes equipped with attributes that can't be taught: He's 6-4 and despite some dissenting opinions on his speed, he recently ran a sub-4.50 and more importantly plays fast according to general manager Dave Gettleman.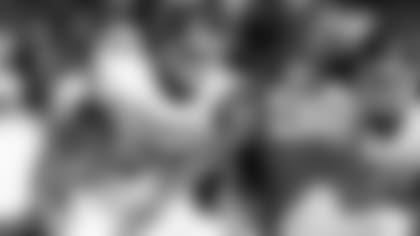 The Panthers finished last season with just three tackles on the roster – starters Mike Remmers and Byron Bell and rookie project David Foucault.
Remmers and offseason acquisition Michael Oher are the starters at this moment, but fourth-round draft pick Daryl Williams hopes to inject himself into the discussion. The 6-5, 327-pounder started 37 games over the past three seasons at Oklahoma. All but one of them was a right tackle, but the one start at left tackle came in a Sugar Bowl victory over Alabama.
Gettleman said Williams also has some of the athletic traits he looks for in a guard, so Williams should at the least provide versatile depth to an improving line right away. Recall that the Panthers claimed veteran tackle Jonathan Martin off waivers in the offseason and still have Nate Chandler, who started the first 11 games at right tackle before suffering a knee injury.
Carolina's final draft pick, fifth-rounder Cameron Artis-Payne, could push himself toward the top of the list as rookie roles go.
The Panthers have long been a proponent of a two-back system - which has become more the norm in the NFL in recent seasons – and the departure of DeAngelo Williams means Artis-Payne could possibly pair with Jonathan Stewart in that way. Fozzy Whittaker is more capable of that than some may realize, but Whittaker also is capable of being a change-of-pace/third-down type of back.
Artis-Payne is a little smaller than Stewart and fullback Mike Tolbert but can do some of the things that both do. His running style is somewhat like Stewart's, and Gettleman said Artis-Payne is built like a bowling ball – a common description of the bruising Tolbert.
If Artis-Payne doesn't immediately develop into Stewart's running mate, he should be able to contribute in a reserve role.