CHARLOTTE – The weekend before the offseason workout program kicked off around the NFL, quarterback Taylor Heinicke was preparing to drive to Houston and his first offseason with the Texans.
But before loading his vehicle for the trip, Heinicke got word that he would instead need to load his vehicle once in Houston.
"I was actually supposed to head back to Houston that Saturday, but Friday morning I got the call," said Heinicke, who was informed that the Texans had waived him, one week after Houston signed former Panthers quarterback Joe Webb. "So I headed to Houston to pack up my apartment, then I start driving home to Atlanta.
"I got home Sunday, and then Monday I got claimed by Carolina."
It was a whirlwind for Heinicke, but he instantly felt at home. He played collegiately at Old Dominion University in Virginia, with Charlotte sitting fairly close to a halfway point between his college home and his Atlanta area home. Once in Charlotte as a Panther, Heinicke was greeted by familiar faces in the form of offensive coordinator Norv Turner and quarterbacks coach Scott Turner – his coaches for the first two years of his NFL career with the Vikings.
"It was a pretty hectic weekend, but I knew Norv and Scott were here so I was really excited to come up here – both being close to home and already knowing the offense pretty well from my time in Minnesota," Heinicke said. "It's been enjoyable so far."
You might not have heard of Heinicke before the Panthers claimed him off waivers in mid-April, but the Turners certainly had. Serving as starting quarterback for ODU's fledgling program for its final two years in the Football Championship Subdivision and its first two years in the Football Bowl Subdivision, Heinicke threw for more career touchdowns (132) than all but a handful of Division I players ever have.
"We signed Taylor as a free agent because he was an extremely productive college player," Norv Turner said, referring to the Vikings signing him following the 2015 NFL Draft. "Scott went to Old Dominion and worked him out and was excited about his arm talent and his physical skills.
"He did a good job for us in Minnesota. Things work out different in different places and it didn't work out for him in Minnesota, but he did contribute in Houston. He's a guy that can be a productive football player."
Heinicke also ran for 22 touchdowns in college.
"He's got very good mobility and a quick release," Turner said. "He's extremely accurate, and when he's playing at his best, he makes good decisions."
An unwise decision off the field held up Heinicke's development with the Vikings but also showed that the team considered his talent worthy a little patience. Heinicke served as Minnesota's third quarterback as a rookie and was expected to have a similar role in 2016, but just before training camp he severed a tendon in his ankle trying to get into the door of his own apartment after locking himself out.
"It was devastating. It was embarrassing," Heinicke said. "But at the same time I tried to look at the positive side of it. I went out to practice every day in my boot and tried to mentally go through plays. I think I got better that way.
"The fact that they kept me around and activated me spoke volumes to me and gave me confidence again."
Heinicke returned to the 53-man roster midway through the 2016 regular season but was waived early last season when, in his words, "Case Keenum did his thing." That was followed by practice squad stints in New England and Houston before being elevated to the Texans' active roster and playing his first nine regular season snaps in a Christmas Day loss to the Steelers.
"It was cool to finally get that under my belt, to be able to finally say that I played in a regular season game," Heinicke said. "I know the feeling of that now, the speed of it."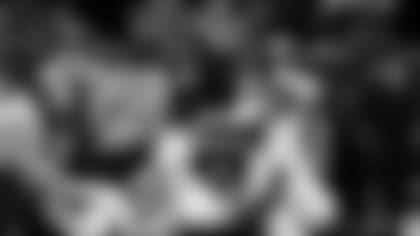 The 6-foot-1, 210-pounder summarized his game.
"If someone asks me how I play, I'd say a little bit like Russell Wilson," Heinicke said. "He gets the ball out of his hands and makes great plays in the pocket, but if something breaks down he can make plays with his feet.
"I want to get the ball to my receivers, get the ball in the game changers' hands and let them do their thing. But if something breaks down, I feel like I can make something happen with my feet and then get down."
Those nine snaps last year are nine more than Garrett Gilbert – the Panthers' third-string quarterback last year - and rookie Kyle Allen have taken in regular season action. Garrett is the "leader in the clubhouse" to back up Cam Newton in 2018, but Heinicke is in the running.
Keep this in mind: The Panthers have carried three quarterbacks every year since Webb arrived in 2014, including last year after Webb was with the Bills.
"Hopefully, but you never know. Hopefully I play well in the preseason," Heinicke said. "Garrett is doing a great job. Kyle is doing a great job. Cam is coaching us up.
"I love it here. It's probably my favorite locker room that I've been in. Everyone is getting along, having a good time, helping each other out. It's a real family atmosphere."