CHARLOTTE – For such a massive human being, right tackle Taylor Moton is incredibly approachable and easy to talk to.
But he's careful with his words. He's measured.
So when the Michigan native was asked about playing in Detroit this Sunday, he provided a predictable response.
"I'll start off by saying every game I get to pad up with the Panthers is special for me," Moton said. "But, this will be a neat experience. I'll have a lot of family and friends there, which will be exciting."
Moton's first NFL homecoming game technically took place last year when he was a rookie and the Panthers traveled to Detroit in Week 5. But Moton didn't play a single offensive snap in that game, a 27-24 Carolina victory.
On Sunday, however, Moton will start against the Lions like he has all season. Clearly these are different circumstances and this is more than "just another game" for Moton, but he wasn't about to get emotional thinking about taking the field in Detroit as an NFL starter.
He'll leave that to his mom.
"To be honest, it doesn't get more exciting than this," said Sonya Gunnings-Moton, Taylor's proud mother. "It's thrilling, and as we say in our family, we are just going to seize the moment."
The Taylor Moton Fan Club
Moton isn't exactly sure how many people will be there to cheer him on against the Lions.
"He knows there is a large number because he had to buy some tickets," Gunnings-Moton said with a laugh.
So how many people is mom expecting to make the trip?
"I'm embarrassed to tell you, but we've chartered a small bus," she said, still laughing. "The Lansing area, we are truly people that walk that village of support. There are so many people that are joining in the Taylor Moton fan club."
So the precise number isn't clear. But we know it's a lot. Most importantly, we know mom will be there. Mom will always be there.
And on Sunday she's bringing some friends.
"We joke about the fact that offensive linemen aren't the ones whose jerseys are worn all over the stadium," Gunnings-Moton said, "but I guarantee you will see some No. 72 jerseys in Ford Field."
Moton and his grandfather always had a special bond. Thomas Gunnings passed when Moton was 16.
"My dad worshiped the ground Taylor walked on," Gunnings-Moton told the Lansing State Journal when Moton was in college. "He always called him the 'brilliant big man.'"
Moton's dream was to play college football at Michigan State, where his grandfather taught in the College of Human Medicine and left a lasting legacy and where his mother is an associate dean.
Moton starred at Okemos High School, which is practically in Michigan State's backyard.
But the Spartans never offered, so he took his talents to Western Michigan, where he won just one game as a redshirt freshman. But he was part of a major turnaround, setting a school record with 52 consecutive starts and helping the Broncos to a 13-1 season as a senior in 2016.
That memorable year included a win over Ohio in the MAC championship game at Ford Field, home of the Detroit Lions.
"That place is special to me," Moton said.
When time expired and the MAC championship celebrations began, Moton found his mother in the front row. The Lansing State Journal photo below captured the moment they embraced one another.
"That was the culmination," Gunnings-Moton said. "Taylor's late grandfather was not there physically, but there was the exchange between us when we were quite sure he was there. That's part of what that picture captured. It was a surreal moment. It was priceless."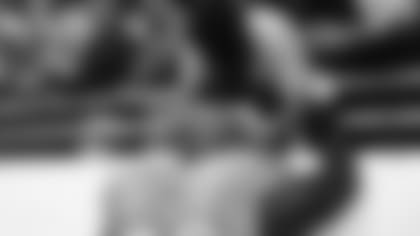 Moton went from overlooked recruit to All-American. Then he was drafted by the Panthers in the second round of the 2017 NFL Draft.
After primarily watching and learning as a rookie, Moton stepped into the starting lineup when injuries sidelined both of Carolina's offensive tackles – Matt Kalil and Daryl Williams.
Moton started the first game of the season at left tackle. He's started the rest at right tackle, and he's been rock-solid.
According to Pro Football Focus, he's given up just one sack all year, and PFF has him graded as the league's 10th best offensive tackle.
"I'm not satisfied with where I'm at," Moton said matter-of-factly. "I'm continually coming out to practice knowing I can do better."
That humility is respectable and not at all surprising coming from Moton, but some might say he is playing at a Pro Bowl level. Would he put himself in that conversation?
"That would be a tremendous honor, but my focus is getting to the Super Bowl and winning it. The individual accolades come as they may," Moton said. "That's not for me to decide, honestly."
Well, we know someone who'd vote for him.
"I tell him all the time, after what I've seen this year – boy, your mother is just outright impressed," Gunnings-Moton said. "Mom is impressed as hell."
Moton, like a lot of players across the league, attended NFL games and envisioned himself on the field. But so many of those dreams go unfulfilled for a variety of reasons.
Moton made it. And on Sunday, he'll play in the stadium where he once was a young, impressionable spectator.
"It's hard to find the words. I'm tearing up a little bit," Moton's mother said. "His story is attributed to real hard work, believing in yourself and commitment – and with that, all I can tell you is this outcome was inevitable. That's who Taylor is. So some would argue we never had a doubt."