CHARLOTTE – It wasn't just that Teddy Bridgewater fumbled.
It was also where he fumbled. But mostly how.
In the second quarter of Saturday night's loss in Green Bay, the Panthers' quarterback lost the ball at the Packers' 1-yard line, a play that could easily serve as the epitaph for the second half of the season.
"That play at the goal line is obviously a killer," Panthers coach Matt Rhule said, among his immediate takeaways.
He mentioned some other things (including yet another penalty on special teams that put them in a deeper hole late). But if not for a solid second-half effort by the Panthers' defense, Bridgewater's miscue would have been the solitary talking point after a 24-16 loss.
Rhule made it clear that all players, not just the quarterbacks, have been told not to reach the ball across the goal line unless it's fourth down, and Bridgewater said it was a lesson learned.
"It's always disappointing when you get down there and have points, and you do something like that to prevent your team from scoring," Bridgewater said. "It's a situation where, I guarantee if I ever have to run a quarterback sneak again, for the rest of my career, I'll make sure I never reach the ball over the top unless it's fourth down."
Things were already bad, as the Panthers had lost seven of their previous eight. But having Bridgewater's failed attempt to dive over the pile at the goal line go so tragically wrong was the kind of play that carries more emotional weight than statistical.
Undrafted rookie running back Rodney Smith had just given the Panthers a shot of energy, converting a fourth-and-1 with a 12-yard burst. But then, steps away from making it a 14-10 game, the unthinkable happened.
Bridgewater appeared to try to dive over the top, but never got much air, and had the ball swatted out of his hands by Packers linebacker Krys Barnes. It was recovered by cornerback Kevin King and returned 48 yards. The Packers followed with a touchdown to make it 21-3, enough breathing room for the rest of the night.
Bridgewater said he heard the Packers defense calling out the sneak, which caused him to try to go over the top. He added that Packers linebacker Za'Darius Smith "did a great job of leaping as well," and Smith caught him mid-thigh as he tried to rise.
"His momentum stopped my momentum," Bridgewater said. "If I sneak behind the guys, dive in low, we may score, or it's second down."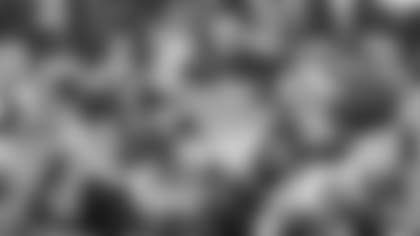 A tick-tock description of the way the play happened doesn't fully explain the swing of the moment, though. It was a dramatic blocked dunk at the rim, a saved penalty kick, the kind of thing that takes all the air out of the team on the short end.
The Panthers weren't operating with much of a margin of error to begin with, and missing that kind of opportunity was crushing.
Given all the attention paid to the embattled quarterback for a third-down decision to rush a play and a fourth-down pass short of the sticks last week, Rhule was trying to leave some breathing room for Bridgewater.
But the result remained, and remained unacceptable.
"I hate to beat him up on just that one play," Rhule said. "There were a lot of things that were not up to our standard across the board.
"But that play just can't happen."
For what it's worth, it sounds like that resonated with Bridgewater.
"I think we're realizing if we just do it the way we're coached, in all three phases, it works," he said. "I think what happens is, we get to that moment sometimes, we think we have to do something a little different, for instance me on the quarterback sneak. And if I continue to just trust my coaching, and do it the way I'm told, then we're celebrating going into the locker room, as opposed to learning new lessons each week.
"This team, this is a team that's going to win these games down the road. We just have to believe in ourselves and believe what the coaches are telling us."