"With the eighth pick in the NFL Draft…"
Barring a trade, the 2017 version of that announcement will include "the Carolina Panthers select," marking the third time in franchise history the team has picked in that spot. Carolina cashed in with longtime left tackle Jordan Gross in the 2003 draft, seven years after netting talented but injury-plagued running back Tim Biakabutuka.
Six Hall of Famers have been chosen at No. 8 over the years, but none since the Panthers came into existence. The 1981 and 1982 drafts both produced Hall of Famers from that draft spot – safety Ronnie Lott followed by guard Mike Munchak.
Speaking of pairs, here's a look at draft history in the era of the Panthers at No. 8, a quick study in the hit-and-miss nature of draft day even in the upper echelon.
LB Vic Beasley (2015) and CB Justin Gilbert (2014)
A contrast in results to be sure. Beasley, a Clemson product picked by the Falcons, paced the NFL with 15.5 sacks last season. Gilbert, a speedster out of Oklahoma State, didn't have a great rookie season with the Browns and was traded before last season to the Steelers for a future sixth-round pick. He's currently unemployed.
QB Ryan Tannehill (2012) and QB Jake Locker (2011)
Tannehill has been the Dolphins' starter since his rookie year, and despite plenty of stops and starts he signed a lucrative contract extension two years ago and just helped Miami make the playoffs for the first time since 2008. Around the same time as Tannehill's new contract, Locker announced his retirement. Compared by one general manager to Steve Young out of college, Locker never made it through a season healthy and played in just 30 games.
WR David Terrell (2001) and WR Plaxico Burress (2000)
The Bears' pick out of Michigan never made the impact hoped, catching 128 balls in his four seasons and never catching another pass after Chicago parted ways with him. Burress by contrast produced four 1,000-yard seasons and though drafted by the Steelers is more associated with the Giants (he caught the game-winning touchdown in Super Bowl XLII with them). A third receiver went at No. 8 the year before and finished somewhere in the middle in terms of production – David Boston.
WR Joey Galloway (1995) and DT Sam Adams (1994)
Eight times (fittingly enough), the same team has picked No. 8 in back-to-back drafts, and the one that coincided with the birth of the Panthers is among the best duos. Galloway went on to top 700 career receptions and 10,000 yards, while Adams was the consummate space-eater and a three-time Pro Bowler over his 14 NFL seasons. Another strong pair at No. 8 was selected by the 49ers in 1962 with Hall of Fame receiver Lance Alworth and the next year with defensive back Kermit Alexander, a hard hitter for a decade known in part for a tackle that sped the end of running back Gale Sayers' career. But the best pair – in name alone – has to be the Eagles' haul in 1947 and 1948 of Neill Armstrong and Clyde "Smackover" Scott.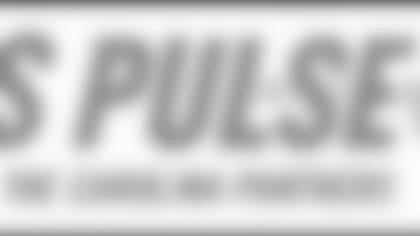 ](https://nfl.csharmony.epsilon.com/pc/clubs/Panthers/Account/register)