CHARLOTTE – Ron Rivera harps on the importance of winning the turnover battle as much as any head coach, and with good reason: He opened the first team meeting at training camp by pointing out to his players that the Panthers are 37-2-1 since 2013 when triumphing in that aspect of the game.
That record had improved to 39-2-1 through five weeks, but in Week 6 the Panthers lost the turnover battle for the first time this season, and they lost the game.
Carolina does everything it can to stay out of such spots, but it's impossible to avoid it every single week.
"Those are things that are going to happen in games," Rivera said after three early turnovers put Carolina behind the eight-ball in a 23-17 loss at Washington. "Those things happen. It's a part of the fortunes of football.
"Now, we'll continue to do the things that we do – continue to practice protecting the ball and practice trying to take the football away."
In this case, the exuberance of youth caught Carolina. Rookie receiver DJ Moore lost two fumbles, one on special teams and one following a reception when he fought for extra yardage. The Redskins turned those miscues into 10 points on their way to an early 17-0 lead.
"You can't put yourself in a hole like that," Rivera said. "We put ourselves in a tough position, then we climbed out of it and gave us a chance. That's a plus – to a degree. The truth of the matter is we still lost the game."
–––––––––––––––––––––––––––––––––––––––––––––––––––––––––––––––––––––––––––––––––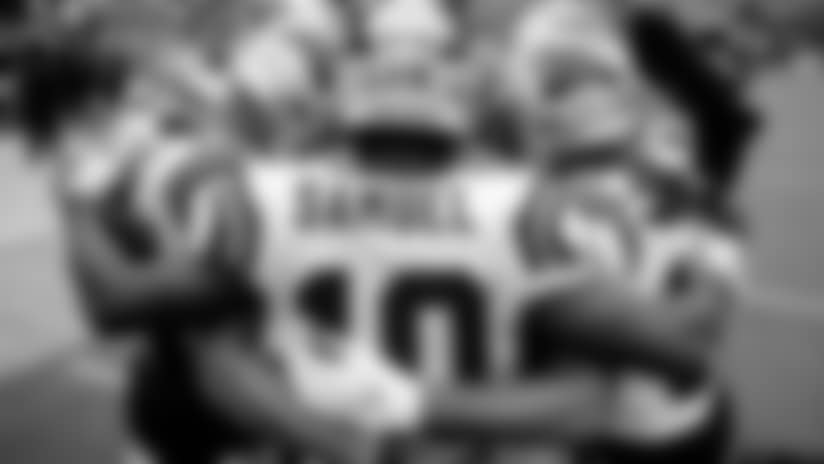 As is the case after virtually every loss (and most victories for that matter), Rivera fielded questions about how different offensive options were or were not utilized. This week, the hot-button questions surrounded wide receiver Curtis Samuel (three snaps) and running back C.J. Anderson (one snap), though Rivera generally answered all the inquiries with one simple statement.
"We're going to play the guys that the coaches see fit," he said.
Rivera did say that the big early deficit changed some things personnel-wise. The lack of run for the bruiser Anderson makes sense with such an early hole. In the case of Samuel, who played 12 snaps in his season debut last week and scored a touchdown, the Panthers chose to keep rookie DJ Moore more involved even after his early turnovers troubles. He responded well to his opportunities, as did veteran Torrey Smith. Fellow vet Jarius Wright was relatively quiet.
"For everybody – it changes your approach. Being down at one point by 17 points, now you're in a different kind of mode," Rivera said. "Some of the things you may have thought about doing originally are no longer relevant. You've got to work your way back."
Speaking of working your way back, tight end Greg Olsen played all but one offensive snap in his first action since Week 1, and linebacker Thomas Davis played all but eight defensive snaps in his 2018 debut.
"Greg looked like he responded very well to playing as much as he did – he played a little bit more than I thought he was going to – but he was in great shape so we left him out there," Rivera said of Olsen, who finished with four catches for 48 yards. "He looked a little tentative initially in the game, but he started getting heated up and started playing really well. That's what we can expect from Greg going forward."
"It was good to see him back out there. He did some nice things. I thought he handled the man-coverage situations very well – he was running with some pretty doggone fast players. He's an explosive player that can move, and he made a couple of nice tackles as well. It was really good to have him on the field."
With Olsen back, rookie tight end Ian Thomas played just one snap on offense. Veteran Chris Manhertz played 10.
"I know there was a lot of 11 personnel where we only had one tight end and one back," Rivera said.
On defense, veteran safety Eric Reid sat out 14 snaps while rookie Rashaan Gaulden got 15 snaps. Mike Adams played all 70 snaps.
"Eric is still working himself in shape, and at the same time we still want to make sure Rashaan is still developing and growing," Rivera said. "And when we feel comfortable with Eric 100 percent out there in terms of conditioning, we may rotate Rashaan with both safeties. We may not. It just depends."
–––––––––––––––––––––––––––––––––––––––––––––––––––––––––––––––––––––––––––––––––
Losing is never acceptable, but it's also a reality of life in the NFL – especially these days.
The Panthers, now 3-2, are among 29 teams to lose multiple games already. Only the Rams (6-0), Chiefs (5-1) and the Saints (4-1) have made it through Week 6 without more than one loss.
Coaches strive for consistency from their team, but it's a mostly elusive goal in the current NFL.
"It's all over the place, and each week will be something different," Rivera said when asked about the league in general. He referenced Dallas' 40-7 victory over the Jaguars in Sunday's late window – a Cowboys team that came close to getting shut out in Charlotte back in Week 1.
"Look at what Dallas did yesterday. They played a very talented Jacksonville team and scored 40. That's a sign of what's happening," Rivera said.
Rivera said the Panthers got teams' best shots the last couple of weeks. Carolina edged a desperate Giants team in Week 5 and faced a Washington team on Sunday determined to bounce back from a humbling loss in New Orleans.
The Panthers could be that backs-against-the-wall team this Sunday in Philadelphia, though it's a tough spot to bounce back. The reigning champion Eagles felt much the same in Week 6 and responded with their best showing of the year on Thursday Night Football to improve to a modest 3-3.
"If we take advantage of the opportunity to learn and grow from it, we've got a chance to take a step forward. If we don't, we'll get beat again," said Rivera, whose teams have lost back-to-back games five times over the past five seasons but have lost more than two in a row just twice. "When you look at games like this, losing isn't going define us. How we handle it, how we come out next week, that's what is going to define us.
"Learn and grow from it and then move on – that's what's going to happen."
View the top ten game photos from the Panthers' defeat at Washington by team photographer Melissa Melvin-Rodriguez.