SPARTANBURG, S.C. – Signed to the 90-man roster 24 hours before the opening practice of training camp, rookie tight end Cam Serigne is scrambling to get up to speed.
Tight end Jason Vander Laan had much longer to prepare, but he needed much longer to prepare.
"I feel like I've made a lot of progress, but there's a long ways to go," Vander Laan said. "It's a lot better in Year Three."
Both Serigne and Vander Laan come to the Panthers sporting some eye-popping statistics from college. But while Serigne is the most prolific pass-catching tight end in Atlantic Coast Conference history, Vander Laan was historically productive on the Division II level – as a quarterback.
"Most of the guys know. It took them awhile to notice, but then word gets out," said Vander Laan, the first player in NCAA history to amass both 1,000 yards passing and rushing for four consecutive seasons. "They're very interested once they read what my past was like. It's always a good conversation piece.
"I'll throw the ball a little before practice – still like to throw the ball around."
But Vander Laan knows that his passing skills aren't what is going to earn him a more permanent home in the pros, and both he and Serigne know that their college stats are little more than trivia at this point.
Still, their stats no doubt had some value in getting their feet in the door. Vander Laan gained notice from pro scouts at Ferris State in Michigan by rushing for 5,953 yards (an NCAA record for quarterbacks) and 81 touchdowns (the Division II record). Both of those marks were previously held by Shawn Marks, who played from 1989-92 for Wofford – the long-time host for Panthers training camp.
Serigne, meanwhile, capped his career at Wake Forest by contributing a touchdown to a 55-52 Belk Bowl victory over Texas A&M at Bank of America Stadium. He left Wake Forest as the ACC's all-time leader among tight ends in receptions (174), receiving yards (2,075) and touchdowns (21).
"What Coach (Dave) Clausen does is as good as any program on the college level," Serigne said. "He really helped me get ready for the transition, and now it's about getting in the playbook and learning."
Not that the transition is easy for Serigne – especially joining the team after it reported for camp – but at least he generally knows the position. For Vander Laan, he had never played tight end before scouts started checking him out in 2015 and mentioned the possibility.
"My senior year there were a lot of scouts coming in and watching practice. When they'd talk to me afterwards, most of them would say, 'We're going to look at you as a tight end,'" Vander Laan said. "Some teams were still looking at me as a quarterback, so when I started training after graduating I would train two days at tight end, then two days at quarterback. At my pro day, I did both.
"If I could have played quarterback, that would have been nice. But when an NFL team is looking at you and says, 'Hey, we're only looking at you at tight end,' you're going to say, 'All right.' And then you just work as hard as you can to be the best tight end that you can."
The Jets were the first team, with Vander Laan earning a spot on their practice squad as a rookie in 2016. They moved on from him when a shoulder injury in training camp last year sidelined him throughout preseason, but the Colts signed him to their practice squad midseason and eventually activated him for four games.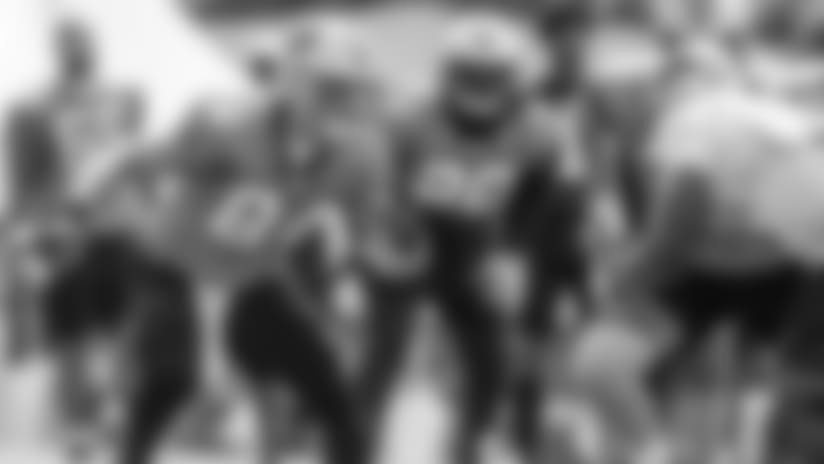 "I finished the year there and went to OTAs, but they signed Eric Ebron and they had two tight ends that got hurt last year that came back. They let me go," Vander Laan said. "Now I'm doing everything I can to try to earn a spot on this team.
"You can never work on your weaknesses enough. I'm definitely stronger as a route runner, but I have to work on my blocking every single day. I feel like I'm making progress. Coach (Pete) Hoener is one of the best technical coaches that I've ever been around."
Vander Laan and Serigne both agree that being around Greg Olsen doesn't hurt, either.
"He's the best," Serigne said. "It's awesome to watch him work and just take notes. That's basically all I've been doing."
Vander Laan has enjoyed more time around Olsen and Co., and his progress hasn't gone unnoticed. When head coach Ron Rivera was asked after the first practice of training camp who impressed, Vander Laan was the first player Rivera mentioned.
Signed by the Panthers two months ago, Vander Laan isn't new to Carolina compared to Serigne. But for either to become a new member of the 53-man roster, they have to compare against each other and Evan Baylis, who spent the second half of his rookie year in 2017 on Carolina's practice squad. Then if the Panthers carry just three tight ends on their 53-man roster, they'd have to compare favorably to Chris Manhertz, whose presence on the Physically Unable to Perform list is giving Vander Laan more reps and prompted the Panthers to sign Serigne.
"It's hard being the new guy," Vander Laan said. "You've just got to make the most of the chances you get."