CHARLOTTE — Tommy Tremble came to the Panthers with a reputation for versatility.
So when the rookie tight end ran for a touchdown last week, it shouldn't have been much of a surprise — he'd even volunteer for more hazardous duty if they'd let him.
"Honestly, every time I'm on the field, I love doing anything I can to help the team," Tremble said this week. "Whether it's making a catch or a block, anything can do to help the team brings joy to me.
"I can be at fricking right guard, and if I can help, I'll do it."
They haven't asked him to play the line, at least not yet, but his ability to fill many roles was part of what drew them to the Notre Dame product. He didn't have much in the way of back-of-the-football-card stats (only 19 catches last year), but they saw a guy who could benefit them in many ways.
"When we were talking about the draft, he was like this year's Jeremy Chinn, a guy who we thought could do a lot of different things," Panthers head coach Matt Rhule said. "I tell you, after the draft, we got more phone calls from other team's tight ends coaches and special teams coordinators to our guys about Tommy."
The Panthers talked about his blocking skills a lot when they chose him in the third round, but Rhule said he "thought he'd be tremendous pass catcher," and there are signs of that as well.
The Panthers need him to continue to add to his game, because of this week's trade that sent tight end Dan Arnold to Jacksonville (for cornerback CJ Henderson). Arnold was signed to be the pass-catcher at the position they lacked, so Tremble's going to have to take on more of that out of necessity now.
Tremble had a 30-yard reception in addition to his touchdown run at Houston, and diversifying the offense will be a key as they adjust to life without Arnold (and, for the time being, running back Christian McCaffrey).
Quarterback Sam Darnold said the differences between Arnold and Tremble weren't vast.
"They're similar, in ways they can run routes, they can block," Darnold said. "Dan is just a little bit taller. That might be the only difference.
"But they're both really good players, people who can stretch the field in the passing game, but also do their job in the run game."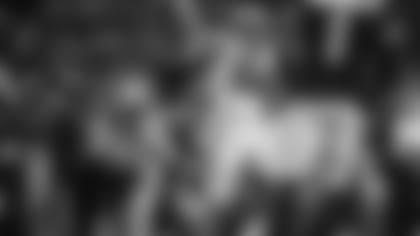 Tremble acknowledged that there would be more expected from him now, but he had a good teacher in Arnold for the short time they were together. Arnold made it to the NFL as an undrafted rookie, who converted from wide receiver at Division III Wisconsin-Platteville, and the lessons he shared were the kinds you do rather than say.
"Him being 27, a guy that was undrafted, he told me that work is the best thing to get better," Tremble said. "There's no time you're not working. I always see him go extra hard. We could be in a walk-through, and he's still going full speed trying to get better at his stuff. Seeing him trying to improve on everything and anything you can, one rep at a time, is what he taught me."
It apparently sank in, as Tremble's teammates like the way he goes about his business. Defensive end Brian Burns, himself a wise old man of 23 (but in his third year in the league), also pointed out that Tremble's a quick study.
"Yeah, I think the way he goes about his business is very professional, seeing that from a rookie," Burns said. "When you're a rookie, you make a lot of mistakes; you don't always buy into the side of it being a business and taking care of your body. He's being a great pro. I'm here until like 6 o'clock or 6:30, and he's one of the last guys here with me. He takes care of his body, he watches extra film, and it's really showing up on the field.
"He's more than a blocker now; you feel what I'm saying? He's adding other attributes and other phases to his game. That's really big for a rookie to do."
Of course, the running phase was unexpected. He actually broke a record held by Rob Gronkowski as the youngest tight end to ever rush for a touchdown. Tremble laughed about his past as a rusher, saying he played running back at the youth levels.
"I grew up playing running back, my entire life really, until I got to about high school," he said. "I hit a growth spurt, and was super-slow, wasn't as good, so everyone was like 'Just go play tight end.'"
The way Tremble said it, it was clear that it wasn't necessarily a compliment at the time.
But with as much as the Panthers talk about complementary football, it's clear that Tremble's ability to do many things is something they value.
"We need Tommy to continue to develop because he has a lot of talent," Rhule said. "But a lot of it is who he is, his intelligence and toughness."