CHARLOTTE – Football fans, not just Ravens fans, will forever remember the second multiple-touchdown game of Torrey Smith's pro career. In 2012, less than 24 hours after his brother died in a motorcycle accident, Smith scored two touchdowns on Sunday Night Football as the Ravens edged the Patriots.
"My time in Baltimore was amazing," said Smith, who is slated to face the team that drafted him Sunday for just the second time since he left following the 2014 season. "The relationship with the organization, it runs deep. They were there for me in some of my darkest days."
Smith, one of the heroes in the biggest fourth-quarter comeback in Panthers history last Sunday in Philadelphia, hasn't practiced this week because of a knee injury suffered on his clutch fourth-and-10 catch and run that helped save the day. But he remains hopeful that he'll be able to suit up against a former team for the second straight week.
"I've only missed a few games in my career, so I always think I'm going to play until I can't," said Smith, whose four missed games in 2016 are the only ones he's missed since being selected by Baltimore in the second round of the 2011 NFL Draft. "I'm walking around. God is good. I can't complain. I always think I'll be ready to go on Sunday. I always think I will."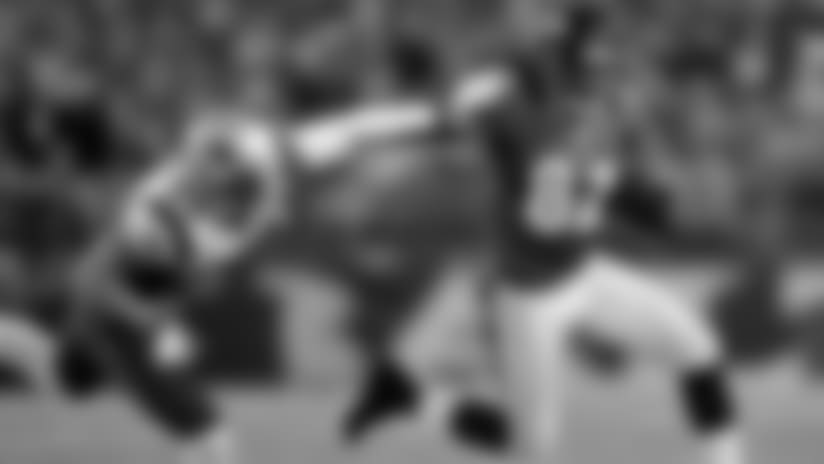 Many marveled that Smith was able to play so shortly after his brother's tragic death. He had one multi-touchdown game before that notable night – a noteworthy performance as well. For one thing it came in his first career start, and Smith shared another reason why it was memorable while reminiscing about his time with Ravens coach John Harbaugh.
"I didn't know what 'business casual' was," said Smith, who made his first start in Week 3 of the 2011 season at the St. Louis Rams. "I Googled it. He (Harbaugh) said I needed to have a jacket, but I didn't know you needed a sports jacket, so I got fined.
"It was my first start, and I ended up scoring three touchdowns. He was like, 'Well, I guess you've got to dress like this more often.'"
Smith scored 30 times in his four seasons with the Ravens, and he hasn't repeated that level of production elsewhere. He's totaled 11 touchdowns in his three-plus seasons since with the 49ers, Eagles and Panthers – matching the 11 he scored his final season in Baltimore in 2014.
But he's a starter for the Panthers and is starting to put up the numbers that many believe should go with the starting tag. After totaling seven catches for 67 yards through four games, he caught nine balls for 104 yards over the last two.
Smith, however, was more interested in the fact that six Panthers caught passes over the final two drives and how that comeback could impact the offense going forward.
"We made plays when we needed them most, and we scored when we needed it the most," Smith said. "Now it would be better to not be in that situation, but to do that on the road against a defense that is that talented says a lot. If you can do it there, you can do it any place, in any situation.
"We just have to continue to build on our confidence and be more consistent."
Harbaugh called Smith a great leader on and off the field, saying he has "nothing but love and respect for Torrey."
The feeling is mutual. A star at the University of Maryland before the Ravens kept the Virginia native close to home, Smith still hasn't played a game in Baltimore since leaving via free agency. In his only previous game against the Ravens, in his sixth game as a 49er in 2015, Smith scored on a 76-yard pass play.
He isn't even assured of playing this time around because of his knee injury, but it will still be a special Sunday for him.
"I'll always look back fondly on it," Smith said. "The city of Baltimore, when I'm done playing, I'll be in Maryland, in that area.
"When I go back, it's like I never left. It's home for me. I look forward to seeing a lot of people because they mean a lot to me."
View photos of wide receiver Torrey Smith throughout his career with the Eagles, 49ers and Ravens.