The Pro Bowl right guard has taken over the first stall on the right side of the locker room. That prized corner spot was previously occupied by center Ryan Kalil, the longtime leader of the offensive line who retired at the conclusion of the 2018 season. Turner said he reached out to Kalil for his blessing out of respect.
"It's like going from a two-bedroom apartment to the penthouse," Turner joked. "It's a good spot."
So is Turner ready to step up and fill the void left by Kalil's departure? Sure looks like it.
"I talked to Ryan about it," Turner said following the first day of Carolina's offseason program. "It's kind of like the same thing he told me when I signed that contract. 'Just keep doing what you're doing.' Leading comes with growth, growth comes with time. I've been here a few years now so I'm naturally in this position. I know what to expect. I know what's going on. I've seen great times, I've seen terrible times.
"I've got to be that mainstay and somebody the younger guys can lean on."
He's the guy they'll turn to. The 25-year-old Turner has played in more games (71 with 67 starts) than any offensive lineman on the Panthers roster.
"Really?" Turner said when this fact was shared with him. "That (expletive) is nuts."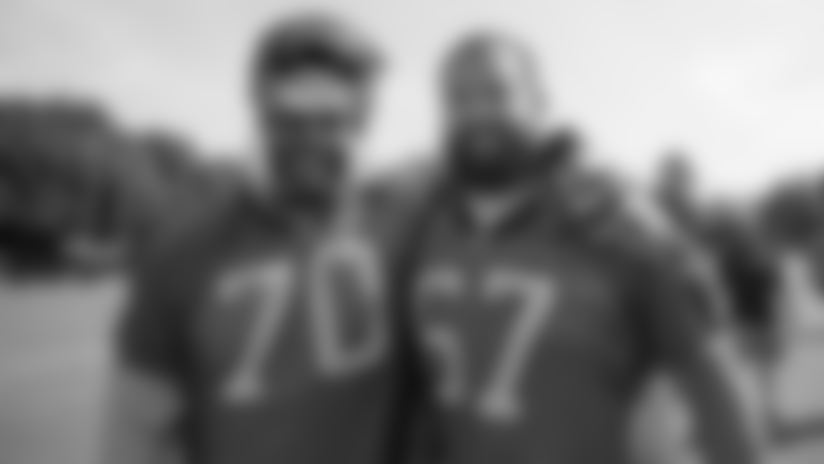 Yeah, it seems like just yesterday Turner was drafted in the third round out of LSU. But here we are five years later, and Turner is the grizzled veteran of the group, crazy as that may sound.
He won't have to lead the way alone, of course.
Free agent signing Matt Paradis, the replacement for Kalil in the lineup, has 57 career starts under his belt and he was voted a team captain for the Broncos in 2018. Plus, the center position is one that demands leadership with all the communication that's required.
"He's a good dude," Turner said of Paradis. "We have to get that continuity with each other. And on top of that, we need that fellowship. That'll be the key for us having success.
"We have to be anchors. That all gets started now (in the offseason program). We've got to be pushing each other and holding everybody accountable."
The offensive line will be a focal point throughout the season, and Turner knows it. Keeping quarterback Cam Newton protected is vital considering the shoulder troubles he experienced in 2018.
There are questions about where tackles Taylor Moton and Daryl Williams will line up, and about who will start at left guard. And there's a real possibility an addition is made via the draft.
But Turner doesn't have any questions about the group's ability, or motivation.
"What I like about it is everybody has got something to prove," Turner said. "Whoever is at left tackle – let's say it's Taylor – that's a new spot for him. He's got to prove it to himself. Daryl is coming off an injury, he's got something to prove. Matt got paid but he's coming here to prove it. We got a battle at left guard.
"And myself, I want to go out and dominate every year. I always have a chip on my shoulder. There is no lax attitude, there is no comfortability in that room. The only thing we can do is go out there and perform."