SPARTANBURG, S.C. – There was no beating the heat Monday.
Despite practicing in the morning, the Panthers faced the highest heat index of training camp so far, topping out at 106 degrees even with the air temperature not quire reaching 90.
Head coach Ron Rivera opted to cut the final period in practice in half and instead go through those plays during the team's evening walkthrough.
"We had a situation where we had three guys cramp in a row, so I just felt like it was better safe than sorry," Rivera said. "We encouraged guys to go under the tent, encouraged guys to stay on the sideline in the shade."
-Left tackle Matt Kalil missed out on the heat all together, sitting out practice.
"It was pretty much – well I don't want to call it a vet day – but it pretty much was a vet day," Rivera said. "We just wanted to give him a little time off and get him ready for Thursday."
-The Panthers, who open the preseason Thursday night at the Bills, were also without punter Michael Palardy for the third consecutive practice as he attends to the birth of his third child. Defensive end Julius Peppers appears to be creeping closer to practicing – sporting shoulder pads and cleats for the first half of Monday's practice. On Sunday, he officially came off the Physically Unable to Perform list, where tight end Chris Manhertz and wide receiver Fred Ross remain.
-A theme throughout portions of practice revolved around defensive backs working on challenging receivers, be it pressing them at the line of scrimmage or staying tight in man-to-man down the field. Rookie corner Donte Jackson set the tone on the first one-on-one rep of the day, running with receiver Damiere Byrd stride-for-stride and knocking the ball away.
"We are not playing around today," corner Lorenzo Doss interjected a little later in the drill.
-The defense actually wasn't taking as aggressive a tact when, in team drills, the unit came up with four interceptions of the Panthers' three backup quarterbacks in one period.
Linebacker Shaq Thompson got it started, showing great body control (twice) by adjusting to tip a Taylor Heinicke pass attempt to the flat and then adjusting again the grab the ball out of midair.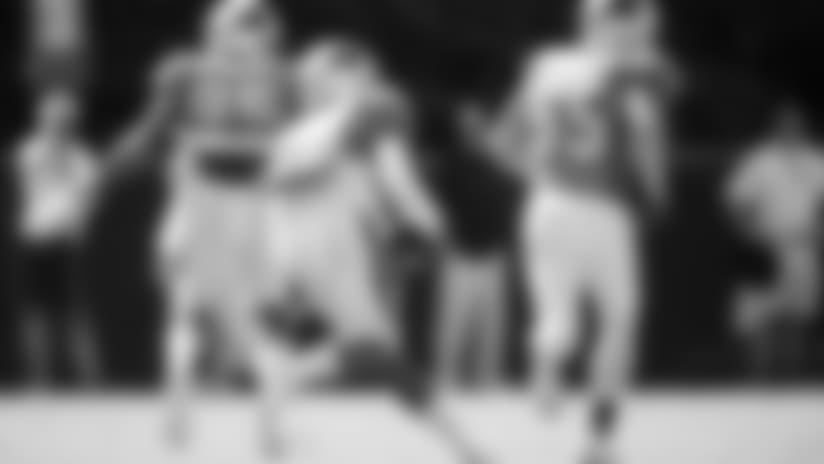 Cornerback LaDarius Gunter twice picked off rookie quarterback Kyle Allen in short order. On the first one, the intended receiver slipped down and Gunter took advantage before the ball hit the turf, prompting assistant secondary coach Jeff Imamura to exclaim, "Great job, LG! Technique and opportunity." On the second one, Gunter took advantage of an overthrow.
In between Gunter's plays, safety Da'Norris Searcy dove to pick off Garrett Gilbert on a pass that bounded high off the outreached hand of tight end Cam Serigne.
-Gilbert, Allen, Byrd and Serigne all bounced back during two-minute drills that didn't include quarterback Cam Newton (Newton took part later in the period minus the two-minute element).
Gilbert was up first and got things going when Byrd made a nice snag along the sideline at Jackson's expense. Gilbert then found receiver Mose Frazier streaking free for what would have been a 30-yard touchdown (the defense could have possibly touched him down on the ground at the 1-yard line but didn't react, to the frustration of safety Mike Adams on the sideline). For practice purposes the ball was marked at the 1-yard line, and running back Elijah Hood paid it off on the next snap. Allen followed with a 30-yarder to receiver Jamaal Jones and capped it with a nicely timed strike to Serigne for a 14-yard score that left linebacker Chris Frey flatfooted.
-Other notable plays included a nice grab in traffic by receiver Curtis Samuel – one of three he made on the day – and a great knockaway by safety Damian Parms on what appeared to be a long connection with receiver Austin Duke.