SPARTANBURG, S.C. – As Captain Munnerlyn jogged off the field, fueled by adrenaline and little else after making one of his best plays in a day full of them, his teammates were waiting with words of admiration.
"You are working today!" safety Demetrious Cox shouted.
Munnerlyn had just leapt to bat a Cam Newton ball into the waiting arms of safety Mike Adams for an interception in the end zone. A little earlier in the Panthers' first training camp practice following their first preseason game, Adams had both praised and teased Munnerlyn in the same breath, pointing out how high the 5-foot-9 Munnerlyn jumped to pick off a Garrett Gilbert in the end zone.
Deadpanned injured corner Cole Luke as Munnerlyn trotted off: "We've got to start having less people more often."
Any way you slice it, Munnerlyn had an amazing practice Saturday – especially considering the cornerback group was sliced to nearly one-third its normal size.
On one of the hottest days of camp, the Panthers had just three corners available: Munnerlyn, rookie Donte Jackson and offseason standout Lorenzo Doss. With five of their fellow corners out, the trio didn't simply survive.
"My hat's off to the way Captain and Donte and Lorenzo Doss practiced. Those guys pulled yeoman's work today, really did some good things out there," head coach Ron Rivera said. "They were most certainly tested."
James Bradberry missed the preseason opener Thursday night with a groin injury and remained out, and LaDarius Gunter went into the concussion protocol during the game. Luke and Corn Elder were out with undisclosed injuries, and Kevon Seymour was attending to the birth of his child.
Rivera indicated that Seymour should be back for Sunday's morning practice, perhaps with one of the injured corners. But Saturday in a practice heavy on 11-on-11 work and situations that called for a third corner, the only reserves for the trio were safeties who filled in here and there.
Munnerlyn and Co. were informed of the situation Friday evening and they responded in kind – especially after not responding like Munnerlyn had hoped during Thursday's game.
"I stopped counting the reps and just made the reps count," Munnerlyn said. "We didn't play our best in the game the other night, gave up a lot of third downs when we should have got off the field. We didn't compete; we just let their quarterbacks pitch-and-catch.
"The three guys we had today, we made it our business to come out here and compete."
The 5-foot-10 Jackson plays with a chip on his shoulder much like Munnerlyn, and Jackson's competitive juices flowed when he broke hard on a Newton pass bound for Devin Funchess and nearly came up with an interception before having to settle for an impressive breakup.
"Donte is starting to realize that he can be a difference maker," defensive coordinator Eric Washington said.
Munnerlyn, on the sideline for a rare time during Jackson's play, still had enough energy to chirp away along with the rookie.
"People around here tell us we act the same, so seeing him get riled up is like seeing your older brother get riled up," Jackson said of Munnerlyn. "The secondary is supposed to be the most competitive group. Competing is something that we're always ready to do, even if we've just got one or two guys.
"It was tiring, but you never know. Things like that can happen in the game, so you've got to be ready."
The Panthers certainly hope they're not down to one or two players at a positon on game day, but Cole Luke's joke about "having less people more often" contains a hard truth. The cornerback group will shrink when roster cuts come in the near future, and after a challenging 2017, no one in the secondary can feel safe.
After veteran starter Kurt Coleman was released in the offseason, Munnerlyn had to feel the heat himself. But Saturday in the Spartanburg heat, he turned an already encouraging offseason up another notch.
"Captain has done a great job. He's playing nickel about as good as I've seen him – even back four or five years ago when he was with us before," Rivera said. "Captain is firmly entrenched as the nickel. He's doing a great job, is working very hard."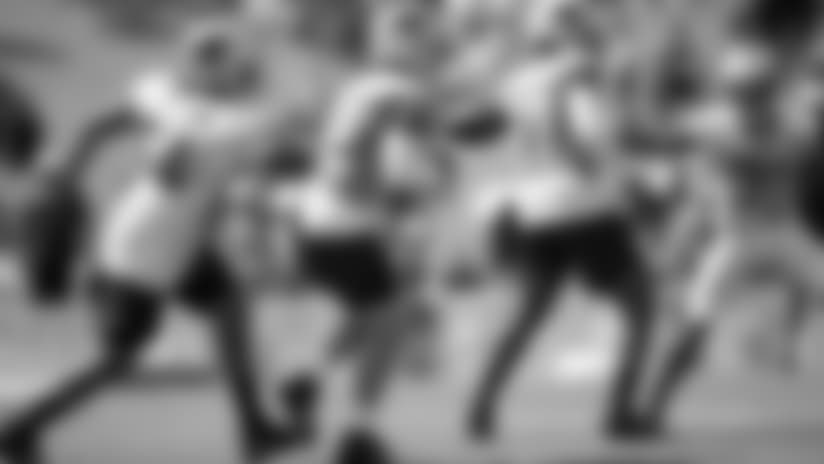 -The five cornerbacks out of action represented just one-third of the players who didn't practice Saturday. Safety Damian Parms (shoulder), linebacker Andre Smith (hamstring) were injured in Thursday's game, while offensive linemen Tyler Larsen and Jeremiah Sirles and linebacker Jared Norris sat out with undisclosed injuries.
While wide receiver Fred Ross returned to practice, there were no surprises among those who remained out: defensive end Julius Peppers, tight end Chris Manhertz (the only player left on the PUP list) and offensive linemen Daryl Williams and Amini Silatolu. Peppers continues to progress closer to fully practicing, though Rivera indicated that he doesn't expect Peppers to see any game action in the preseason.
-Even though the players weren't in pads, the list of notable plays was a long one and not limited to the defensive backs. The defense got turnovers by the bunches – including a heads-up strip by of running back Christian McCaffrey by linebacker Shaq Thompson, an impressive Luke Kuechly interception against Newton and a pick of Gilbert by rookie safety Rashaan Gaulden.
The offense had several moments as well. McCaffrey was active and effective during red zone work, scoring via a reception and via a run. Newton threaded a perfect ball to Funchess over the middle in a fourth-down situation at the expense of Doss, and Newton connected with tight end Greg Olsen several times. One of Olsen's plays was disputed by Munnerlyn given that Newton isn't allowed to be touched in practice.
"He was sacked. He made like 12 reads," said Munnerlyn, who was at one point beaten in the red zone by rookie DJ Moore. After that play, Newton repeatedly chanted, "Easy money!" in Munnerlyn's direction.
"When Cam started talking a little trash, it kind of woke me up even more," Munnerlyn said. "He was saying, 'We've got little Captain out here. Let's go at him. Let's throw the fade on him.' That got me going."