SPARTANBURG, S.C. – The Panthers were in pads for the second straight practice on Sunday. It was a physical session that was devoid of any major injuries.
On Saturday, right tackle Daryl Williams suffered a torn MCL and knee dislocation. After traveling to Charlotte for examination, Williams re-joined his teammates at Wofford on Sunday.
"We'll see. We just started the whole process with him and we'll go from there," Rivera said. "It's still early."
Aside from Williams, defensive tackle Kyle Love was the only absence.
"Kyle had to take a vet day today," Rivera said. "He's fine. He had to rest a little bit. He'll be out here tomorrow, and we'll have a couple of more vet guy tomorrow to get some days. There are certain veterans we're going to try to take care of, and today was his day. We've got a couple of guys who will be off tomorrow."
Now onto the observations.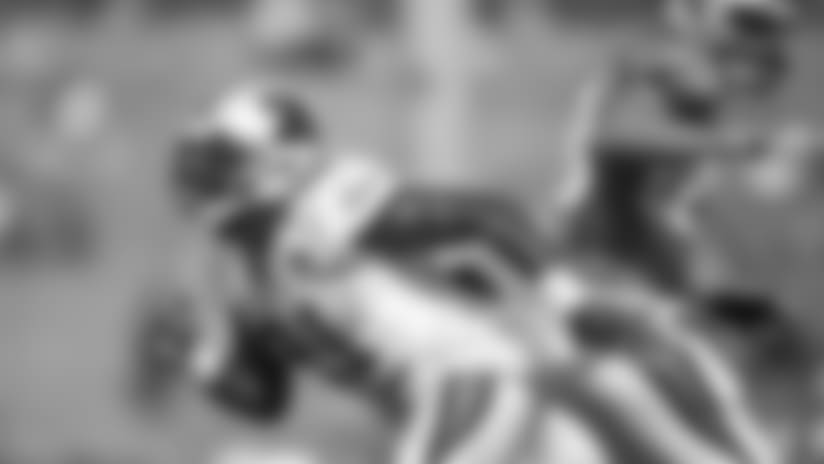 - The blitz pick-up drill heavily favored the defense on this day. Safety Da'Norris Searcy used a slick swim move to blow past tight end Greg Olsen. Safety Mike Adams and cornerback Cole Luke were similarly effective against tight ends Jason Vander Laan and Ian Thomas. Olsen was eager for another rep, and he made it count by stifling safety Demetrious Cox.
- The defense had the upper hand for the first few reps of one-on-ones featuring the wide receivers against cornerbacks. But then the offense caught fire. Quarterback Cam Newton tossed a beautiful deep ball down the sideline to Devin Funchess, who got past Kevon Seymour and reeled in the pass with one hand. On the next play, Torrey Smith beat Captain Munnerlyn deep, and on the play after that, DJ Moore hauled in a long ball versus LaDarius Gunter.
- O-line vs. D-line one-on-ones started with a win for left tackle Matt Kalil against defensive end Mario Addison. The explosive pass rusher attempted to spin inside, but Kalil was up to the task and held his ground. Moments later, defensive end Karter Schult executed a textbook spin move on tackle Blaine Clausell, leaving him in the dust.
- In a physical power running drill early in practice, safety Damian Parms got physical with running back Elijah Hood, slashing through the offensive front and bringing Hood to a stop in the backfield. It was the best play of the period but not a fair one in running back C.J. Anderson's mind. He pointed out it was a 9-against-7 situation (the offense technically had nine players too but two wide receivers were essentially place-holders with nine defenders in the box). Linebacker Thomas Davis shot back that it didn't matter, so Anderson playfully pleaded to general manager Marty Hurney for fairness as he passed by.
- The defensive sideline erupted during the 7-on-7 period when undrafted rookie linebacker Chris Frey intercepted quarterback Garrett Gilbert off a deflection, and on the next snap, Cox stripped the ball from tight end Evan Baylis.
- The defense again had the upper hand as team drills began, forcing a few incompletions. Rookie linebacker Jermaine Carter was all over a pass from Taylor Heinecke intended for Moze Frazier, and Parms picked off Gilbert's pass to Jamaal Jones.
- Newton would have the last laugh (of course) as he scrambled up the middle, slid to the ground and popped up to do his signature first down celebration. He held the pose for at least 10 seconds for dramatic effect (as you can see, rookie cornerback Donte Jackson tried to interrupt it).
- Running back C.J. Anderson produced one of the best runs yet, bursting through a hole up the middle and breaking down the right sideline for a big gain. Cornerback Ross Cockrell eventually chased him down and shoved him out with some frustration. Anderson got up laughing, and Newton was quick to join in and celebrate.
- Practice ended with a "move the ball" drill. The first snap was a quick screen to wide receiver Jarius Wright. The second play amounted to a coverage sack for the defense. Newton then connected with Moore in the slot, setting up fourth-and-3 for the final play of the day. That's when Newton dumped it to McCaffrey out of the backfield, who won a race against linebacker Thomas Davis to the marker.