SPARTANBURG, S.C. –The unfortunate reality is that on occasion, especially when it comes to younger players, there's going to be a hit at training camp that crosses the line of what's considered acceptable between teammates.
On Monday, rookie safety Rashaan Gaulden delivered such a hit – one that head coach Ron Rivera suggested might have crossed the line being drawn by NFL's new rule on leading with the helmet.
Wide receiver Jarius Wright was the victim, flashing across the back of the end zone in pursuit of a Cam Newton pass in the first red zone work of camp. Instead of the ball, Wright got an unhealthy dose of Gaulden up high. Wright stayed down for a minute but soon walked off and was able to return during a later offense-versus-defense period.
"Anytime we see something that looks close or suspect, I'll go up to the guy and mention it to him," said Rivera, a member of an NFL rules sub-committee. "We had a collision today in the red zone, and I went over and talked to the player and explained to him that, 'Hey, that's going to be very suspect. That falls right into the ram/butt/spear idea of using the helmet.'
"We've got to make sure these young people understand it, but quite honestly it's probably going to take more than us just talking to them. It's something that needs to be filtered down into Pee Wee football – how to tackle properly, that the head is not a tool to be used."
The possibility of a flag on game day wasn't the immediate concern with this one. Wideout Devin Funchess was first on the scene to admonish Gaulden, who then got counsel from Rivera, defensive coordinator Eric Washington and fellow safety Mike Adams among others. It was a momentary mistake from a rookie making strides otherwise.
"Gaulden has been great," Rivera said after Sunday's practice. "He started a little slow during OTAs and minicamp, but probably the last five practices – the last two OTAs and the minicamp – he just really stepped up and flashed very well. Every day he made a play that made you go, 'He's getting it. He's learning it.'
"That's the biggest thing with the young guys – making sure they're learning. This game isn't just about physical prowess and much as it is your mental ability to process, and you see it in him. He's getting it now. Over time, when things start to click, guys start to play faster."
Faster yes, but not too fast and physical has to be the goal in practice.
-Before the silence that fell over the end of practice, spirits were again high. Linebackers and defensive backs pass rushing against running backs set the tone. Luke Kuechly talked Sunday about needing to be better as a pass rusher this season, but Monday, Christian McCaffrey got the better of him in the drill. Fellow running back Cameron Artis-Payne also stuffed rookie linebacker Andre Smith – to the absolute delight of longtime running backs coach Jim Skipper – but linebacker David Mayo scored one for the defense using some impressive quickness to counter notoriously quick running back Kenjon Barner.
-On the first play of 7-on-7 drills (no offensive or defensive line), Newton screamed for joy when he connected with rookie tight end Ian Thomas. That drew the ire of linebacker/Newton antagonist Thomas Davis, who picked on Newton for being excited about a 7-on-7 completion. Davis, who had a "vet day" off Monday (along with Adams, center Ryan Kalil and tight end Greg Olsen), stood among the offensive players behind the line of scrimmage during the period. When the action switched to 11-on-11, Olsen realized he was standing on the defensive side and hurriedly headed toward the offensive side.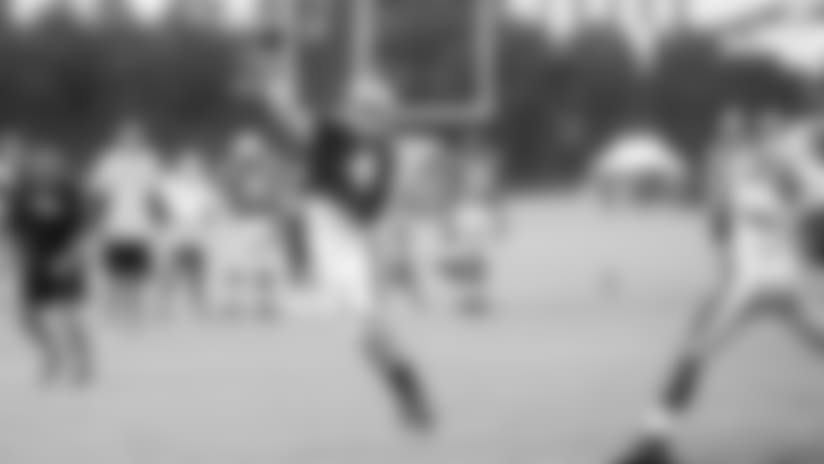 -Seymour and fellow corner Corn Elder were applauded for nice plays, while Kuechly and safety Colin Jones missed chances to make really nice plays when chances to intercept Newton slipped through their hands. Newton made his share of positive plays, and it was a particularly productive day for Garrett Gilbert and Taylor Heinicke – the top competitors to back up Newton.
"He's got a lively arm," Rivera said Sunday of Heinicke. "I think he can be a little overconfident, trying to stick the ball in in a tough position in comparison to when you watch Garrett. Garrett is a little more cerebral and tends to take a little more of what the defense gives, so you tend to see those more secure passes as opposed to a little bit more of a gunslinger mentality.
"There's a little bit of difference as far as who they are, but I think they both have their qualities. And you really can't tell until you start playing, so I'm very anxious to see them in the preseason."
Tight end Evan Baylis made a couple of nice catches for the backups, as did receivers Damiere Byrd and Austin Duke.
-Graham Gano got his third shot at live reps Monday, and as with the previous two, he was dead solid perfect. Starting from the 33-yard line (PAT length) and eventually backing up to a 50-yarder, Gano nailed all six of his kicks. He also made the 10 he attempted in previous practices.
--Following a third consecutive padded practice, players will have Tuesday off before returning to the practice fields on Wednesday at 9:25 a.m.
"It's very nice to set a day off and for them to have an opportunity to reset," Rivera said. "It was our fifth practice, and this is coming at the right time. They'll go through meetings, go through install this afternoon and the early evening, and then they'll be excused and we'll see them tomorrow evening at bed check."
View photos from the fifth day of practice from Panthers training camp.