SPARTANBURG, S.C. – Did he score or didn't he?
It seemed like the debate about the outcome of the first two-minute drill of training camp would rage on forever. But in the end, in somewhat of a surprise, Captain Munnerlyn graciously gave up the fight to quarterback Cam Newton.
"No, I actually gave in on it," Munnerlyn said, who went back-and-forth for a while over whether Newton's scramble into the end zone as time expired from the 8-yard line would have resulted in a touchdown if Newton wasn't wearing a red jersey. "I told him that if he hadn't have gotten in the end zone, the clock would have still been running and it would have been game over. I tried to tell him that, but he was like, 'Come on man, you know I'm scoring there.' I didn't win the argument.
"But at the same time I feel like defensively, we definitely would have probably stopped them there."
The playful argument was fun to watch and helped power the Panthers through the official arrival of (the dog days of) August on a muggy day.
"At the end of the day it's about competing, and we're trying to make practice fun, make guys come out here and compete," Munnerlyn said. "Sometimes there are days when guys are dragging – Day Five, Day Six in full pads, guys might go through the motions – but we try to pick guys up by making jokes with each other."
-Newton's scramble capped a drive in which he completed 7 of 8 passes for 57 yards. The defense didn't make it easy, forcing the offense to use the two timeouts it was allotted and setting up a winner-take-all play from the 8-yard line. Newton couldn't find a receiver but found a path to run and decided to go for it, earning a touchdown signal from one of the NFL referees attending camp for the second and final day.
"I thought the two-minute work was really good," head coach Ron Rivera said. "Defensively we did some good things. That drill is more slanted towards the offense because we're not cutting the pass rush loose. It's about the operation at this point. It's a little unfair to them, so I always tell them, 'If you can make a play when it's against you like that, you know you're going to have success."
-The second team got the same shot in the two-minute drill, and quarterback Garrett Gilbert worked the sidelines to running back C.J Anderson and tight end Ian Thomas to hit on 7 of 11 passes. The defense played it well, however, leaving Gilbert with one more shot from the 3-yard line before the clock expired and keeping the offense out of the end zone when Thomas tried find a spot in the front of the end zone only to have rookie cornerback Donte Jackson thwart the plan.
-The team period was a long one and continued after the two-minute drill was done with a welcome sign – a leaping catch in traffic by Curtis Samuel against two defenders. Thursday was Samuel's second consecutive practice after sitting out the first five sessions of camp.
"His quickness and speed were a big asset for us last season, so seeing him returning back to form is huge," Rivera said. "He's got to be able to make those plays consistently."
-That period continued – and wrapped up the practice - with some red zone chances for the first three units. Newton hit Greg Olsen for a 3-yard score with the first team, then Gilbert hit receiver Rasheed Bailey for a 6-yard score in the front of the end zone.
The third team had a debate similar to the Captain-Cam one when Taylor Heinicke hit running back Elijah Hood over the middle and run ref signaled he scored while the other didn't. It didn't matter though after the next play when Heinicke hit Hood perfectly in stride crossing toward the front corner of the end zone for an indisputable score.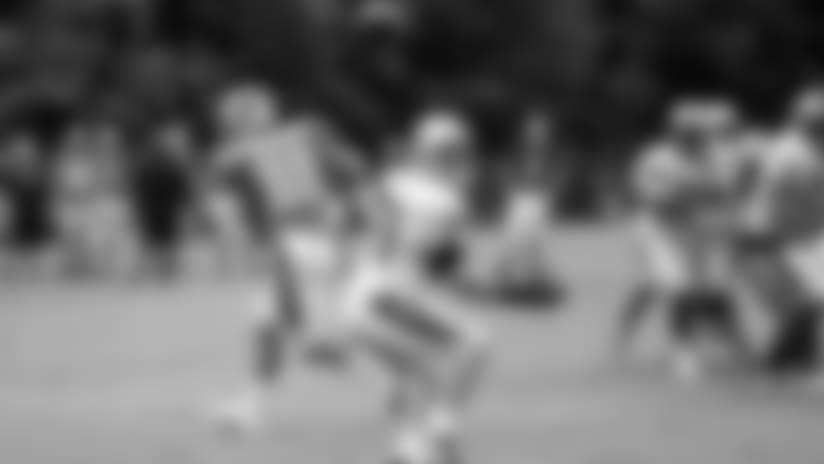 -Luke Kuechly was the star early in team drills, nearly coming up with a one-handed interception on a Newton pass bound for Olsen in the seam and then knocking away what would have probably been a touchdown reception near the goal line a few plays later. Two plays after Kuechly's near-interception, David Mayo made a similar play.
-Safety Damian Parms continued his strong camp, showing his physicality in power running drills before becoming the first player to pick off Newton in a team drill at training camp. He pretty much played center field on a deep shot bound for Torrey Smith that went awry, but still it's a feather in his cap.
-Everyone save tight end Jason Vander Laan (shoulder) and the three players still on the PUP list – Julius Peppers, Chris Manhertz, Fred Ross – practiced, including the newcomer. Offensive tackle Adam Bisnowaty, wearing No. 78, was claimed off waivers from the Lions on Wednesday to provide depth at a spot currently without Daryl Williams. A four-year starter at left tackle for the University of Pittsburgh, Bisnowaty was selected in the sixth round of the 2017 draft by the Giants and spent the season on their practice squad before playing in the season finale.
-Training camp will relocate to Charlotte for a night with the Panthers' annual Fan Fest practice slated for a 7 p.m. start Friday at Bank of America Stadium.
"I'm always excited to play in the stadium and in front of our great fans," Munnerlyn said. "It's definitely a fun moment, including the fireworks – getting to enjoy the fireworks afterwards with your family. And just to get back to Charlotte and in my own bed – I'm definitely excited about that."
View photos from the seventh day of Panthers training camp.