CHARLOTTE – Was the 2019 season finale against the Saints the last game in a Panthers uniform for James Bradberry?
Carolina's No. 1 cornerback is set to become an unrestricted free agent. He's been a starter since joining the team as a second-round pick in 2016.
"I feel like I'm a top corner in this league," Bradberry said, "and I want to be compensated as such.
"I'm open to any and all possibilities," he added. "I understand this is a business. We'll see what happens."
In four seasons, Bradberry has compiled eight interceptions and 47 passes defensed. He recorded a career-high three picks in 2019 and allowed a passer rating of 80.3, ranking 10th among qualified cornerbacks.
"We didn't get the results as a team that we wanted. But I feel like individually I did well," Bradberry said. "I wanted to increase my interceptions this year and I got three. That's not a whole lot, but it's a good number for any corner. I go against three of the hardest receivers to cover in the league week in and week out (Julio Jones, Michael Thomas and Mike Evans). So, I'm feeling good right now."
As you can tell by the way he views his value, Bradberry has become a much more confident player over the years. That, and the finer points in his game, took time to develop.
"Coming from Samford, I didn't have too much confidence," Bradberry admitted. "But my teammates were always encouraging me and they kind of built me up. I became more active on the field celebrating – you saw that in my fourth year. I let it loose a little bit.
"This year I feel I was consistent throughout the whole year. That was my whole goal – to be consistent for my teammates. They expect me to shut down whatever receiver I'm on."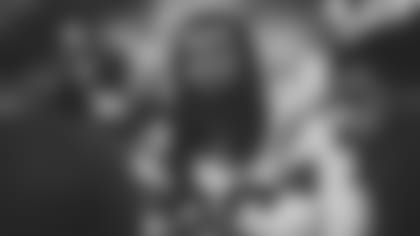 Carolina's other starting cornerback lost his starting place by the end of the 2019 season.
Donte Jackson, a second-round pick from LSU in 2018, was replaced by veteran Ross Cockrell for the last two games. Watching from the sideline isn't something Jackson wants to get used to.
"Learn. Learn and build," Jackson said of how he'll approach the offseason. "I stated it a few weeks back, my confidence has never gone anywhere. Year Two, just made 24 years old. I have a ton of football left to play in this league. Whether people are fans of me or not, I've still got work to do. If I was a Pro Bowler or All-Pro this year, I still was going to put in the same work. Just back to the drawing board."
Jackson finished the year with three interceptions and eight passes defensed. He missed three games with a groin injury and was on the wrong end of several big plays.
"Very humbling. It just sucks. Everyone feels they could have done better," Jackson said of the 2019 season. "But we have to come back and be ready to roll. 2020 is a whole new year. Set new goals and get ready to go."
View photos of players cleaning out their lockers as the Panthers wrap up the 2019 season.