CHARLOTTE – Charles Johnson covered a lot of ground during his entertaining retirement speech on Thursday at Bank of America Stadium.
The former defensive end gave special shout-outs to several individuals. Here are some of the highlights.
On linebacker Thomas Davis, who played with Johnson at Georgia before joining forces again in Carolina: "TD is a legend at Georgia. TD always would bring it. The way he talks now, he was talking like that at Georgia. When he's breaking it down now every other play, he did that at Georgia. I learned a lot from that guy, the way he played with such intensity, the way he hit. That made you want to hit and do stuff like that… I want you to know TD, I never took for granted watching you play. Watching you from Georgia to now, I feel like I was blessed enough to even be behind you."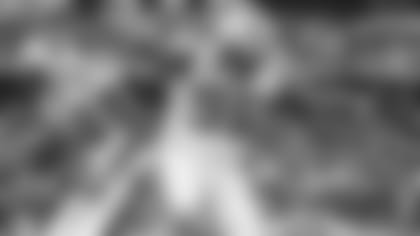 On defensive end Julius Peppers, who Johnson looked up to when his NFL career began: "I used to play on Madden and I played with Carolina. Got this big 6-6 freak of nature on the Panthers. When I get to the Panthers I'm playing with this guy. Pep ain't saying nothing to me. He ain't going to speak to you. It took time for him to grow on me and I can admit that. But the whole time he was doing that, I was watching him. He was killing it.
"I remember sitting in the locker room and you showed me your check. That was when you were getting a million dollars a game or something like that. But, to be honest, that motivated me to get on my grind. I tried to mold my game after you. I wanted to be a beast. I saw how you made 6-8, 350-pound linemen – just tossing them around. I tried to apply that to my game, that's why I used to bull-rush a lot. I used to like to get up on people and not let people put their hands on me."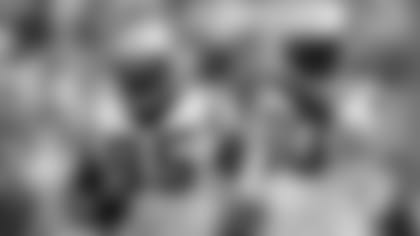 On GM Marty Hurney, who drafted Johnson in the third round of the 2007 draft and later signed him to a lucrative extension that earned Johnson the nickname "Big Money": "After Pep left (following the 2009 season), Marty said, 'We're about to let you start. This is going to be your time to shine.' What did I do? I took it and ran with it. I appreciate you giving me that opportunity and coming to me and telling me.
"It's crazy, because when you came to Miami (in 2011) – I'm sitting at the table and you left with (sports agent) Drew (Rosenhaus). Drew called my phone and he was like, 'Charles, you're not going to believe this. Panthers are about to offer you such and such and such and such.' I'm talking to Coach (Eric) Washington and Sam (Mills III) and I damn near fell out the chair! That changed my life. That changed my life."
On Eric Washington, Carolina's D-line coach since 2011 who became much more than a coach to Johnson: "The reason why I love you so much – because you made see the difference between family and coaching. Not all coaches get involved with players about family. Players are in and out. That's how it is. You don't want to get too attached. But you made it clear to me that I'm family to you. And you always tried to coach me to be a better person. That was every day. That's why I love you. Not all coaches are going to give you that."
On caring for his son: "Nobody can explain the love you have for your son. When you have a kid and you're used to doing stuff a certain way and you have to jump into that father role – it's a big step. Not everybody is built for that. I can honestly say today that I wasn't built for it, but I made myself work for it. I'm still working, trying to be the best dad that I can be."
Here's one last quote from someone other than the man of the hour.
Before Johnson took the stage, Washington and Mills stepped to the mic to introduce and share a few meaningful words.
Mills, who worked with Johnson in Carolina from his first day to his last, summed up Johnson's impact nicely.
"To this day, you still have an impact on our team," Mills said. "When I see Mario or KK running after a drill to the end zone. When I see guys talking in the end zone before a game. When I see guys putting on weighted gloves to work on their hands or come in on Tuesdays and work when (coaches) are not around. Your impact is so strong here, you have no idea."