CHARLOTTE – The Panthers had a good problem Thursday night.
When they went on the clock with the 24th pick of the 2018 NFL Draft, two players they feared wouldn't still be on the board were.
"We loved them both," wide receivers coach Lance Taylor said of DJ Moore and Calvin Ridley. "I didn't think there was any dream scenario that both of them would be there available. I don't know if there would have been a wrong choice."
But they did make a choice. So why was it Moore?
"He's 210 pounds," general manager Marty Hurney began to explain.
That's 20 more than Ridley, whose slighter build could make durability a concern. But it's how Moore uses his 6-foot frame that mostly intrigues the Panthers. According to Pro Football Focus, Moore averaged 9.9 yards after the catch on crossing routes and screen passes last season at Maryland while forcing 20 missed tackles.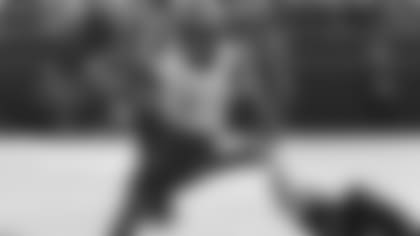 "He's a little bigger (than Ridley). He's still very explosive," Hurney continued. "They're two excellent receivers, so it's very close but we just thought his athleticism, and his run after the catch, is elite."
Added Taylor: "You put the ball in (Moore's) hands, and he's an elite playmaker. He can run around you, he can run by you, he can run through you. He's powerful in his lower body, and he's just built to withstand the game of football."
That build has led some to assume Moore will be stuck in the slot. But you know what they say when people assume.
"That was what we loved about him - he can play any position," Taylor said. "I think he can play inside or outside."
Ridley did rate above Moore in the speed department and as a route runner. But unlike Ridley, Moore has experience as both a kickoff and punt returner. He was also highly productive – totaling at least 75 receiving yards in all but two games last season – despite catching passes from four quarterbacks.
"He's a very smart young man, very bright, picks things up very quickly and can regurgitate those things right back to you," head coach Ron Rivera said.
"It's interesting because afterwards, we got a lot of positive responses from coaches and people throughout the league that I know that think he was a good pick for us."