CHARLOTTE – Beginning with the very second that Will Grier was announced as the Panthers' third-round draft choice two weeks ago, it seems like anyone mentioning Grier is contractually obligated to mention Cam Newton.
"I saw him in the locker room, just said hey," Grier said when asked if he'd crossed paths with Newton yet. "He's got a busy weekend and I'm doing this, but I'm excited to get to work."
Both quarterbacks were at Bank of America Stadium on Friday, but while Grier had a football in hand for rookie minicamp, Newton was working with a kickball as a part of his annual charity event.
Grier and Newton may be inseparable in the minds of folks who follow the NFL, but Grier fittingly was paired with a different quarterback Friday – second-year signal caller Kyle Allen.
"I've known Kyle for a long time. Awesome guy," Grier said. "He's helped me learn and get started here."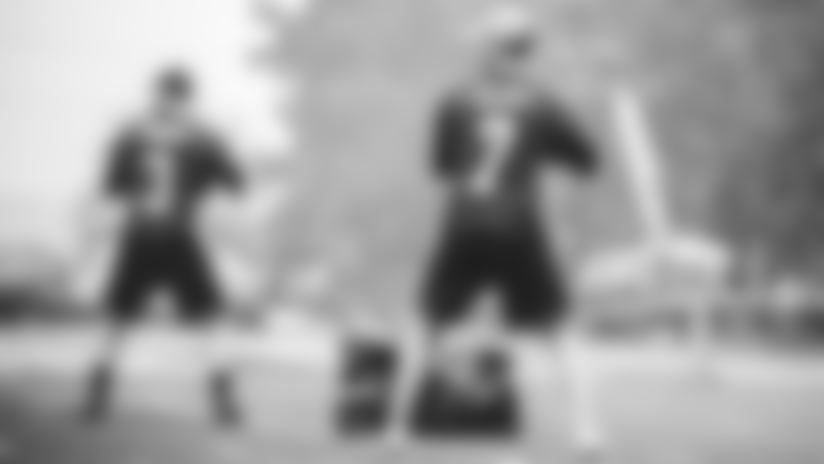 Allen is among 10 non-rookies on the Panthers roster that qualify to participate in the team's two-day rookie camp. In Grier, Carolina drafted a quarterback for the first time since taking Newton with the No. 1 overall selection in the 2011 NFL Draft, but Allen is the last Panthers quarterback to notch a victory.
When Newton sat out the final two games of the 2018 season with shoulder soreness, journeyman Taylor Heinicke started in Week 16 and played through the pain of an elbow injury and played well in a loss to the Falcons. With Heinicke out for Week 17, Allen started at the Saints and played very well to help the Panthers end the year on a winning note.
"If you compare Taylor's start and Kyle's start to every other quarterback in the NFL that made their first career start, they compare pretty well," quarterbacks coach Scott Turner said. "I think those guys maybe don't get the credit they deserve because they were undrafted or aren't names or whatever.
"Will is going to have his work cut out for him to come in and beat those guys out."
Turner is as excited as anyone about the potential that Grier possesses, but he's also excited about the quarterback room on the whole – starting with Newton, of course.
Grier feels much the same way.
"It's a great room," he said. "I think all of the guys are good people, good quarterbacks that are smart guys. It's a good environment to grow your football knowledge. I'm just excited to just get to work with those guys."
Friday, in his practice debut in a Panthers uniform, Grier was working with - and technically behind – Allen. As the relative veteran at the position, Allen was up first for each drill during the rain-soaked morning session.
"Kyle knows what we're doing, and that will help Will as far as him getting a chance to see what we're doing and how we do it," head coach Ron Rivera said. "I think it's very beneficial."
Allen and Grier have shared the field before. In 2014, they both were selected for the Army All-American Game that annually features the top high school seniors. Allen, from Arizona, was headed to Texas A&M; Grier, from Charlotte, was headed to Florida.
Both were among the top quarterbacks in the recruiting class and were the only quarterbacks on their respective squads to pass more for than 100 yards in the game, which also featured future Panthers receiver Curtis Samuel.
Allen ended his college career at the University of Houston, but not before playing two years at Texas A&M under offensive coordinator Jake Spavital. Greir played one season at Florida and then his final two at West Virginia – under Spavital as well.
"It's great to see Kyle again and reconnect," Grier said.
While Allen and Grier split reps Friday, Grier was asked about the last time he was on the Panthers practice fields. That would have been the summer of 2012, when Grier was quarterbacking a 7-on-7 team from Davidson Day School. Before the tournament began, Newton made an appearance and addressed all the teams.
For a moment, it was again all about Grier and Newton. But going forward, it's about Grier and Newton and Allen and Heinicke.
"I'm really excited, excited to work with everybody and just get to know the team and earn their respect," Grier said. "This is an incredible opportunity, and I'm so happy to be here."
View all the photos from the rainy practice session to kick off the 2019 rookie minicamp in Charlotte.