CHARLOTTE - Teddy Bridgewater was cleared to play, and clearly wanted to play.
In the end, Panthers head coach Matt Rhule had to step in.
Rhule said it was his decision to park his starting quarterback after last week's right knee injury against the Buccaneers. It didn't hurt the Panthers, as backup PJ Walker led them to a 20-0 win against the Lions to snap a five-game losing streak.
But Rhule said he felt like it was his obligation to protect Bridgewater from himself, considering his competitive nature (and perhaps the fact they were without a pair of starting offensive linemen).
"He looked really good, everyone agreed he could play, but in my gut, I didn't feel like it was the right thing to do," Rhule said. "I made that decision. Teddy wanted to play, like the true competitor he is. But like the true team player he is, he respected my decision."
The Panthers put Bridgewater through a pair of pregame warm-ups, with owner David Tepper, general manager Marty Hurney, Rhule, and what seemed like the entire offensive coaching staff and athletic training staff watching. While Bridgewater was cleared to play, Rhule said he thought his quarterback was at "80 to 85 percent" when he watched him move, so he elected to sit him down.
If he thinks Bridgewater was lobbying this week, he should brace himself for next Sunday when the Panthers play at Minnesota, and Bridgewater returns to the place where he started his career, and it nearly ended, with a traumatic left knee injury. Either way, Rhule said he wasn't trying to engage in any subterfuge when he was vague about Bridgewater's outlook.
"There was no coach-speak this week," Rhule said. "I know Teddy, and he told me at the beginning of the week he wanted to play. He prepared like a monster this week to get ready. We followed it all week this week. . . .
"I just felt like P.J. and Will (Grier) could go win the game for us, and I felt like for Teddy, to ask him not to play to his strengths would not be smart."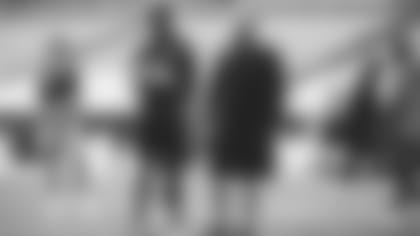 Walker finished the game 24-of-34 for 258 yards, with a touchdown and two interceptions. The picks could have been costly since they came at the Lions 4- and 7-yard lines), but the Panthers were able to withstand those mistakes with an otherwise competent game from the former XFLer making his first NFL start.
It might be a stretch to call it a dream game, but it wasn't even his dream.
Walker said his mother actually had a premonition when he was still with the Colts that he'd make his first start with the Panthers, and he was happy to deliver for her, and for everyone around him.
"I spoke with my mom about the whole situation, and she told me to go be me, go play the game," Walker said. "This is something I've been dreaming about my whole life. So for her to just give me some words of encouragement, to go out there and not think the moment's too big. Just do what you do. You belong here.
"That's something she always told me, that you belong in this place, and go make the best of it."
He did just that Sunday, when the Panthers needed it the most.