CHARLOTTE – The players gathered at the Bank of America Stadium practice fields for the Carolina Panthers 7-on-7 High School Passing Tournament had heard their coaches harp on the importance of hard work, attitude and character.
Friday, they got the same message from a different messenger, one that undoubtedly impacted their point of view.
"You hear clichés about attitude and character every single day, and I heard them too when I was your age," Cedric King, a U.S. Army Sergeant First Class, told members of the 12 competing teams before the tournament began. "When I stood on top of 30 pounds of explosives and got my body torn apart, that's when the lessons of life actually had to be applied."
Nearly two years ago, King lost both his legs and nearly his life when explosives detonated below his feet on a mission in Afghanistan. The Norlina, N.C., native is continuing to recover as a resident at Walter Reed National Military Medical Center.
Rather than detailing his life-and-death challenges, King advised the players on how to face the challenges that will come their way.
"You're going through things right now, but you're bigger and faster and stronger than everybody else, so you naturally rise to the top," King said. "But at some point in your life, your speed won't matter, your strength won't matter. At some point, hard work is going to have to make its introduction into your life."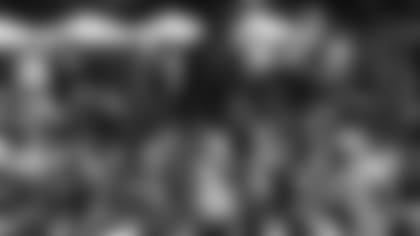 King likened the players to a pencil that he took out of his pocket.
"This pencil is like a lot of you. This pencil is useless until it goes through the sharpener," King said. "But once it goes through the sharpener, the most important part of this pencil will be exposed. The best part of you hasn't been exposed. You can sharpen yourself in the weight room, sharpen yourself at events like this, so that then you can be used.
"All life ever asks us is do all that you can do. When you've done all that you can do, that's all you can ask for."
After King's inspirational message, 12 elite programs from North and South Carolina that combined to win seven state championships in 2013 competed for another title. One of those champions – Mallard Creek High School from Charlotte – downed reigning champion Dorman (S.C.) High 42-35 in the title game to join Dorman as the only two-time winners in the seven-year history of the event.
Panthers rookies Kelvin Benjamin, Bene Benwikere, Tyler Gaffney, Carrington Byndom and Marcus Lucas attended the event. Benjamin won a pair of prestigious 7-on-7 tournaments as a high school player in Florida.
"You don't want to forget those days. This reminds me of the old days, seeing these guys out here having fun," Benjamin said. "I love the game of football, and this is where it starts if you want to be an NFL player."