I've never seen so much attention paid to throws during a spring practice, but after all Cam Newton has been through since last season, we all understand why. Newton made progress each day during minicamp. He advanced from throws to stationary targets to downfield throws to moving targets. Everything is heading in the right direction.
Honestly, the best sign of all has been observing Newton's exuberance throughout the offseason. As head athletic trainer Ryan Vermillion explained to me, the joy in Newton's face comes from the fact that there is no pain in his shoulder. A pain-free Newton is a confident Newton, and that's what everyone loves to see.
"All offseason he's had great energy," longtime teammate Greg Olsen said. "You know when he feels good and when he doesn't. It's very clear. He wears his emotions on his sleeve so to speak."
Beast. There's really no better way to describe running back Christian McCaffrey. After posting 1,965 yards from scrimmage last year, the former eighth overall pick looks bigger, faster, stronger entering Year Three. The rest of the NFL better look out, that's all I have to say.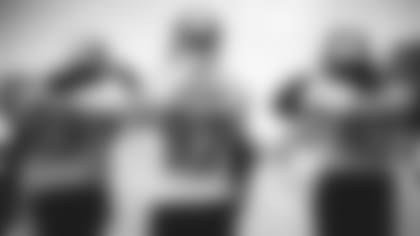 Is all the 3-4 talk a little overblown? Probably. Given how often defenses line up in their nickel package – and given the fact that Carolina experimented with multiple looks last year – this isn't earth-shattering. But it's different, and change is exciting, especially with all this speed up front.
You're going to see a much faster defense this fall, with guys like Bruce Irvin, Brian Burns and Christian Miller added to the mix. And don't forget about Marquis Haynes, another explosive rusher who is a much better fit in this scheme.
Combine all that speed with a front line of Kawann Short, Dontari Poe and Gerald McCoy, and yeah, there's a lot to be excited about.
"We've added guys that bring a lot of – not only experience – but a lot of ability, a lot of talent and credentials," Olsen said. "With Gerald, we know him. He was a pain in the neck to block every year twice a year for what seems like forever. Bruce Irvin was like our arch nemesis, trying to get ready to block him when he was in Seattle.
"With Burns and the young kids - Marquis coming on – offensively, you can tell they have a little something to them there on the defensive side of the ball, even when we're not in pads."
So about that safety situation. Rashaan Gaulden, a third-round pick in 2018, had a solid spring and is positioning himself for the starting job alongside veteran Eric Reid.
But head coach Ron Rivera is eager to see the competition at that spot continue into training camp.
"The one position obviously is the free safety spot," Rivera said, "and we've got to see who is going to step up and take that lead."
And in a hypothetical scenario where Gaulden drops down to nickel, who then lines up at safety? There are a number of candidates vying for opportunities. It's a battle we'll all be keeping an eye on in Spartanburg.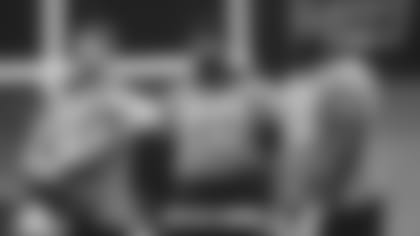 5. Where are we at with the O-line?
We honestly don't know a whole lot more about the offensive line than we did before spring practices. When the pads come on at training camp we'll quickly find out more.
But here's what we know: Tackle Daryl Williams didn't partake in team drills but he's right on track after what Rivera called "a great offseason." Ditto for new center Matt Paradis, who is coming off a season-ending leg injury. And don't overlook Greg Van Roten, who is looking to lock down the left guard spot again.
As for second-rounder Greg Little, he has a lot of learning to do, #asexpected. Rivera made that clear when he told reporters that Little "can't just rely on his athleticism anymore." We'll see how he handles all that's thrown at him at training camp. Will the rookie prove to be the opening day starter at left tackle? Or will Williams get the nod in that role? We shall see.
6. Samuel really coming on
This is the Curtis Samuel we've all been waiting for. After making a bunch of plays last season, you can just the see the confidence emanating from the former second-round pick. He's carrying himself with swagger, and as he told reporters the other day, he's making plays in practice he simply wouldn't have been able to make in prior years.
Between Samuel, last year's first-round pick DJ Moore and veterans Chris Hogan, Jarius Wright and Torrey Smith – the Carolina receiver group is as deep as it's been in a while.
7. McCoy impact felt immediately
Some guys are just natural born leaders. It comes easy. That's how it is for McCoy.
The six-time Pro Bowl defensive lineman has an undeniable presence about him. Sure, everyone respects his career accomplishments. But there's also that intangible element that comes with all great leaders.
He's only been practicing with the team for three days, but you'd just as easily assume he's been here (not Tampa Bay) for nine seasons.
If you can't tell, I believe securing McCoy's signature was an absolute game-changer for this team.
8. Olsen looks ready for a big year
The All-Pro tight end is hell-bent on ending his career on his terms. With that pesky foot injury now behind him (fingers crossed), Olsen looks primed for a true Olsen-like year. The 34-year-old was setting PRs in the weight room during the offseason strength program, and when on the field (they carefully managed his reps) he made difficult catches look routine, which is what we're accustomed to seeing from him. It goes without saying how much a healthy Olsen means to this offense.
9. Different energy coming from first-year position coaches
Organized team activities and minicamp was also our first chance to see the new additions to the coaching staff in action, and there's a lot to like.
Perry Fewell's years of experience with defensive backs, not to mention experience coordinating an NFL defense, will be invaluable. While Rivera and Eric Washington have focused on the new-look front seven, they've been able to trust the energetic Fewell to lead the back end.
Jim Hostler is another veteran coach – one that is going to hold the receivers accountable for every detail. When I asked Moore about his first impressions of his new position coach, the first words out of his mouth were, "Woooo. Host is a different type of coach. He's about the details. We have to be on our toes with it."
Jake Peetz took over the running backs from Jim Skipper, a legend in his own right. Their coaching styles couldn't be more different. Peetz brings a youthful energy, and it's a noticeable change of pace.
10. Kyle Allen is confident and rightfully so
I came away really impressed with quarterback Kyle Allen's spring. The hope was that he'd build on his phenomenal performance in the 2018 season finale, and he's done just that. He's clearly comfortable in the system and comfortable in his own skin.
The Panthers obviously have high hopes for Will Grier, who they drafted in the third round, and the West Virginia product had his moments this spring. All the while, Allen – aka Lovey Dovey – has quietly gone about his business and endeared himself to teammates. With Taylor Heinicke doing all he can to impress, there's a lot of healthy competition behind Newton in that quarterback room.
View photos from the third and final practice of mandatory minicamp.