CHARLOTTE — The Panthers didn't have long to prepare for this one, but they also couldn't wait to get back on the field.
Facing anyone in a short week is a challenge, and there's a deep element of the unknown about this Texans team.
But the Panthers also walk in with the league's top defense, and the league leader in yards from scrimmage, so there is a sense of confidence about the work they've put in so far.
Here's a look at five things to watch in tonight's matchup:
A.J. Bouye is going back to where it all started for him in the NFL, and the Panthers are just glad to have him and his notebook back in the room.
The veteran cornerback is expected to make his 2021 debut tonight against the Texans.
He missed the first two games while finishing up a suspension from last year, but he made an immediate impression on the Panthers during the offseason and minicamp. He walked in the door with a certain gravity, and was tasked with helping groom a young secondary.
So while he hasn't been around the last two weeks, what he's seen has impressed him.
"It's great. I want to bring more of that, and just keep that same energy the whole time," Bouye said when asked what it was like to join the league's top-ranked defense. "All I can do is keep that same energy the whole time.
"Just playing together, honestly. Flying around, the chemistry, the effort, the mentality the defense brings, you can see it out there. That's one thing we're going to try to keep up."
He's expected to slide back into the nickel role they had planned for him, after they patched it together with multiple players the first two weeks. The hope is that his knowledge of the game will help rookie Jaycee Horn and Donte Jackson outside, and make the secondary more well-rounded.
But he's been impressed with what he's seen so far in his absence.
"The big thing that stood out to me watching the game is just the brand that the coaches are trying to bring to the team," Bouye said. "You really see it out there for all four quarters. We have a lot of playmakers. To see the defense, how they're out there hunting, just playing sound defense out there, the effort in general.
"As a team, we're playing great complementary football. When you have a team that does that, you know you can keep that all season and only good results come out of that."
Jackson said he figured out early in the offseason that Bouye was someone to be listened to, and someone to learn from.
"Having that back in the room, now that we can physically be with him, and physically look at his notes, stuff like that, it's always a plus, especially for a young group," Jackson said. "A.J. has been in the fire a lot throughout his career. He's definitely a guy who knows, who teaches us how to watch film, and teaches us what he writes down when he's looking at film.
"Just having that back in the room after two weeks of not having it after getting used to it in camp, this is definitely a plus. We're definitely excited to have A.J. back, not just for what he brings physically on the field, but just mentally how he can help everyone in the room with how he prepares."
Jackson said Bouye was one of his favorite players when he was growing up in Louisiana, a reminder that Bouye's considerably older than his teammates.
The 30-year-old made the Texans as an undrafted rookie in 2013, and after his first four seasons, joined the Jaguars as they were putting together one of the league's top defenses in 2017.
He sees some similarities here lately. And now that he's back, he can help contribute to it.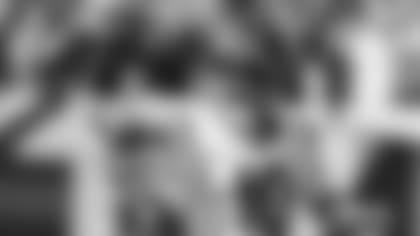 WELCOME TO THE LEAGUE, ROOKIE (AGAIN)
For the second time this season, the Panthers face a rookie quarterback making his first NFL start.
They got after Jets first-rounder Zach Wilson in the opener, and now face Texans fourth-rounder Davis Mills.
Mills subbed in for an injured Tyrod Taylor last week, and threw for 102 yards with a touchdown and an interception in a loss to the Browns.
The Panthers were open about their plan to try to confuse Wilson prior to the opener, but have talked about Mills with the same respectful tone they had for the No. 2 overall pick.
They've complimented his arm strength and awareness, though Mills has a much shorter resume. He only played five games during Stanford's pandemic-shortened 2020 season, and had limited work in the preseason.
So it's hard to know what to expect of him, but the same could be said of him and his preparation for the Panthers, who can bring pressure from many angles.
Panthers defensive end Brian Burns and outside linebacker Haason Reddick have had some fun going back and forth about their preseason bet — with the team's sack leader getting a tricked-out golf cart.
At the moment, Reddick has a 3.0-2.0 edge on Burns, but they've combined to help the Panthers lead the league in sacks.
Burns said he's leaning on the veteran pass-rusher, as they go back-and-forth about how to improve.
"It's just sharpening our I.Q.s," Burns said.
"We constantly talk about pass rush," Reddick said after last week's win over the Saints. "All day, every day, every time we see each other. When we are out at practice, during the game, we constantly talk about pass rush.
"How we are being set by the tackles on each side, what worked, what didn't work. Always picking each other's brain and trying to see, OK, you use that and then let me see if I can use this and beat them with this."
Their success has been central to the team's at this point, and helped a secondary carve last year's third-down percentage in half.
The Panthers were next-to-last in the league in that category a year ago, allowing just under 50 percent conversions. This year, they've allowed just 6-of-24 (25.0 percent).
"When you watch our defense right now, it's been everybody — it's been the coverage, guys inside pushing the pocket," Panthers head coach Matt Rhule said." It's one of the things I've wanted our team to understand — you win by everyone doing their job. If we have success as a team, you will have success as individuals."
Panthers running back Christian McCaffrey leads the NFL in yards from scrimmage with 324, with 170 rushing yards and another 154 receiving.
While they want to monitor his usage over the course of the season, they haven't shied away from using him as a receiver, since many of the check-down passes he's catching from Sam Darnold end with McCaffrey ducking out of bounds and not taking a lot of huge hits.
The Panthers would like to eventually get their other backs more involved, but as they're settling Darnold into the offense, having McCaffrey as a safety net is a good place to begin.
They allowed Saints returner Deonte Harris to average 31.2 yards per return last week, and also had a field goal blocked.
When teams are young, special teams are often the last thing to come together, since they're generally made up of backup defensive backs and linebackers and other reserves.
But the Panthers are rolling on defense at the moment, and hope to tighten up their coverage units to keep from giving away precious field position.
Count on Harris Teeter for your Thursday night Homegating party! Enjoy this recipe from Harris Teeter & Jimmy Dean – Zesty Sausage Cheese Balls!
Carolina is 3-2 all-time against the Texans.