The Panthers are heading to Southern California for their longest road trip of the 2020 season. Here are five things to watch as they take on the Chargers.
How will Mike Davis perform?
With All-Pro running back Christian McCaffrey sidelined for at least the next three weeks with a high ankle sprain, Mike Davis will start at the position. Davis' teammates and Carolina's coaches have praised the 27-year-old running back, with senior offensive assistant/running backs coach Jeff Nixon said this week he expects Davis to do "big things" for the team.
Davis has plenty of playing experience and displayed his receiving ability with eight receptions in last week's loss to the Buccaneers. Replacing McCaffrey will be a tall task, but throughout the week, Panthers players and coaches have said they need Davis to be himself and nothing more.
Can the Panthers pressure Justin Herbert?
One of the best ways to knock a rookie quarterback off his game is to pressure him. But through two games, the Panthers have struggled mightily to get to the quarterback.
Carolina is the only team in the league that has not recorded a sack. The Panthers also have just one quarterback hit while no other team has fewer than four. Defensive coordinator Phil Snow admitted Carolina's lack of pass rush is a concern this week.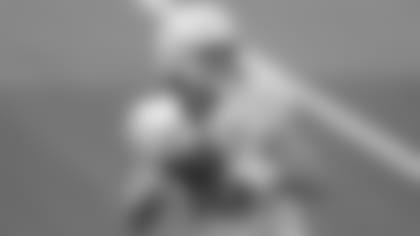 Herbert displayed his raw talent in Los Angeles' loss to Kansas City last week. Starting on very short notice, the rookie out of Oregon finished 22-of-33 for 311 yards with one touchdown passing, one touchdown rushing, and an interception. Herbert took two sacks but was hit a total of seven times.
If the Panthers let Herbert stand in the pocket and hit his talented skill players, it could be a long day.
Left tackle Russell Okung didn't practice on Thursday with a groin injury but was back as a full participant on Friday. Every team wants its starting left tackle on the field, but it could be especially critical for the Panthers in Week 3 against the Chargers' pass rush.
While three-time Pro Bowl defensive end Melvin Ingram is doubtful to play with a knee injury, Los Angeles still has two-time Pro Bowl defensive end Joey Bosa. He recorded 11.5 sacks in 2019 and has 2.0 through two games this year, along with five quarterback hits and three tackles for loss.
The Chargers are currently tied for second in the league with a combined 29 sacks, hurries, and knockdowns, signifying they can pressure opposing quarterbacks. That was a struggle for the Panthers last week at Tampa Bay, as Teddy Bridgewater was sacked five times and hit a total of seven.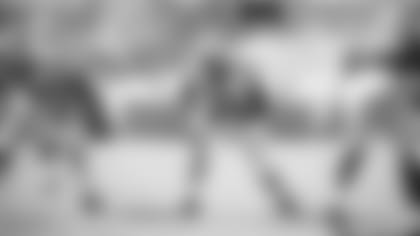 Can Robby Anderson continue his strong start?
Wide receiver Robby Anderson entered Week 3 fourth among all players with 223 yards receiving. Part of that is his strong chemistry with Bridgewater, as he's caught 15 of his 18 targets in the first two games. That's a significant increase from Anderson's 54.2 percent catch rate from his first four seasons with the Jets. His 12.4 yards per target also well eclipses his 8.0 figure from 2016-2019.
Carolina has plenty of offensive weapons, but with McCaffrey out, everyone has to step up to replace his production. If Anderson continues his hot start, that could go a long way in putting the Panthers in a position to win.
Will the Panthers cut down on consequential penalties?
Carolina's defense played a much better second half than the first 30 minutes last week against Tampa Bay. Still, costly penalties kept the unit on the field longer than it needed to be. The Buccaneers recorded four first downs via penalty, and a pair of them came from rookie defensive tackle Derrick Brown. That continued a trend from Week 1, where linebacker Tahir Whitehead's defensive pass interference penalty kept the Raiders on the field for their game-winning touchdown drive.
Though the Chargers haven't scored more than 20 points in a game yet this season, they easily could if the Panthers allow them to stay on the field through drive-extending fouls.
Carolina holds a 5-1 edge in the all-time series against the Chargers.