CHARLOTTE — Panthers senior offensive assistant/running backs coach Jeff Nixon has known running back Mike Davis for years.
Nixon was the 49ers' tight ends coach in 2016, a year after San Francisco had selected Davis in the fourth round of the NFL Draft. When Nixon joined head coach Matt Rhule's staff at Baylor in 2017, he continued to follow Davis' career from afar.
But even before that, Nixon studied Davis coming out of South Carolina as the Dolphins' running backs coach in 2015, meeting with him at the NFL Scouting Combine. So by the time Nixon proverbially "stood on the table" for Davis when the new coaching staff was evaluating the Panthers' roster during the 2020 offseason, Nixon knew why Davis would be a fit for Carolina's new offense.
"Mike really impressed me right away when I got a chance to watch his film from last year at practice and from his time spent with Seattle and Chicago," Nixon said Thursday. "I was excited about him and knew he'd be a great compliment to Christian McCaffrey as our No. 2 running back."
The Panthers will need Davis to be more than that now, with McCaffrey's high ankle sprain landing him on the reserve/injured list and off the field for at least the next three games.
Davis has already displayed his receiving ability, making eight receptions for 74 yards in last week's loss to the Buccaneers. He tied a franchise high with seven of those catches in the fourth quarter.
"I was really impressed with him last week, coming in a tough situation, making some plays, and giving us a chance to come back and win the football game," Nixon said.
Davis has rushed for 890 yards with five touchdowns and caught 74 passes for 504 yards with one touchdown in his six seasons. The South Carolina product was most productive in 2018 when he recorded 514 rushing yards and 34 receptions for 214 yards with the Seahawks.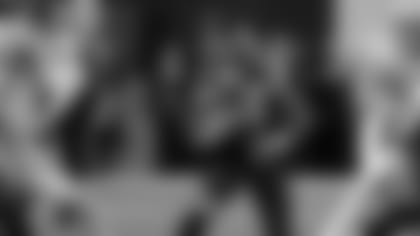 Davis' skills, combined with his experience, are why Carolina feels good about the 27 year old.
"The biggest that you want out of your No. 2 running back is someone that can go in and be a really good all-around back — running the ball, blocking and catching — and Mike can do all of those things," Nixon said.
In the meeting rooms, Nixon says Davis is a laid-back, fun-loving guy who can do some solid impressions of former coaches.
"The interactions between him and Christian are also funny at times, just the things they talk about," Nixon said.
But Davis also takes football seriously and has endeared himself to his teammates.
"It's his work ethic and talent," Nixon said. "He's performed all through training camp, all through the first couple weeks of the season."
Replacing McCaffrey's production won't be an easy task and won't be all on one person. Rhule has mentioned practice squad running back Reggie Bonnafon as a player who may be promoted to the active roster to serve as Davis' backup Sunday against the Chargers. If that's the case, Nixon has confidence in third-year back out of Louisville.
"(Bonnafon is) a guy that's still fairly new to the position because he played quarterback at Louisville for a couple years before moving to running back. So he's still kind of raw, but he has gotten better and better since training camp," Nixon said. "He'll be a good compliment to Mike."
But Sunday should be Davis' show in Los Angeles.
"A lot of people are excited to see Mike get his opportunity here in the next couple weeks," Nixon said. "I expect him to do big things for us."
View photos from Thursday's practice as Carolina prepares to take on the Los Angeles Chargers.