The Panthers host the Rams at Bank of America Stadium on Sunday to kick off the 2019 season. Here are five things to watch.
What will we see from Cam?
Head coach Ron Rivera was happy to point out that quarterback Cam Newton didn't even appear on this week's injury report, but we're all wondering how that left foot is going to hold up when the Rams are rushing him.
Newton suffered a left midfoot sprain in the third preseason game against the Patriots when he was trying to avoid pressure in the pocket. Will he be able to maneuver like that against Los Angeles? We shall see. But we know Newton will push himself to the max in the opener, especially considering how frustrating the ending was to his 2018 season.
"He competes, he loves it, and he always gives you all he has," Rivera said. "That's one thing that I'll never worry about. That young man does not shy away from pressure. He gives us everything he has."
Speaking of widely discussed injuries to star players, what about Rams running back Todd Gurley. After struggling with knee issues last season, no one really seems to know what's in store for Gurley, who didn't play at all during the preseason.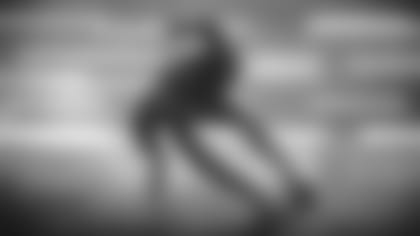 With veteran Bruce Irvin (hamstring) ruled out, first-round pick Brian Burns will get a significant workload against the Rams in his regular season debut. If the Panthers open in their base defense, Burns will get the start.
Defensive coordinator Eric Washington was asked what the rookie from Florida State is ready for right off the bat. His response?
Burns turned heads with four sacks during the preseason and we'll see if he can get one in the first game that counts.
But it's not all on Burns with Irvin out. Second-year edge rusher Marquis Haynes is ready to contribute, and it sounds like fourth-round pick Christian Miller might factor in as well.
"Lately, he has really stepped up," Washington said of the rookie Miller. "I really like just the look in his eye. He looks more confident and his play is more decisive. He's a guy that I'm really excited to watch compete on Sunday."
Donald, the two-time defending NFL Defensive Player of the Year, is capable of wrecking a game. He had 20.5 sacks last year and must be accounted for every snap.
"Well, he's a unique guy and he's gonna disrupt and he's gonna make his plays," offensive coordinator Norv Turner said. "The thing you have to do is make sure you don't leave him in a position where he is going to make a play that turns out to be a disaster. That's something we've worked real hard at. Part of it is the way we put the game plan together and part of it is the way we call the game."
For what it's worth, Donald has gotten off to slow starts in the past. He went three weeks before recording his first sack last year and had just one sack in his first four games in 2017. The Panthers hope that trend continues.
Can the Rams stop the run?
The Los Angeles defense is very talented at all three levels, but they struggled mightily against the run in 2018. In fact, they ranked dead last, allowing 5.07 yards per rush.
Christian McCaffrey just so happens to be one of the best backs in the league, recording 5.01 yards per rush in 2018.
Expect a heavy dose of CMC on Sunday, and every other week for that matter.
Can the Panthers get after Jared Goff?
The Rams went 13-3 before losing in the Super Bowl last year, so they clearly had the upper hand on most teams. But when it comes to slowing the explosive LA offense, the Bears (15-6 win) and Patriots (13-3 win) put some solid tape out there for the world to see.
There's no real secret blueprint, but there is a common thread: pressure on the quarterback.
The Bears sacked Goff three times and registered eight quarterback hits. The were constantly in his face and he finished 20-of-44 for 180 yards with four interceptions.
The Patriots sacked Goff four times and registered 12 quarterback hits in the Super Bowl. Goff went 19-of-38 for 229 yards and one interception.
Once the Rams get in a groove, their tempo and talent combines for a deadly combination. Disrupting Goff and making him uncomfortable is essential to keep that from happening.