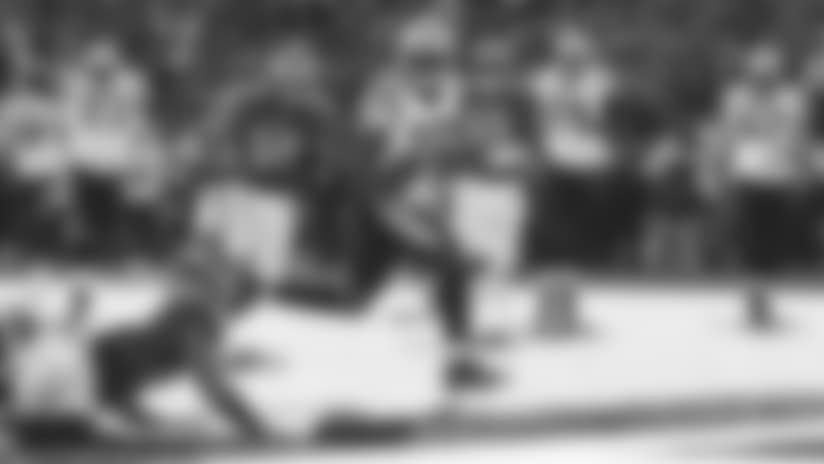 If the Panthers' offense does something comparable to the 2010 season, you know things aren't going well. But that's the type of day Carolina was having in Philadelphia, where at the half, quarterback Cam Newton had totaled 5 net passing yards.
The last time the Panthers had fewer after two quarters was when Jimmy Clausen and Co. went for negative-5 in Atlanta on Dec. 12, 2010.
So compared to the first half, Newton and the passing offense caught fire in the third quarter when they put up 44 yards.
Then came a fourth quarter for the ages.
Newton began the final 15 minutes by hitting on six of his first seven attempts. But the Panthers were still getting shut out. They needed a spark that only a touchdown could provide.
"We needed to get the ball in the end zone. No matter who got the ball in the end zone, we just needed somebody to get in the end zone to get the offense fired up a little bit," said wide receiver Curtis Samuel, whose 14-yard end-around got the Panthers on the board.
It was a beautifully drawn-up play with Newton lined up in the shotgun next to C.J. Anderson and in front of Christian McCaffrey. After the snap, Newton faked a handoff to Anderson and then ran alongside McCaffrey, making the Eagles go to their right to defend what appeared to be an option. That's when Newton flipped the ball to Samuel, who was heading the other way.
"I make plays happen," Samuel said before remembering the Golden Rule of touchdown scorers. "Everybody did their job. Everybody blocked. I've got to thank everybody cause without them that play wouldn't happen."
"Even though I see the end zone, I've gotta go get it after that," Samuel said. "We scored, the defense did their job and put us on the field and we just kept rolling."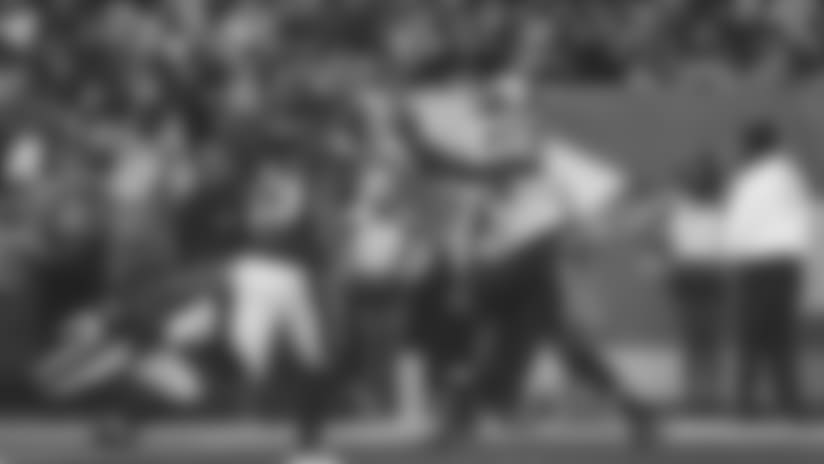 After the Eagles' ensuing drive sputtered near midfield, the Panthers took over at their own 13. Didn't matter. Newton was in a zone.
His next drive took seven plays and only 2:39 off the clock. There was one run – an 8-yard scramble up the middle by Newton. The 79 other yards came courtesy of his arm, which connected on all six attempts.
"I was beating him bad on the slants all day," said Funchess, who finished with six catches for 62 yards. "When I came out I was in cruise control, but then I made my move to go to the corner and he was beat. I was just waiting on the ball."
Newton and the Panthers weren't done on the drive. Because kicker Graham Gano missed the extra point after Samuel's score, they had to go for two in a 17-12 game.
Sometimes, it pays to be on the small side.
"I'm a smaller guy and they kind of lost me behind the offensive line and didn't know where I was until it was too late."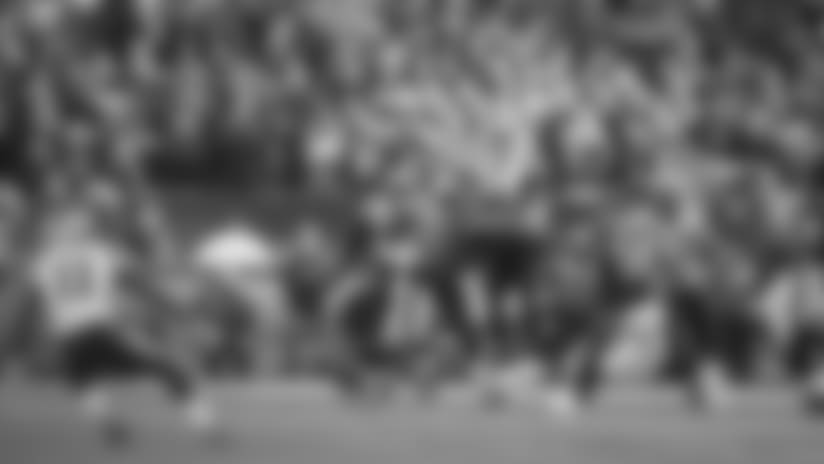 Yes, this felt very familiar. A 17-0 deficit. A late rally. And it looked like this one may fall short, just like last week's against Washington.
After Newton began the final drive with three straight incompletions, hope was fading with 2:06 left and the Panthers facing a fourth-and-10 from their own 31.
Then Newton did what he does.
"I haven't been around a guy like him with his ability to keep things alive and make big plays," offensive coordinator Norv Turner said.
Newton should have been sacked, but he slipped out of the grasp of Brandon Graham. Fellow defensive end Michael Bennett then delivered a huge hit on Newton as he somehow fluttered a pass to Smith.
"I saw his man had slipped and fell and he was uncovered wide open. I just knew I had to get the ball in his hands," Newton said. "It wasn't pretty, but the results were."
Said Smith: "I was running an inside dig route, and I kind of saw Cam pulling up so I knew it wouldn't be on time. So I stopped to kind of feel out where he was because I wasn't going to break out while he was scrambling. He ended up getting it off, and I guess Jalen (Mills) kind of slipped behind me and Cam saw it. I honestly don't know how he got it off - he muscled it out. Then I just got busy."
The first down was necessary. The extra yardage was a big bonus. A 12-yard reception turned into a 35-yard gain after Smith broke a tackle before turning down the sideline.
"I knew we had the two-minute [warning] coming up, so I didn't have to try to run out of bounds," he explained. "I knew that if I caught it, I could fight for extra yards because it wouldn't take extra time off. I was trying to cut upfield and get us in field goal range without having to dink it and dunk it downfield."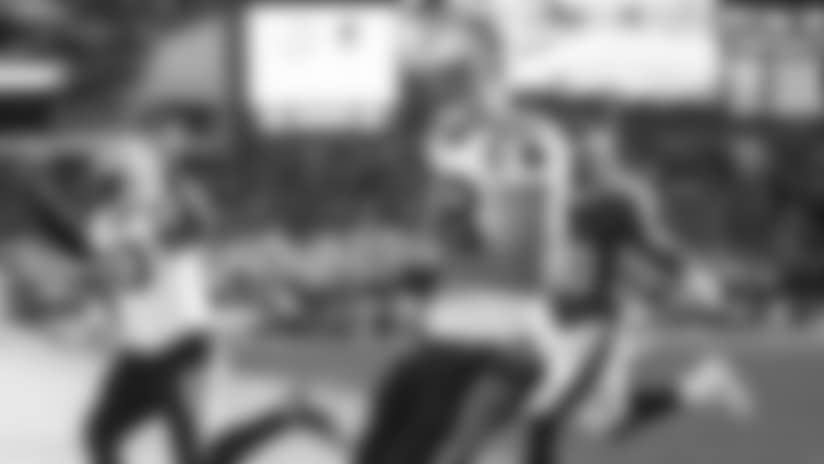 This time they finished the job by converting a third-and-2 with a 22-yard swing pass to Christian McCaffrey. A miss there and the Panthers likely would have sent out Gano to try a 43-yard field goal in the same direction he missed the extra point on a wildly windy day.
"That's as easy as it (gets). I didn't really have to do too much," Olsen admitted. "It was a great scheme. We talked all week that was going to be our first goal-to-go down there in the goal line area.
"Everybody sold it real well and it was pretty easy."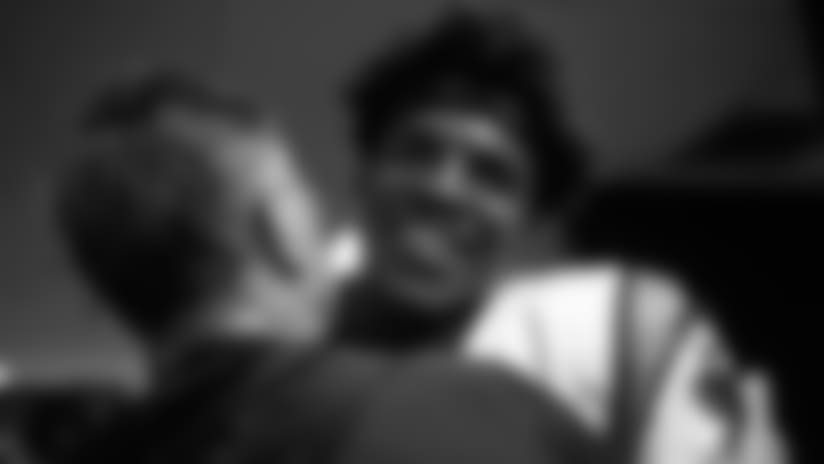 "17-0 nothing is not a great scoreboard to look at two weeks in a row," Olsen said. "We've gotta figure that part out."
The first two quarters were … something.
At the break, the Eagles led 10-0, but it seemed like much more since they had out-gained the Panthers, 222-83.
"We were obviously sleepwalking through the first half," Turner said. "It seemed like on every play we had one guy break down. We were facing long yardage every time. We talked about it at halftime and we said, 'Hey, we're going to get the ball in our hands, we're going to go quick,' and we had success with it."
Yeah, there's something about Newton and the no-huddle.
"I feel like just our edge at some particular times is being in a hurry up," he said.
Olsen agreed: "We kind of had it going there offensively. That no-huddle, tempo, we kind of had them on their heels … I think we're really good when we don't huddle."
As did center Ryan Kalil: "There's just a sense of urgency and our ability to out-tempo and out-condition them at the end of the game. I think we're a well-conditioned football team. I think we do well in those no-huddle situations keeping defenses back on their heels a little bit."
Which makes you wonder why the Panthers don't do it more often.
Turner has traditionally preferred to save the no-huddle for use against big bodies or worn-down defenses on warm days. Now that he's seen what it can do for Newton, maybe we'll see more. But don't expect anything too crazy.
"I think that's part of our DNA, but I don't think we should go to a no-huddle offense," Kalil said. "I don't think that's the answer, either."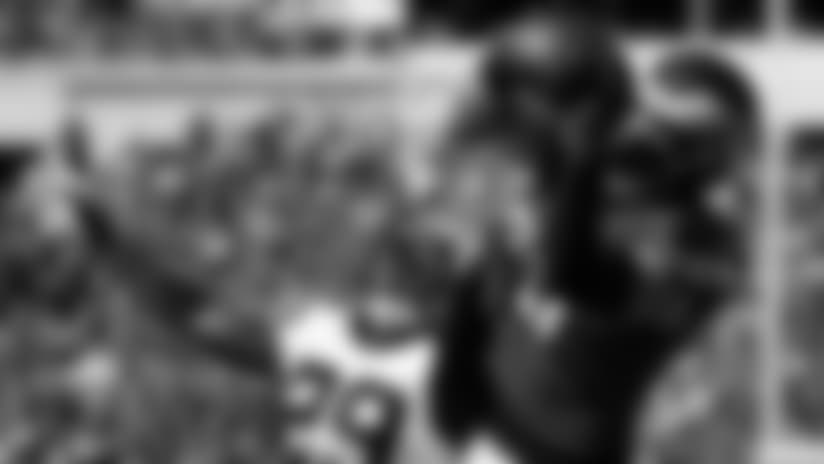 Let's not forget about the defense, another good news/bad news group.
They sure clamped down in the fourth quarter, forcing a three-and-out, two punts, a game-clinching fumble and allowing just 22 yards. Before that, they gave up 320 yards, including 124 to tight end Zach Ertz on eight receptions.
"Ertz killed us today," safety Mike Adams said.
Fortunately for the Panthers, they were able to close the spigot just in time. Ertz had only one catch for 14 yards in the fourth quarter.
"Ummm, I don't know," a coy linebacker Thomas Davis said when asked what adjustments the Panthers finally made on Ertz. "We changed some things up. We changed some things up."
Added linebacker Luke Kuechly: "Him and (quarterback Carson) Wentz obviously have a great feel for each other. You've gotta make some adjustments and try to limit his ability to get the ball. Thomas and those guys did a great job covering him late."
For now, we'll let the Panthers keep what they did against Ertz a secret. But what we saw through three quarters was loud and clear – the defense, which allowed Wentz to start 23-for-27 – is still a work in progress.
"We were able to come away with this victory," Davis said, "but we can't keep putting ourselves in this situations and expect to come back in the fourth quarter."