PHILADELPHIA – The furious fourth-quarter rally from Carolina's offense would have been all for naught if the defense didn't close out the Eagles.
The offense scored three touchdowns in 10 minutes, giving the Panthers their first lead, 21-17, with 1:26 left in the game. But that meant quarterback Carson Wentz and the Eagles had plenty of time with two timeouts to march down the field and escape with a win.
Said linebacker Thomas Davis: "It was on us to keep them out of the end zone."
The Panthers had reason to feel confident in this situation. Wentz was nearly perfect through three quarters, completing 23-of-27 passes for 281 yards and two touchdowns.
But Philly's first drive of the fourth quarter stalled at midfield. Their next drive resulted in a three-and-out.
"Some of the corrections we made on the defensive side coming out in the fourth quarter – some of the things (defensive coordinator) Eric (Washington) did a little bit differently really helped us," head coach Ron Rivera said without wanting to get into specifics. "I'm real proud of the way we bounced back."
All that said, one snap was all it took for Philadelphia to advance the ball 48 yards. Wide receiver Alshon Jeffery ran deep against cornerback James Bradberry, who was in a trail position and fearful of a touchdown strike, so he took a pass interference penalty at the Carolina 22-yard line.
"I was expecting something else and he ran a nine-route, so I pretty much had to chase him down and try to give us a chance," Bradberry said. "I knew they still had to score. They didn't have a touchdown, they weren't winning, so at the end of the day, we still had a chance to win the game. You've just got to move on."
Moving on is easier said than done when a capacity crowd is charged up and a top-notch quarterback is 22 yards away from the end zone.
"We had the big penalty right there, but there wasn't any panic," defensive end Julius Peppers said. "We kept our composure."
"We didn't blink," safety Mike Adams added. "We said, 'So what? They're not going to score. They're not going to score.'"
Safety Eric Reid nearly ended the game on the next play. Wentz was looking for his favorite target, tight end Zach Ertz, but Reid broke on the ball over the middle for what was initially ruled an interception. But after further review, officials determined that he didn't possess full control of the ball as he went to the ground. Reid and his teammates didn't see it that way.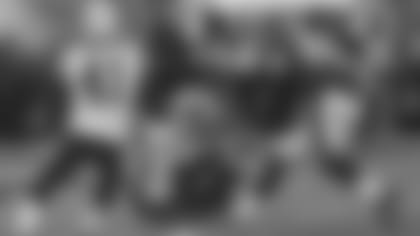 "That was a terrible call," Reid said. "I felt my arm was underneath it, and in that situation as far as I know they are supposed to stay with the call on the field if it's not conclusive."
"It was (an interception), for sure," Peppers added. "We know how those things go. It can go either way. We had the mindset that we'd have to go out there and get a stop."
An 8-yard rush by running back Wendell Smallwood set up third-and-2, and that's when Adams had his own opportunity to end the game with an interception. Wentz targeted Jeffery in the end zone, and the veteran safety nearly snatched it.
"If people had a heart attack, we apologize," Adams joked. "I should have had my pick. Went right off my chest."
The Panthers' defensive line didn't let Wentz get a pass off on fourth-and-2. Peppers stripped the ball out of his grasp as he tried to throw to Jeffery, who was open over the middle, and defensive tackle Kyle Love made the game-sealing fumble recovery.
"(Love) got good penetration up the field, I came underneath, collapsed the pocket and the quarterback really didn't have anywhere to step up," Peppers said. "Everybody was swiping at the ball, it popped up and we got it."
It'll be remembered as a historic comeback engineered by Cam Newton and Panthers offense, but in the end, a final stand from the defense was what was required to emerge victorious.
"We felt like it was our turn," Adams said. "No woulda, coulda, shoulda. We wanted to finish and close the deal."