It wasn't the Super Bowl.
I'm not trying to say a Week 3 game against the Bengals was even in the same stratosphere. Neither was Cam Newton.
But he's aware of the whispers that have followed him ever since he uncharacteristically didn't dive on a loose ball late in Super Bowl 50.
"I've been bashed before for not jumping on fumbles, so I just wanted to make sure, come hell or high water, I was going to get that fumble," Newton said Sunday.
If Newton hadn't dived for the fumble that bounced around near the Panthers' 25-yard line after he was strip-sacked by defensive end Carlos Dunlap, if Newton hadn't come out of the bottom of the pile with the ball, the Bengals would've been set up with excellent field position to try to tie the game at 28. Instead, the Panthers maintained possession and held on to go into the bye week at 2-1.
"It's a sneaky win for us, very big for our confidence going forward," Newton continued. "That was a good team that we played today, we understand that, and they were coming in extremely confident."
The 2-0 Bengals came in with the league's third-best rush defense. But here was yet another example of why early season stats are often products of small sample sizes. Led by Christian McCaffrey's 184-yard explosion, the Panthers piled up 230 rushing yards, or 89 more than the Bengals allowed in their first two games combined.
"We want to impose our will," Newton said. "We are a team that can attack a defense many different ways, and as we go about it as the game progresses, I see the body language of the defensive line and the body language of defenders and they're wearing down."
As the Bengals wore down, the Panthers continued to run. And run. And run. Twenty-four times in total for 120 yards in a second half when Newton threw just 10 passes, completing four of them for 32 yards. The damage he did with his arm was done in the first half when he went 11-for-14 for 118 yards and a pair of scores.
Yes, like all things right now it's just a small sample size, but the transition to Norv Turner sure seems to be working out for Carolina's quarterback.
"(Turner and I) spoke momentarily afterwards, and it's just keeping defenses off balance," said Newton, who also ran for two touchdowns. "Keeping a balanced run game, balanced pass game, taking shots when they're there, guys making contested catches, guys blocking on the perimeter, guys busting their tails all over the football field."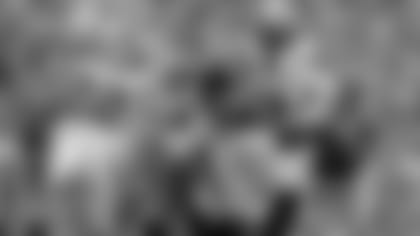 Before Sunday, McCaffrey's most carries were the 15 he had in a November win over Atlanta last season. So who saw him getting 28 against the Bengals, especially after he had just eight totes while catching 14 balls in Atlanta last week?
Certainly not Cincinnati.
McCaffrey's 184 yards were his most since he ran for 204 against Rice in his final game at Stanford. He ran up the middle and through tackles – things his doubters said he couldn't do. But he didn't score a touchdown.
"Hey, if we're scoring, I'm happy," McCaffrey said in his typical team-first tone.
But if there were an "assist" stat in football, McCaffrey would have had four. That's because he was a decoy on each of his teammate's touchdowns.
"Christian is good on the edges, he's good on the perimeter, he's good inside and he's good catching the ball. So he's somebody that if you're game-planning, you've got to make sure where he is and that opens stuff up for other guys," " linebacker Luke Kuechly said.
On Sunday that meant both times Newton ran in, it was after he faked a handoff to McCaffrey. It meant a lane opened when Newton again faked to McCaffrey before Devin Funchess caught a short slant in the end zone. And it meant the Bengals completely bought a pitch to McCaffrey to the right which opened up the entire left side for a throwback to C.J. Anderson.
"They move (McCaffrey) around a lot. He's a good check-down guy cause he can make (yards after the catch). So it's hard to keep up with him," cornerback James Bradberry said when asked what it's like to practice against McCaffrey.
"But that's what we have guys like Shaq (Thompson) for, to follow him around and try to keep him contained."
Added Thompson: "It's hard cause as a defender – if we're playing against us – probably the main point is Christian. You really forget about everybody else. Christian just allows a lot of people to open up."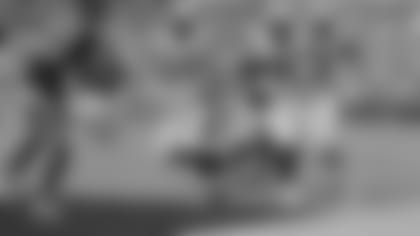 Anderson's touchdown was the most obvious example of how McCaffrey's presence can throw a defense off the scent of where the ball is actually going. Before that play, when McCaffrey went in motion and faked like he was receiving a pitch, he had 10 touches. Anderson had just one – a 6-yard carry moments earlier.
Signed in May to a one-year prove-it deal, many assumed Anderson would be the bell cow for whatever is left of the Panthers' traditional power run game. But he's had a limited role so far in 2018, which may have made his 24-yard score that much more sweeter.
"We've got so many weapons, that was an opportunity and I made the play," Anderson said.
Some running backs may have run past his entourage, but Anderson showed great patience letting the blocks develop ahead of him. First, there was left tackle Chris Clark pushing back cornerback Darqueze Dennard.
"When (Anderson) broke it and took off I was excited about it," Clark said.
Then right guard Tyler Larsen kept linebacker Hardy Nickerson away before center Ryan Kalil finished things off.
"Ryan came out of nowhere and just blew up the other guys," Clark said of Kalil's blocks on Dennard and fellow cornerback William Jackson.
"I'm fast," Kalil quipped when told he got down the field quickly for a 12-year veteran.
In all seriousness, though, it was perfect execution of what McCaffrey called "a perfectly designed play."
"The big coaching point is you have to sell it. You start getting too antsy and want to get out on the screen, then they sniff it out," Kalil explained. "But if you really sell it like a run, you sell it hard and trust that those guys will bite, it really does open up.
"You've got to take your time. There's a cadence, there's a count to how long that play has to develop. I thought we did a good job practicing all week and it played out just like it did during the game."
And remember that "assist" stat I brought up earlier?
Seems like Newton feels he deserves one for the effort by Anderson, whose nickname from Newton has now been revealed.
"That's one of the few times I wished I was mic'd up because I had some choice words for Uncle Junebug telling him (before the snap), 'You better get your fat 'explicit' in the end zone,'" Newton said with a smile. "He replies and he says, 'Don't talk to me like that, bro, I'm sensitive.'
"He catches it and scores, so I feel like I have to make a lot of people more sensitive so I can get their supreme confidence and focus."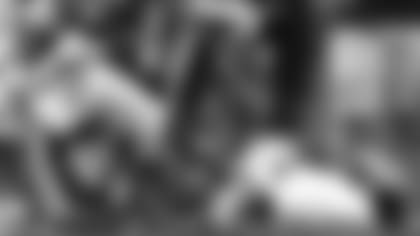 The much-anticipated matchup between cornerback James Bradberry and A.J. Green was short-lived after the Bengals' star wideout left three plays into the third quarter with a groin injury.
Before that, Green caught five of his eight targets for 58 yards. But 46 of those came on three receptions against defenders not named Bradberry in the slot.
"I feel like I did all right. I started off kind of slow, but I picked it up towards the end," Bradberry said.
"I could've given up a couple (more) catches. He helped me out by bobbling a little bit on some of those catches, so I can always play better."
After showing well against Green and Atlanta's Julio Jones in back-to-back weeks, Bradberry next gets Giants superstar Odell Beckham Jr. after the bye. But in what could be the makings of the kind of secondary the Panthers have never had, they're also getting plenty of production on the other side of the field.
"I feel like we're a good duo together," Bradberry said of Donte Jackson. "He's been making plays. He's been taking my game to another level, he just doesn't even know it cause I try to play up to his level. With three interceptions in three games, that's pretty good."
Think about this: Jackson's pair of picks Sunday matched Bradberry's output from each of his first two seasons.
"My time will come," Bradberry said. "I'm always good for two. These past two years I've always had two, so I'm good for two. I'm just waiting for it."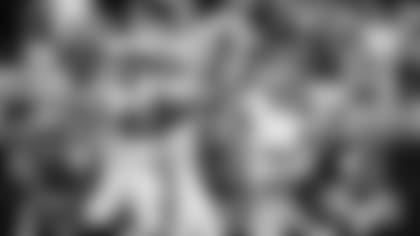 Jackson's interceptions plus picks from Kuechly and the surprising Efe Obada give the Panthers five through three games. It took them 10 games last season to get to five.
But the last one Sunday didn't come without some playful controversy.
"I'm kind of mad at Luke cause he jumped in front of me on the last one," cornerback Captain Munnerlyn joked. "I just knew, I said, 'Oh man this is gonna is an easy interception.' Of course Luke jumped in front of me and got the interception."
Munnerlyn's hurt feelings aside, it was a good sight to see from Kuechly, who caused some nervous moments early in the fourth quarter when he went to a knee just before the start of a series. It turned out he was just dehydrated on a warm and humid day. So after a quick trip to the locker room for an IV to treat cramps, Kuechly was well enough to come down with Munnerlyn's ball. Or the one he claimed to be his.
"You have to take that one up with Captain. (I was just) trying to get that ball out of play so we could finish out with a win," Kuechly said as Munnerlyn continued to make his case across the locker room.
"I ain't caught a pick in almost two years, and Luke wanted to take his good hand-having self and jump in front of me," he said.
"I'm going to be mad at Luke – until tomorrow."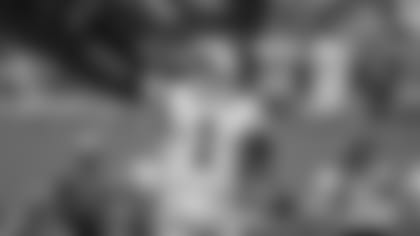 Is the upcoming bye, during the first week that NFL teams have byes, a good thing or bad?
"When we're rolling like this, getting a win like this, you want that momentum to keep going," Munnerlyn said before adding, "but at the same time, a lot of guys need it."
Coaches, especially, can waffle when asked about where their bye falls. It can be too early. Or too late. You never really know until you have hindsight. The only thing you can control is trying to head into it with a win.
"It makes life a lot easier, that's for sure," head coach Ron Rivera said. "It can provide some momentum. I really do, I really think it can. I really appreciate the way the guys took last week and practiced last week and prepared themselves for this game. There has been a lot of tough things going on here in the Carolinas, and I just really appreciate the way they focused. It was kind of a nice deal for our guys to go on break with a win."
And how they come out of it will be how they write the next chapter of 2018.
"When you've got a team playing confident like we're playing, it makes us hard to beat," Newton said. "But as we go into this bye week, we know we can't let off the pedal. We have to mend up, get guys back, get guys healthy, keep guys healthy that are healthy and be ready to go when we get back."