CHARLOTTE – Christian McCaffrey was piling up so many yards in chunks, it became difficult to keep track of his running total.
At his postgame press conference, quarterback Cam Newton needed a media member to tell him that McCaffrey finished with a career-high 184 yards on 28 carries.
"That's it?" replied Newton, seizing the opportunity to get some laughs.
"I got to get more," McCaffrey said with a smile when told about Newton's remark. "I guess that's what that means."
All jokes aside, this was a masterful performance from McCaffrey and the Panthers offensive line against a stout Bengals defensive front that had allowed 141 combined rushing yards in the two games prior, which was third fewest in the NFL.
McCaffrey predictably credited the men blocking for him.
"It starts up front," McCaffrey said. "The O-line and all the stuff that they've been through, to see what Coach Matsko had done with them and to see how they've come together through everything – no complaining, no anything – just go out there and ball."
The offensive linemen predictably credited the man toting the rock.
"I thought our group did good," center Ryan Kalil said, "but at the end of the day, (Christian) is a very, very good running back. He has great vision and great patience and he knows how to hit those holes."
Truth is, everyone involved in Carolina's run game deserves credit for what took place during Sunday's 31-21 victory over Cincinnati.
McCaffrey, who admitted he's bothered by comments from critics that suggest he can't run between the tackles in the NFL, was terrific in that area. He ran with power to grind out tough yards and used his speed to create big plays when he found daylight.
"He's not just a receiving back. He's a total running back," Newton said of the running back who caught 14 of his passes a week ago. "This is not a fluke, you know what I'm saying?"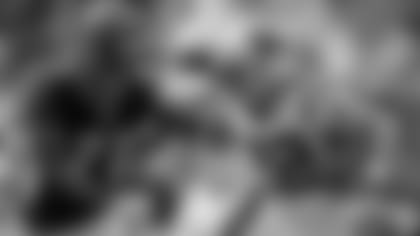 After struggling to produce on the ground as a rookie, many have been quick to label McCaffrey a "scat-back" who is more receiver than running back.
But the Panthers don't see it that way. And after a 184-yard performance, everyone can see why.
"His ability to run the ball inside, he doesn't get enough credit for it," head coach Ron Rivera said. "I thought some of the running plays on the inside were excellent, very well blocked.
"The offensive line did a stellar job."
Which brings us back to that "makeshift" unit up front, a group the Panthers ran behind a staggering 41 times for 230 yards.
"We thrive on being called a makeshift O-line," Kalil said, "and we'll just continue to do our jobs."
The Panthers offensive line – a group battered by injuries left and right, a group that features a starting left tackle recently signed off the street and two undrafted, unheard-of guards – is clearly fueled by the "makeshift" characterization.
"We hear a lot of, 'We're a makeshift front,' or whatever," left guard Greg Van Roten said. "We're professional football players. Just because we're not first-round draft picks doesn't mean we don't know what we're doing.
"We looked at it as a great challenge this week. And yeah, we wanted to show we're not this ramshackle bunch of guys – we're a good group."
The Bengals can attest to that.
"We want to impose our will," Newton said. "I see the body language of the defensive line and they're wearing down.
"Just another achievement for the offensive line to see them gaining confidence as the game goes on, to see them finishing blocks and allowing running lanes to open up."