CHARLOTTE -- What a time to be alive.
When it's all said and done, that famous phrase could easily become the NFC South's moniker if things continue to pick up the way they have so far.
In 2017, the NFC South was the only division to send three teams to the postseason. Three games into the 2018 campaign, every game is already starting to feel like a must-win.
Two weeks after falling to Tampa Bay in a high-octane season opener, the Saints - and the anti-aging Drew Brees - have won their last two games, both in nail-biting fashion. The Falcons, New Orleans' Week 3 opponent, fought hard in the overtime thriller but narrowly lost on a Brees goal-line leap - his second rushing score of the game. We all saw that coming, right? The loss further impacted Atlanta's standing within the notoriously tough division and, as they would find out post-game, a defeat again cost them more than a lower spot in the power rankings.
Meanwhile, the Buccaneers - a team that had seemingly captured lightning in a bottle - played below the standard they had set in the first two weeks in a Monday night loss to the Steelers, causing a nearly dormant quarterback discussion to bubble back to the surface. Week 4 will be the first week devoid of an NFC South division game, so building momentum will be important.
BUCCANEERS: Has the clock struck midnight on Fitzmagic? Against Pittsburgh, quarterback Ryan Fitzpatrick became the first player in NFL history to throw for 400-plus yards in three consecutive games, completing 30 of his 50 attempts for 411 yards. But, if you only watched the first half, you would have walked away with a much different narrative.
After putting the Bucs up 7-0 on a touchdown pass to tight end Cameron Brate, Fitzpatrick proceeded to throw three interceptions in the second quarter, prompting a collective facepalm from Tampa Bay's fans. Fitzpatrick would respond with two touchdown passes in the second half but the rally was too little, too late as Pittsburgh won 30-27.
In the first two weeks, Fitzpatrick couldn't be touched. Back-to-back wins against the Saints and Eagles earned him consecutive NFC Offensive Player of the Week honors and a level of respect and success that the perennial backup QB hadn't enjoyed in his 14-year career.
With a road game against the Bears and star linebacker Khalil Mack nearing, the biggest question surrounding Tampa's offense will be at the position Fitzpatrick had been admirably holding down during Jameis Winston's suspension. Winston's return to the team Tuesday re-opened talk of who head coach Dirk Koetter will start moving forward.
"We know what we're going to do. Both guys know what we're going to do," Koetter said Tuesday. "I hope everybody can appreciate it doesn't do us any good to tell our opponents what we're going to do. That'll work itself out as the week goes on."
Sunday afternoon in Chicago should be very interesting, especially for anyone who just tried on their new Fitzmagic shirt for size. Might want to have a Winston tee on standby, Bucs fans.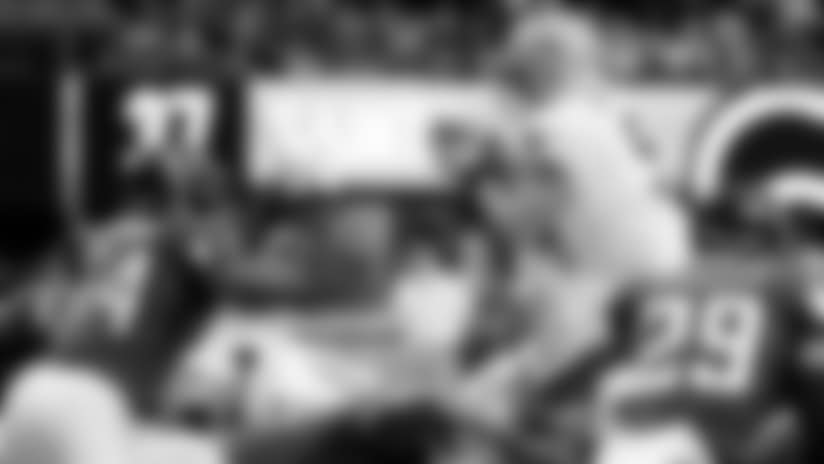 SAINTS: Brees' 396 passing yards and five touchdowns in the win against Atlanta indicates that the 39-year old ain't slowing down.
Brees is averaging 359.3 yards per game - 1,078 is his total on the season - and will take on a Giants defense that has given up the 13th-most passing yards per game (343.3). See where this is going?
The Saints' top-three ranked offense has combined to score 104 points through three games and is clicking at highly-efficient clip. Three different Saints caught touchdown passes from Brees while the veteran QB used his legs to score twice, including the game winner. Despite Brees punching in the Saints' two rushing TDs, running back Alvin Kamara further cemented his status as one of the NFL's top dual-threat backs, ending the night with 66 rushing yards and 124 receiving yards.
Wide receiver Michael Thomas also showcased his skills as one of the game's best offensive talents, finishing with 129 yards on 10 receptions. Thomas, Kamara and Brees have been a huge part of the offense's success this season, but defensive end Cameron Jordan is making a difference on the other side. Jordan came away with two sacks of Falcons quarterback Matt Ryan, tying him with Mack for the league lead with four.
Rookie running back Saquon Barkley has been one of the few highlights for a struggling Giants offense, but facing a Saints defense that has allowed only 84.3 rushing yards per game could give the 2018 second overall pick a "Welcome to the NFL" moment Sunday.
FALCONS: Not to state the obvious, but the Falcons are hurting - literally. They are currently the odd team out of a three-way tie atop the division and have seen several starters go down to injuries. In Week 3, the Falcons were without seven key players and, on the heels of the latest news regarding safety Ricardo Allen, things will get more challenging for head coach Dan Quinn against the Bengals in Week 4.
After tearing his Achilles, Allen will join safety Keanu Neal, linebacker Deion Jones and guard Andy Levitre on injured reserve. Jones is eventually expected back. The Falcons have also been without running back Devonta Freeman since the season opener, but Quinn said Wednesday that Freeman is "getting closer" to returning. Running back Tevin Coleman has served as the two-time Pro Bowler's stand-in and has had mixed results. After rushing for 107 yards against Carolina, Coleman reached only 33 rushing yards in Week 3.
Ryan piled up 374 passing yards and five touchdown passes in the losing effort. In the past two games, rookie wide receiver Calvin Ridley has broken out as an emerging target for Ryan. After being held without a catch in the opener, the first-round pick has a combined 11 receptions for 200 yards and four touchdowns to help himself stand out from the pack of 2018 draft picks.
Sunday will prove to be critical for the Falcons as a loss to the Bengals - who may be returning some injured starters of their own - would push them even further down the totem pole.