CHARLOTTE — Here's the thing about mixed emotions — they're mixed. That's why they're so tricky (and why emotions are best jammed deep down inside you, never to be let out without professional supervision).
Seeing Cam Newton come through the tunnel last week was something you'll never forget if you were there.
Seeing him take the field and do some Cam Newton things was also pretty interesting.
Seeing it not result in a win as the defense unraveled took some of the shine off the day, and left the Panthers in a tricky spot.
Falling to 5-6 took away some of the enthusiasm from Newton's dramatic return, and leaves a lot of questions to be answered. A defense that had played so well in the first 10 weeks suddenly has an issue, and talk of postseason chances really doesn't seem pertinent until they can tighten up some of the football.
On the other hand, it's Thanksgiving week, and regardless of the record, we all have a lot to be grateful for. So put on your stretchy pants, take a deep breath before your uncle who lives on the internet gets all wound up about whatever, and let's settle into a holiday edition of the mailbag:
----------------------------------------------------------
Hello Mr. Gantt! As a young Panthers fan, what can I look for out of Cam Newton? Will the Panthers extend his contract at the end of the year? — Brett, Myerstown, PA
Here's a secret: Nothing makes us olds happier than when the youngs ask us for advice or wisdom. Many times, we give it without being asked. Many, many times.
The best thing I can tell you about what to expect from Newton is to enjoy the moment. He's like music. Experience it. In fact, that's my advice with all things sports-related. None of this stuff is forever, and none of it is promised. So what the coming months and years down the line hold is a question for another day.
What I can tell you for sure right now is that Newton looks like a guy who can help a team win games.
And that he's picking things up fast. And there's a chance he gets even better in the coming weeks as he gets more and more comfortable with what they're doing as an offense. Since he's been here less than two weeks, he's probably working at about 25 percent capacity, in terms of the amount of the offense he's been given to digest.
But he's into it. He's putting in the time to get caught up. He's understanding concepts.
And, he can still play. That was evident Sunday, as he threw for a couple of touchdowns and ran for one.
No quarterback in NFL history has ever run for more touchdowns, or had more games with both a passing and rushing touchdown in the same day.
Every sign we've seen so far is that Newton's got a little game left in him.
There are a lot of unknowns, beginning with how he looks after playing a few games in a row. It's hard to tell what it's going to look like in a month, and how that impacts future decisions.
But the one thing I know for sure is that he's still one of the league's most eye-catching talents, with a flair for the dramatic, which makes it worth watching every moment. Even if I knew how the story ended, I'm not sure I want to rush to the last page.
----------------------------------------------------------
It's Thanksgiving week. I've got more of a series of comments rather than a question. I've always been a fan of Thanksgiving. It's hard not to look forward to getting stuffed on amazing food, seeing family you've not seen in a while (especially with many gatherings canceled last year), and enjoying some football. Always take time to give thanks for what you have. I'm thankful for family, for a Panthers game on Sunday that was much more fun to watch in person than past weeks, and for another certain football team in Boone that just keeps rolling. I'm also thankful for being the #17 friend of the mailbag if it came to pass. Happy Thanksgiving, everyone! — Shane, Charlotte
Normally I take a dim view of begging. Joey from Winston-Salem learned that the hard way a month or so ago.
But Shane knows what's up, including sucking up to the Old Guy by invoking Appalachian State football, which remains the finest college program in the state.
Thanksgiving is the very best of the non-religious holidays, and gives us a chance to be the best versions of ourselves. Gratitude can be an everyday thing, and it should be. If you live around here with our clear blue skies and bright red maple trees and have the bandwidth and time to talk about football on the internet, you are among the luckiest one percent of every person who has ever been born on Earth.
But when we take a particular day to remember how fortunate we are in so many ways, it needs to be appreciated. I love Thanksgiving. It's my favorite. There's nothing better than gathering together with the people you love, and taking one small second to appreciate everything you have. And to make sure you share it as you can.
So if you have the opportunity to support a local food bank in your area (Like Second Harvest here in Charlotte), that's incredible. And if you have friends who just moved here from out of town, or can't get back to their families, or know somebody who might be alone or going through a bad deal, invite them over. This ain't the week to be by yourself. Invite a stray over to your house for dinner. Having been the stray that gets invited over, trust me, it means a lot. This is the week to be with your people, whoever they are, and whatever that might look like.
And because Shane afforded me the opportunity to go all Charlie Brown in the middle of a football mailbag, yes, as a matter of fact he does get to be this week's Ask The Old Guy Friend of the Mailbag, and as soon as we have merch, he's getting the 17th piece of it behind me, Hal from Canada, Westray from Kershaw, Joseph formerly of Concord who's moving away for some big fancy job with a desk, Sunny from Houston, Adam from Germany, Long-Winded Donovan, Juan from Argentina, Wise Bob from Colorado, Newlywed Alex, Every Day Susan from Training Camp, Lynn from Lake Wylie, Scott With Good Taste in Music, Cory Who Got Right To The Point And Begged, Peter the Australian Punter Expert, and Brad The King of Date Night.
----------------------------------------------------------
Speaking of merch, we now have it! Check this out. I'm not going to lie; this is pretty awesome, and the people who made it possible have already been thanked profusely. They know who they are.
We'll be in touch soon for sizes for you first 17 OGs, and we'll get these in the mail so you can be the envy of all your friends during the festive period.
Also, I reserve the right to keep copying and pasting and adding to this ridiculous Old Lady Who Swallowed a Fly paragraph, and adding to it as I see fit. It's my bag. These are my people. Look upon them in all their glory.
----------------------------------------------------------
When Cam signed, it was reported that he wanted a multi-year deal, and the team wanted a two. Any idea why they settled on a one? Also, I know he's been back for two weeks, but what do you think happens with Cam beyond the next six games? — Greg, Beckley, WV
The current arrangement, with Newton signed for the rest of the season, offers something to each side.
The Panthers aren't on the hook for future money (which will be a factor moving forward), and Newton got a little more short-term cash in exchange for a short-term contract.
The Panthers guaranteed $18.8 million to Sam Darnold for 2022 when they picked up his option this spring, so that has to be accounted for in the future. Nothing to be done about it now. So managing the salary cap next year will take a little more dexterity.
In a perfect world, both sides would like any quarterback arrangement to be a little more long-lasting, but there's a lot to process here. Newton's really talented, but he was also available to any team in the league for nine weeks. That makes this a unique situation, in many respects.
And as I told Young Brett above, it's impossible to know what next year has in store for us. If Newton keeps performing as he has in his one-game-plus-nine-snaps, he could play his way into their plans. Or it could be an eight-week encore. We don't know yet.
The games and how he plays in them will matter.
----------------------------------------------------------
I am surprised each week to see the low percentage of plays for Stephon Gilmore. Against the WFT, he played 37 of the possible 67 defensive plays. Donte Jackson has played well this year, but I still think Gilmore is the best corner we have. He should be shadowing the opponent's best WR, in my opinion. Why do you think the Panthers are limiting him? — Todd, Wake Forest, NC
Part of it is, Gilmore's still 31 and coming back from last year's torn quadriceps. He's not even a year removed from it, and it was pretty extensive. He was out of football activity for a long time, and when older players roll in after long periods of inactivity, the chance of re-injury exists.
He showed in Atlanta he's capable of erasing a guy, as he did with Kyle Pitts late in the game. But he also wasn't dragging around with Pitts the entire time.
I think it's probably a little much to expect him to go head-to-head with an ascending receiver like Terry McLaurin (who is very good at football) every snap of the game. I think the smart play is to move him around, as part of an entire defense that is built to be able to confuse opposing quaterbacks with different looks.
Jackson had a rough day Sunday. But he's still pretty good. And A.J. Bouye is smart and more than capable. And CJ Henderson has some special traits, and Keith Taylor Jr. is better than a fifth-round rookie ought to be. So using Gilmore gives you the chance to create a greater whole.
That said, I expect his role will increase as the weeks go by. That's why he's here.
----------------------------------------------------------
Do you think that it was easier for WFT to defend because the field was shortened due to the limited playbook? Perhaps if PJ Walker had rotated as planned, the D wouldn't have been able to pressure as often, as they'd have to defend against the deep pass as well, rather than just keep stuffing the middle? Apologies for any incorrect terminology - first time submitting a question, and I really don't know what I'm talking about. Just my "expert" theory. — Megan, Concord, NC
Megan, I'd say you're ahead of a lot of people. It's a valid question.
They had Walker ready to play. But Newton was playing well, and there was never really a time when it seemed that it was getting away from him. And while Newton might not have had the full array at his disposal, it's also fair to say the offense wasn't a problem.
Generally, the way the Panthers have played this year, 21 points seems like something they'd take happily. Sunday, it wasn't enough, but the offense didn't seem particularly negligent.
----------------------------------------------------------
I'm sure this may be a bit boring with all the hype surrounding Cam, but I'm curious what does a normal day look like during the week for a player? Say a Wednesday? I'm sure they get up early and eat but when they get to the stadium do they watch film then practice, lift weights etc. What does a normal day for an NFL player look like? — James, Dallas, NC
It's only boring if you don't see the glory of going through a process. And that's what a schedule is, in essence, a snapshot of how you're going to get better each day.
The schedule is fluid, but they generally start with a team meeting around 8:30 a.m., followed by offensive and defensive meetings for a couple of hours. There's another round of meetings for special teams about an hour before practice. Lately, midweek practices have gone from around noon to 2 p.m. There's time after practice for players to recover, eat, or lift, and there is another round of meetings in the afternoon (offense and defense, with a separate period for special teamers afterward). Those meetings usually break up around 5 p.m.
It's a long day, and there's a lot of stuff jammed in there. This time of year, some guys are coming in before the sun comes up, and leaving after it goes down. And plenty of players continue the work when they leave, watching film on their own when they go home.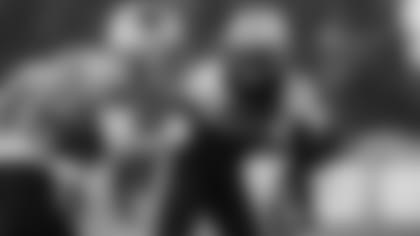 ----------------------------------------------------------
With all the talk about taking a quarterback of the future, or even a left tackle in the draft, don't you also think that linebacker has to be considered as well? I mean Shaq Thompson is playing great, but it just doesn't seem like Jermaine Carter Jr. is the long-term answer next to him. He's playing all right, but he just doesn't look like a lockdown guy who can be trusted consistently to make important plays. Besides depth looks like it's very highly needed at the position as well. — Eric, Brick NJ
I think a lot of this is a matter of perception. Carter's pretty good. He might not be a future Pro Bowler, but he's absolutely a solid player, the kind teams have to have. But by not being special, he almost stands out around here.
I say this sincerely, and not as a homer or a prisoner of the moment — not many cities in the history of the NFL have inside linebacker traditions to match the Panthers. In fact, name me one non-Chicago Bears team which can match Sam Mills, Micheal Barrow, Dan Morgan, Jon Beason, and Luke Kuechly at the position. I'll wait.
Having all those studs at the position over the years has changed the way people view it, and guys who are merely good tend to stick out. Carter's also an unrestricted free agent at the end of the year, and he'll have choices to make about his future as well.
Would the Panthers be better on defense if they had another Mills or Morgan, or etc. in the middle? Sure. Most teams would. Is it the highest priority they have? Probably not.
But it is on the list. Inside linebacker depth has been an issue since Denzel Perryman was injured during training camp, and they were out there with Carter and sometimes Thompson (he missed some camp with a soft tissue injury) and not much else of note. Perryman might not have been a great fit here anyway (they like their linebackers to carry more weight than he does), but they do need to add to the position this offseason, regardless.
----------------------------------------------------------
Zane Gonzalez has been one of the best kickers in the NFL over the last few weeks, which has been amazing. I could be wrong here, but it seems like even his touchback rate has gone up from his first couple of games. When we brought him in, the biggest concern with Zane seemed to be leg strength. Hitting that 57-yard field goal puts a lot of those questions to rest, but I was wondering, has there been a technique adjustment on kickoffs? — Dylan, Raleigh, NC
Gonzalez has been really good lately, though he didn't get to add to his streak of 16 consecutive field goals last week (scoring touchdowns is good, though).
And he certainly has been better on kickoffs.
After failing to reach the end zone on any of his six kickoffs against the Saints in Week 2, he's had touchbacks on 30 of his last 43 kickoffs.
Even with that 0-for-6 figured in, his 61.2 percent touchback rate is 11th among kickers with at least 30 kickoff attempts this year.
Special teams coordinator Chase Blackburn and assistant Mike Scifres did adjust his mechanics a bit, and the difference has been significant. Gonzalez isn't necessarily going to have one of the biggest legs in the league or anything, but he has gone from iffy on kickoffs to more than serviceable.
----------------------------------------------------------
How did Brady Christensen grade out against WFT? Can we get excited about him yet? — Andrew, Charleston, SC
If you put a lot of stock into PFF grades, pretty well.
We'll see whether he stays on the field, as left tackle-for-now Dennis Daley's left the last two games with injuries.
Christensen's a pretty good young player. I think you're not necessarily doing a third-round pick any favors if you anoint him to be the left tackle of the future before he plays. The burden of expectations can harm careers. But he's smart and aware, and when he gets stronger with a full offseason, I think he can be a good player. I'm still not sure which position he's going to play, but I think he's going to play one of them.
----------------------------------------------------------
Can our run defense improve quickly enough with the players on this roster or should we expect more of the same with what we saw from Washington yesterday? — TJ, Mooresville, NC
It has been good at times this year.
In five wins, they're allowing 56.4 rushing yards per game. In six losses, they're allowing 163.0 yards per game on the ground.
It's true that the Panthers are built for speed rather than power, and teams with enough capable offensive linemen and tight ends can muscle them up a little.
What they're doing on defense can work, though. And while it sounds like a corny football cliche (and it is), it takes all 11 dudes to defend the run. One cat out of place makes the other 10 look bad. I suspect the message that Haason Reddick was sending the other day is received, and that they'll be a little more locked in this week.
They better be, because the book is out on how teams will try them.
----------------------------------------------------------
Cam came back to play quarterback. Thomas Davis was working the sidelines as a photographer yesterday. What other former players can we bring back and what job could they do? I saw Jordan Gross walking around yesterday before the game. He looked great, but I don't think he's ready to step back in at left tackle without a few Thanksgiving meals and trips to the weight room. — Ryan, Pfafftown, NC
Jordan's certainly slimmed down a bit, and so has Washington assistant offensive line coach Travelle Wharton, which I captured when they caught up before the game Sunday.
There are actually a few former players hanging around the building at times. I can walk downstairs and run into Jonathan Stewart (who is working in the development office) and Brad Hoover (alumni affairs), and imagine a pretty decent company flag football team. It's also kind of wild to see Hoover walking down the hall carrying a lunchbox like the rest of us, but that's the kind of player he was, so it fits.
And having Gross and quarterback Jake Delhomme as part of the radio broadcasts keeps two of the franchise's legends around, so we can all hear their stories and get their perspectives.
I think it's neat for fans to see some of the old faces around, especially as the fan base grows up. The kids who were born the year the Panthers were (1995) are out of school and working and voting and having kids of their own, so the traditions are getting passed down from generation to generation. Walking the halls of Bank of America Stadium and seeing some old pictures of guys like Gross and Stewart and Hoover is still cool, alongside current players who are building their legacies in front of us.
----------------------------------------------------------
Hey Darin! I'm moving to Atlanta for work next month (I know - how do you move from Buenos Aires to Atlanta? Long story.), and I wanted some insight on Southern Cuisine. What makes it so special, and what are some things I HAVE TO try upon arrival? Thanks for being awesome! — Juan, Buenos Aires, Argentina
Wait a minute, Juan from Atlanta doesn't have the same ring to it. You're still one of my people, but it sounds funny. It does get us closer to running into each other once a year though, when the Panthers and Falcons play. Welcome.
This is going to get me a little sentimental, but if you waded through my ode to Thanksgiving up near the top, you know that's part of the deal.
Southern food is incredible. Largely because it's a celebration of communities. We're never closer than when we're around a table together, and serving each other (food or in general) is our highest calling. And every community has its own unique tastes, and finding them is one of the amazing parts about living here.
I love church food. Every year, the church I grew up in hosts a dinner in which we make chicken and puffy yeast dumplings cooked in huge black cast-iron wash pots over open fires. It takes an entire town's worth of people all day to make 60 pots of it, and at the end of the day you smell like chicken grease and smoke and you're exhausted and it's amazing. It's also delicious. And there are a thousand churches across the South just like St. Peter's Lutheran in Conover, with their own traditions that get passed down from generation to generation. Maybe it's a barbecue, or a fish fry, or a bean dinner, or something else. But church dinners are the best.
Also, the liberal use of animal fat in preparing vegetables. And deviled eggs. Eat a lot of deviled eggs. But it doesn't have to be full of lard or butter or mayonnaise to be good. Though that helps. But there's a connection to the land down here, and farm-to-table has been a way of life here since before that was a trendy restaurant description.
We can make you a list of actual restaurants by the time you get here, but every newcomer to Atlanta has to eat at The Varsity and one of the many Waffle Houses (scattered and smothered, by the way). But this is a longer talk for another day, because I'm hungry.
----------------------------------------------------------
That feels like a good place to leave it this week, gang, with one more note. I'm going to leave you with the greatest of all Thanksgiving songs, the one I'd always play in the car on the way to see family, and tell the kids, "Dad only wants to hear one song."
Of course, I probably should have put this closer to the top, so you could all join in the next time it comes around on the guitar. Oh well, you can always read the bag again, be thankful for what you have, and dream of the day you too could become a Friend of the Mailbag and get to wear this sweet T-shirt that at least one player and many friends have already asked me for.