CHARLOTTE — If there's anything clear from reading the mail this week, it's that the world needs more Christmas cheer. Or egg nog, maybe.
This has been a rough stretch for the Panthers, for sure. When you lose three straight in any fashion, fans are going to get a little cranky. And they are.
The Panthers knew this was going to be a project when they embarked on it last year. They did not anticipate being 5-8 right now, though, especially after starting 3-0.
There are things about the team at the moment that we suspected might have been an issue coming into the year, such as an offensive line that head coach Matt Rhule said in August at training camp was "like I-85, it's under construction."
There are things about the team we did not necessarily see coming, such as the Week 3 injuries in Houston which robbed the Panthers of Christian McCaffrey and first-rounder Jaycee Horn. Or, that they'd make a change at offensive coordinator before the season ended.
It's hard to tell at this very moment exactly how the next four weeks will unfold. But there are absolutely four more weeks, a stretch of games which on paper is one of the toughest in the league (with a day-after-Christmas home game against the Bucs, along with trips to Buffalo, Tampa Bay, and New Orleans). That's not ideal. But here we are, so let's dig into the mail and see what people are thinking.
----------------------------------------------------------
What's the pitch to the fans to get them excited for next season? I don't see much light at the end of this tunnel. — Jeff, Henderson, NV
It's hard when a team is on a streak to see anything other than the losses as they stack up. But when I was a much younger man in the business, a wise old man told me that you have to be careful evaluating individual players apart from their circumstances.
There are good teams right now with bad players on the roster. And there are teams currently struggling which have good players on the roster.
It's not necessarily my job to sell the hope, but the thing I know that the coaching staff believes is that the progress they've made on defense this year has been significant, and the kind of thing you build on. Regardless of what else happens this offseason, going into next year with a core that includes Brian Burns, Derrick Brown (who played well last week after a get-your-attention benching), Shaq Thompson, Jeremy Chinn, and Horn and CJ Henderson is a strong base. And a healthy McCaffrey, along with DJ Mooreand Robby Anderson, is a collection of skill-position talent that other teams would enjoy.
Is there a lot of work to do? There is. Is it without hope? I don't think so. My perspective has been either skewed or forged by the fact that I covered 1-15 in 2001 and 2-14 in 2010. It can always get worse. It has been.
----------------------------------------------------------
How confident are we in general manager Scott Fitterer to help the Panthers improve the offensive line over the next two years? O-line has been an Achilles heel plaguing the Seahawks for a long time with Fitterer being a key part of that roster build-out. Do we really feel he can turn it around here? — Mouli, Charlotte
It's a fair question, because the Seahawks have not been what you'd call dominant up front over the years.
What they have had is a defense with a lot of good (i.e. expensive) parts, and a quarterback among the best in the league (i.e. expensive). And by being good for the better part of the decade, they were usually picking in the range at which franchise left tackles aren't available in the draft.
At that point, it becomes a question of allocation of scarce resources, and the Seahawks have chosen where to spend.
What I have surmised about the Panthers' path forward is that this season has taught them that investing on the offensive line is beyond needed; it's essential.
Right tackle Taylor Moton's extension was the first step in that process. It will not be the last. They know they need to find starters, plural, next offseason. They will have the salary cap room necessary to spend in free agency. And they're looking at a top-10 pick in the first round at the moment, which will be another asset they can use in that quest.
Until they fix the offensive line, it's going to be hard to gauge the progress of any other part of the offensive operation.
Whether it's coordinator or quarterback or the running game, it's impossible to know if any of the rest of the plan is working until they can firm up the foundation.
Fitterer knows that. And so does everyone else in the building.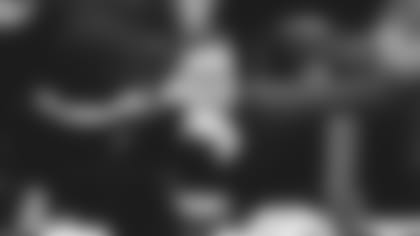 ----------------------------------------------------------
Hey! I've been a Panthers fan for about three years now (I'm 13), and I know it's way too early in the rebuild to be considering a playoff run. Not many teams go 5-11, and the next year goes to the playoffs. What we really need to focus on is getting a quarterback this offseason. — Jaelyn, Anne Arundel County, MD
Well, that too. Quarterback is definitely on the list too.
But it's refreshing to hear some long-range perspective from such a young fan. It's good to remember that building something sustainable can take time. Before the Steelers were really good for decades at a time, they were really bad. From 1933-1956, the franchise was 97-167-2 (.365 winning percentage). They started turning it around by hiring Buddy Parker (look him up, Jaelyn). They then stumbled briefly again before hiring Chuck Noll and setting the stage for five decades of consistent competitiveness.
The Panthers would love to find a long-term quarterback. Those are really hard to find, which is why they're expensive. The strategy has been to keep taking swings at it until they get it right. That will continue.
I mean, when Rhule mentioned Monday that Sam Darnold could be healthy soon and could be a possibility at some point this season, it just illustrates the commitment to exhausting every opportunity to evaluate players at the position.
----------------------------------------------------------
Do you think there is any chance Cam Newton is the Panthers' starting QB for 2022 or 2023? — Hunter, Mooresville, NC
After commending Jaelyn for perspective, it's time to bring the focus back to something more immediate.
Newton's under contract for the next four weeks. He's been up and down since coming back. The Arizona cameo was thrilling, the Washington game a glimpse of what he could be. Since then, it's been less good.
With everything he's been through, from the injuries to unemployment for the first half of this season, it's hard to imagine any team committing to him right now as a 17-game starter for any point in the future.
The Panthers owe it to themselves to explore every option at quarterback, from the young to the old. I think Newton can play his way into consideration over the next few games, or not. But he was brought in as an immediate fix, and it's probably best to consider all the immediate evidence we can before getting too far ahead of ourselves.
There's part of me that wonders if he'd ever go for a Taysom Hill-type role. He's shown he's still very dangerous as a runner. But that's a former league MVP, and a future Hall of Famer (in my opinion), so it's not a simple request. But he was also at home for the first nine weeks of this season, so that could change the way people think about things.
Regardless of the future, I know Newton still has the ability to make every eyeball in a stadium focus on him a few times a game. He's got the gift of playmaking ability, and dramatic timing. The next few weeks could give us a clearer picture of how often he can summon it.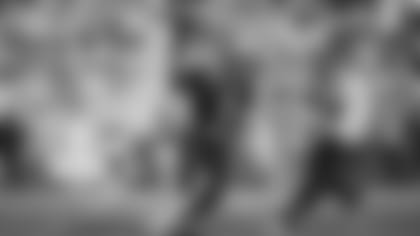 ----------------------------------------------------------
I watched the segment where Thomas Davis took pictures at the Washington game in Charlotte. Man, They looked awesome! Any chance he takes any more going forward? Or was it just a one-time thing? — Skip, Greensboro, NC
It was absolutely cool. And if you missed it, you can check it out below.
Sources close to me tell me there's a chance he returns to the sideline at some point, and with one home game left this season (Dec. 26), you'll have to keep your eyes peeled. It's possible.
The thing you love to see is Davis' passion, and as we've talked about here before, it's still neat to see the former players around. Regardless of their role, having a Thomas Davis or a Jonathan Stewart or a Brad Hoover or a Jake Delhomme or a Jordan Gross in the building is good for the community, because they're a part of our shared history as a city.
----------------------------------------------------------
Why is there no "Jordan & Jake" this week? — Omer, Wilkesboro, NC
It will return this week, I am assured by our crack broadcasting staff.
And as a way to make it up for taking the time to check, I'm making Omer this week's Ask The Old Guy Friend of the Mailbag. That means Omer will get the 20th piece of merch, now that we've started with me, Hal from Canada, Westray from Kershaw, Joseph formerly of Concord who's moving away for some big fancy job with a desk, Sunny from Houston, Adam from Germany, Long-Winded Donovan, Juan from Argentina, Wise Bob from Colorado, Newlywed Alex, Every Day Susan from Training Camp, Lynn from Lake Wylie, Scott With Good Taste in Music, Cory Who Got Right To The Point And Begged, Peter the Australian Punter Expert, Brad The King of Date Night, Shane Who Knows What's Up, Rich the Pickle Guy, and Eric with #SelfAwareness.
(Keep reading for merch updates closer to the bottom of this bag.)
----------------------------------------------------------
I'm sure you'll get a lot of questions about the offense this week, so I'll ask one about the defense. Which defensive group has the most room for improvement down the stretch? Also, on a lighter note, which group do you think has improved most from last year? Last year's defense was a lot worse than this one, and I think the team overall is trending in the right direction! — Grant, Gahanna, OH
This year has opened the door to questions about the run defense, and though that's an all-11-guys problem, we tend to look at the defensive line.
When your bookend pass-rushers tip the scales at under 500 pounds (Burns and Haason Reddick), people are going to try you against the run. We mentioned here a week ago that the development of Yetur Gross-Matos would be important to watch, since a bigger end who can set the edge of your run defense is helpful.
But I'm also curious to watch Phil Hoskins over the next four weeks as well. The "Big Snack" only played six snaps last week, but he's a guy who has some presence about him, and the kind of long frame that can make him effective up front. If he continues to improve, he could absolutely be a useful part for the future.
Which group has improved the most is not a hard question at all.
Last year, they were dragging unemployed cornerbacks off the street and starting them. This year, even after losing Donte Jackson and Horn to injuries, they can still put a cornerback group on the field that includes Stephon Gilmore, Henderson, A.J. Bouye, Keith Taylor Jr., and Rashaan Melvin. That is, in a word, better.
----------------------------------------------------------
I see Deonte Brown is active. Give him a shot. What are your thoughts? — Charles, Huntersville, NC
Considering the overall issues with the offensive line this year, there have been plenty of people wondering why Brown hasn't gotten more run.
The first part of the answer is that he's a sixth-round rookie. The second part is he was injured mid-season. The third part is, he's still learning the game, while learning to be a 330-ish-pound person instead of a 350-ish-pound person.
None of those are insignificant hurdles to clear.
The other factor that always comes into play with young players is that the natural instinct of all coaches (not particularly this staff, but the industry) to trust known commodities. As much as fans (and as an industry, personnel people) want to see new faces, coaches are always going to try to win the game in front of them.
To call it a tension overstates the case, but it's a fine line to walk between competing interests sometimes. My suspicion is that if we see Brown, it might be later this year, since Trent Scott was just activated and Michael Jordan could be back this week, giving them more experienced options. They know they'd like to see him, but the when is a more complicated question than you'd think.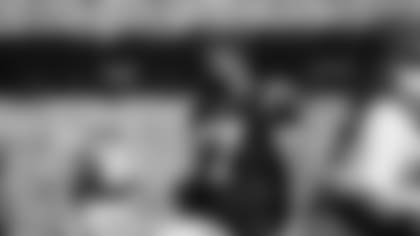 ----------------------------------------------------------
Washington's bench-gate related question here. Which stadiums have the best/worst facilities for road players, staff, or reporters? — Hiro, Tokyo, Japan
Most of the newer stadiums have a baseline of acceptability in terms of the working space, but there are some exceptions. The locker rooms are generally going to be smaller for visitors (your guest bedroom is probably smaller than your master, too), but some are particularly cramped. The visiting locker rooms in New Orleans are on the low-ceilinged and shall-we-say cozy side.
And while no one cares about reporters' working conditions, I can also tell you that since they renovated the Superdome and moved the press box to the top of the building — nearer the air conditioners — it's really, really cold up there. I'll probably take the same overcoat to Louisiana I take to Buffalo this week.
And it's also worth mentioning a couple of classic old dumps — Oakland and the old Candlestick Park. The biggest rat I've ever seen in my life was in the media dining area at the 'Stick. I swear I thought it was an opossum at first. And then it pulled a knife on me, before helping itself to something some reporter dropped on the floor. I was about ready to fight. I mean, that was a perfectly good hot dog. At the end of the day, I chose to be a considerate guest in his building. Discretion, valor, etc.
----------------------------------------------------------
This is more of a statement than a question, As a Panther fan living in Los Angeles, the latest Panther news is limited. But I do read in regards to game strategy and what the Panthers need to do, what they have to work on but, at no time is there any mention of having fun. FUN is the cornerstone of anything in life. If not, then what's the point! — Alfred, Tujunga, CA
There's an element of "read-the-room" here. When a football team is 5-8, no one wants to hear whether the players are enjoying themselves or not. Players and coaches are still human beings, however, with the need for interpersonal connection and to blow off some steam every now and then.
But nobody wants to hear about it. Partially because there are some fans who complain when they see athletes during their offseason enjoying themselves, since they think they should be studying their playbooks in March.
On the other hand, here in the Mailbag, it is not only allowed but encouraged to keep it light sometimes.
And I think within the constraints of this space, it's also worth pointing out the power of community.
The people who come here every week to read and ask questions are tied together in a very particular way, as consumers of the same product. And while we hear an awful lot about what divides us as people, the citizens of the 'Bag are connected here.
Among the original Friends of the Mailbag are Every Day Susan from Training Camp, and Peter the Australian Punter Expert.
Susan's a retired schoolteacher from South Carolina, who shows up to camp, as the name suggests, every single day. That's why she got one of the first prized T-shirts WHICH SHE WORE TO THE GAME THIS WEEK! HOW COOL IS THAT?
Peter lives on another continent, so he can't get here all the time. But he's as much a part of this place as she is. Peter was also just blessed with a beautiful baby boy named Kye, who is already training to become the Panthers' punter in 2042. And to be honest with you, I hope I'm around to cover his rookie training camp.
The thing these two people have in common? They're going to be lifelong fans of this football team, for better or worse.
This is like our little circle of life. I dig it. It makes it feel a little better around here, knowing there are people all over the world who care about the same stuff, and maybe to a certain degree, about each other.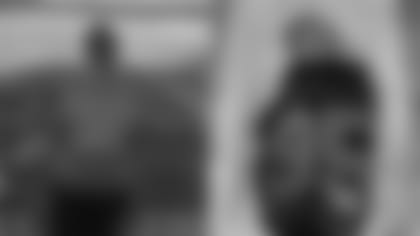 ----------------------------------------------------------
Did you hear the one about the guy in a bar admiring the buffalo head on the wall? Barman says: "That one killed my brother" "Oh, was he hunting it?" "No, he was sitting on the bench, and it fell on his head." — Paul, Charlotte
Try the veal, Paul. You're one of us.
----------------------------------------------------------
There's no better place to leave this 'Bag than some good buffalo humor. See you next week, provided I don't succumb to frostbite.