CHARLOTTE — Somebody accused me on Twitter the other day of putting lipstick on a pig.
To which I didn't reply (because getting down in the social media mentions is an excellent way to make yourself crazy some days): "The football team is 5-11. You don't need me to tell you it's pork."
This is a rough stretch for the Panthers by any standard, having lost six in a row. The enthusiasm of getting to 5-5 thanks to the return of Cam Newton in Arizona seems like a year ago. And since it's 2022 now, it kind of was. But it was in metaphorical time, too.
The Panthers have one left to play this week, and then it's onto an offseason, in which they'll likely be looking for a lot of stuff, including but not limited to a quarterback, offensive linemen (plural), and a lot of other things.
They'll be armed with a top-10 pick, some cap space to spend, and though many don't want to hear some of this at the moment, a decent base of young players to build with. We'll see how it shakes out. But at the moment, the mailbag was full of some interesting and timely questions, so let's dig into it.
----------------------------------------------------------
Darin, were you as shocked as I was that Steve Smith Sr. wasn't a finalist for the Hall of Fame? He's better than the receivers that made the list, and belongs in Canton. I mean, I'm excited about Sam Mills, but I can't get over Smith not making the cut. — Larry, Lancaster, SC
A little, to be honest with you. And to your next two points, I agree, and I agree. And to your fourth point, absolutely.
Before we wade into the Smith debate, it's worth taking a second to sing the song of Sam Mills. (And we will again.) This is his third year as a finalist, and his final chance as a modern candidate. From talking to some fellow voters, there's some real momentum for him, though he's far from a lock. He's absolutely deserving from a football perspective alone, but hearing people he worked with here, and in New Orleans talk about what he meant to the organizations drives home how special he was.
In short, he created something out of nothing, in a couple of places. A too-small shop teacher became the centerpiece of defenses that made the Philadelphia Stars a USFL power, the woebegone Saints one of the best defenses in the NFL, and the expansion Panthers a factor in just their second year. Even if you take away his "Keep Pounding" inspiration to the first Super Bowl team, his legacy is vast. But you wouldn't take "Keep Pounding" away — because it's the part of the mythology of this franchise, a thing that binds players and fans alike together through the years. Last week when we crowd-sourced part of the mailbag, there were multiple references to Mills. Shaq Thompson referenced him last week. Mills is part of the fabric of this city, woven into everyone who was played, cheered, or covered games here.
As for Smith, yeah, some of this stuff is hard to figure. But the first thing you have to remember is getting in the Hall of Fame is supposed to be really hard. And it is. Some of the best receivers in the history of the game have had to wait years for their ticket to Canton.
It took Terrell Owens three years. It took Isaac Bruce four years. It took Cris Carter and Tim Brown six. It took Andre Reed and Art Monk eight. So this isn't a sign of disrespect, or a slight to the players' legacy.
But I remain a little confounded by some of the choices. Before we dig in, let's compare the three receivers who made the list of finalists this year (Reggie Wayne, Andre Johnson, Torry Holt), along with two semifinalists who didn't (Smith and Anquan Boldin). I'm not including semifinalist Hines Ward, because let's be serious.
Games played: Smith 219, Wayne 211, Boldin 202, Johnson 193, Holt 173.
Receptions: Boldin 1,076, Wayne 1,070, Johnson 1,062, Smith 1,031, Holt 920.
Receiving yards: Smith 14,731, Wayne 14,345, Johnson 14,185, Boldin 13,779, Holt 13,382.
Receiving touchdowns: Boldin 82, Wayne 82, Smith 81, Holt 74, Johnson 70.
Super Bowl rings: Boldin 1, Wayne 1, Holt 1, Smith 0, Johnson 0.
Another not-inconsiderable factor is Hall of Fame quarterbacks played with. Wayne and Holt have a colossal edge there, catching balls from Peyton Manning and Kurt Warner instead of Jake Delhomme. (And Delhomme himself noted this difference to me the other day, when he too was in disbelief that Smith fell short.) That matters, and if 89 had the chance to play with Manning, I can't imagine what the back of his football card would look like.
There are a number of ways to slice up the stats, and I understand the cases for each of the other receivers, to a certain point. But I can't come up with a justification that Torry Holt is a better candidate, or a better receiver than Steve Smith. I just can't. Otherwise, each of the other four has not just a reasonable, but an outstanding Hall of Fame resume.
So does Smith. Assuming he eventually becomes a finalist, and if I'm still there to present his case, the first words out of my mouth that day will be: "Steve Smith is the toughest little so-and-so I've ever seen play football." Because it's true. His achievements would merit selection if he was 6-foot-2 and played at Southern Cal. Of course, that would have made him a first-round pick, too.
But he wasn't. He was this little 5-10-ish runt out of Utah who went in the third round and never let anyone forget it. He was supposed to top out as a good return man and maybe a gadget player. Instead, he became one of the most prolific receivers in NFL history, through the force of his own stubbornness and will, and well, anger. He stayed pissed off, at enemies real and imagined. And it drove him. He out-fought people, and he out-worked people.
He's calmer now. That is not always the same as calm. And his visible role on NFL Network will keep him in the public eye, and hopefully in the minds of voters.
He should eventually get his chance. He deserves that. The fact it wasn't this year might be a surprise to many, but not necessarily Smith. He's used to being overlooked. He's also used to changing people's minds, over time. That should happen in the coming years.
----------------------------------------------------------
Why did the Panthers pick up Sam Darnold's fifth-year option? I'm not really sure how these options work, so forgive me if I say something inaccurate. I know they had to either pick it up or let it go by a certain date, but why didn't they wait to see how he played and then give him an extension in the off-season if he excelled? Now we are stuck with his cap hit, and it seems like he will start next year despite not really showing enough on the field to justify that. I think the main reason he may come back is because of the money we have to pay him, but that was our choice to make that deal. Was this a mistake on the team's part, or do I not understand the fifth-year option? — Grant, Columbus, OH
The short answer is, that no team embarks on a plan anticipating it to fail.
Teams have to pick up the guaranteed fifth-year options on first-round picks heading into their fourth seasons. It provides cost-certainty if the player turns out to be as good as most people expect a first-round pick to be. The Cardinals didn't pick up their option on Haason Reddick when they had a chance after his third season, which is why he was able to come here as a free agent last offseason after a breakout fourth year in Arizona.
These options had to be picked up in May, the week after the draft.
And at that time, the Panthers had traded three picks (a second and a fourth in 2022, and a sixth last year) for a guy they thought could stabilize the position and push them forward. If they didn't pick up the $18.8 million option, they'd have had one year, three picks, and around $4.7 million invested in a rental. Had Darnold played to their expectations, they'd have had to sign him to an extension or franchise tagged him this year for a lot more money. Picking up the option turned it into a bet on a two-year, $23.5 million deal, and if he'd have played like a league-average quarterback, having one for less than $12 million a year is extreme value.
For a lot of reasons (some of which are on him, some of which aren't), it hasn't worked out that way. If they had it to do over again, they'd have likely chosen differently. But you don't get the benefit of hindsight when making such decisions.
On the other hand, they also picked up DJ Moore's option for 2022. That means he's securely under contract next year for $11.1 million. Still a big number, but for what Moore's doing on the field, well worth it.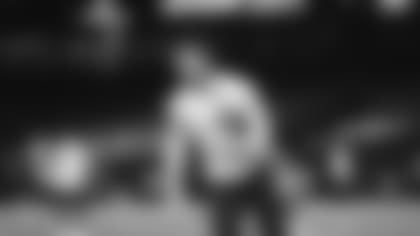 ----------------------------------------------------------
Do you think Carolina's offensive line is to blame for Newton's and Darnold's performance in the last several games? — Michael, Knightdale, NC
The Panthers have allowed 14 sacks in the last two games. It certainly hasn't helped.
But as with most questions in the NFL, when people want to assign blame to one particular thing, it's never that simple.
Are there times when the quarterbacks could have gotten rid of the ball quicker, to avoid a sack? Absolutely. Are there times when they had no chance whatsoever? Also yes. Neither quarterback is totally off the hook, because neither of them has thrown the ball that well lately. The fact neither of them has had a Christian McCaffrey to work with is also a significant factor.
But that line looks like what a line is going to look like when you use 12 unique combinations of starters in 16 games, and start 10 different dudes, including four different left tackles and three different centers.
As we've talked about here for a while, they know fixing the offensive line is a priority this offseason, and it's one they're committed to working on.
One can safely expect both free agent dollars and draft picks to come into play as they try to solve this problem, one which has needed to be addressed for some time. Extending Taylor Moton last year was a good first step, and drafting Brady Christensen and Deonte Brown last year added some needed youth. Now, they need to make what head coach Matt Rhule referred to as a "true investment" in the line this offseason.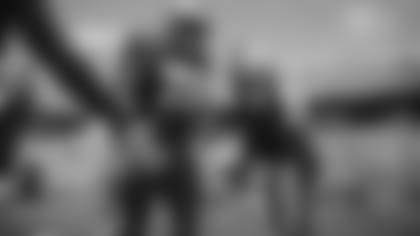 ----------------------------------------------------------
If the season ended today, the Panthers would pick sixth overall in the 2022 NFL Draft. (Also, a lot of people would be saying, "Why did the season end on the Tuesday of Week 18?") - Actually, maybe not given that this is the first year of the extended 17-game schedule. Anyways, are there any college players that you have your eye on at the moment? What are the positions that the Panthers should prioritize in Round 1 given that the draft capital from there is scarce. — Juan, Buenos Aires, Argentina
Love Juan, he knows my favorite draft-order joke, one which I don't get to tell for another 35 or so weeks after today.
And as we mentioned on the website this morning, that sixth pick could put them right in line for one of the top offensive tackle prospects such as Alabama's Evan Neal, Mississippi State's Charles Cross, or N.C. State's (and Charlotte's) Ikem Ekwonu. Knowing that quarterback will be an object of fascination, we might as well throw Pittsburgh's Kenny Pickett in there.
Juan also correctly notes that after that first-rounder, we're in for a bit of a wait — at least for now.
The Panthers currently have six total picks, after all the trades they made this year. After their own first-rounder, they have the Rams' fourth-rounder, the Jaguars' fifth-rounder, their own fifth-rounder, the Raiders' sixth-rounder, and the Titans' seventh-rounder.
But it's also worth remembering that the week before last year's draft, they had seven picks, and they ended up with 11 players. I don't think they're comfortable standing pat with what they have, and there's a lot happening this offseason that could change things.
Whether it's a trade in March, or free agency acquisitions, or deals in the week leading up to it, a lot can happen between now and the start of the annual selection meeting on April 28. And I kind of expect it to.
They have six picks right now. Feels safe to say that might not be the final number, one way or another.
Who's the best Darrin from the old "Bewitched" TV show, Dick York or Dick Sargent? — Ralph, Charlotte
Honestly, any question that involves a choice between an older thing and a newer thing, I'm almost always going to choose the original (There are exceptions, as Lenny Kravitz's "American Woman" is vastly superior to The Guess Who's).
But Dick York was one of those cats who acted with every inch of his body. He could more effectively express the shock and amazement at the daily surprises that come with being married to a hot witch, and he did it with an easy, goofy, relatable charm.
Also, did I say hot witch? I apologize; I pride myself on not being an objectifier of women. But having an intelligent, accomplished, capable, independent, and oh-by-the-way attractive sorceress on TV wiggle her nose and say "Oh, Darin," left a deep and lasting psychological imprint on a kid who grew up watching re-runs in the '70s — even if they did misspell his name on the script.
I'm sorry, where were we?
----------------------------------------------------------
Another rough loss that was hard to watch; these past few games felt like horror movies for us fans. One thing that doesn't get talked about much is the effect that Dan Arnold had on the offense. Even when the Cowboys were getting after Sam in Week 4, he still had a pretty efficient day aside from the two picks. Unfortunately, I can't see all the routes that Tommy Tremble and Ian Thomas run, so I'm not sure if they're just not drawing enough attention, or just aren't getting open, but do you think that Arnold was the key in this offense?
Also, what happened with the blue socks not being worn anymore? Do you think I can work remotely from NY for the team's jersey combinations? At least we can lose in style! — Adam, New York, NY
First off, I refer all hosiery questions to @PantherStatsGuy, as I can't keep socks together at home or at work. (But white socks do look fast, the way white cleats on baseball players do.)
As to the impact Dan Arnold leaving had, it's absolutely a non-zero part of the offensive breakdowns that began in the second month of the season. He was a reliable pass target, and a willing if not overwhelming blocker. They went out and signed him this offseason for a reason, and they could use someone like him this offseason as well.
Again, the offensive problems this year are too complicated to make about just one thing, but when Darnold was without reliable mid-range and check-down options like Arnold and McCaffrey after the first month of the season, it definitely changed the way they passed the ball. Coupled with the line issues and the instability that led to a mid-season coordinator change, it was one of many. But it mattered, for sure.
Also, Dan was good people. He bought a house here, and was ready to investigate his new community. He was thoughtful and curious, and also pretty good at football.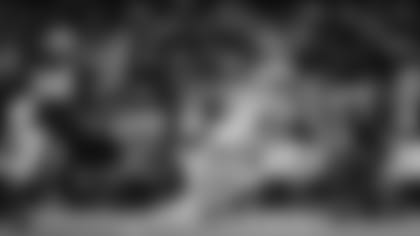 Well, at least they still haven't allowed that first drive touchdown, so that's something still. Now I know I've come here in different weeks asking your opinion on different roster positions such as linebacker, offensive line, and edge-rusher. Haven't mentioned quarterback yet, but I figured that could be saved as the end-of-season question. So my question this week is, how do you feel about the safety depth here? Now obviously, we all know what Jeremy Chinn brings to the team, but I'm curious about a safety on the other side, or just the depth behind him to be able to play a little more linebacker at times. — Eric, Brick, NJ
Yep, they ran that streak to 16 last week. It's among the statistical curiosities that the aforementioned @PantherStatsGuy is all over, in addition to socks.
It will be interesting to see what they do there. Veteran starter Juston Burris is among their free agents this offseason, and they will need to find someone to play alongside Chinn.
They've been giving Kenny Robinson a lot of looks lately, and depending on what else they do at cornerback, I could see A.J. Bouye making a move inside the way some aging corners have. Bouye is certainly smart enough to handle the role.
Either way, I don't necessarily see them making a big investment in free agency there.
Most of the resources will go to the offensive line, and until they find a solution at quarterback, they're going to keep swinging.
But they're also going to need to add some other items to the list, including linebackers and tight ends and possibly a defensive lineman (they have 22 unrestricted free agents, including Jermaine Carter Jr. and DaQuan Jones, among others).
I think with so much to do, finding another competent veteran, such as Burris or someone like him, is more likely the play than spending for a top-shelf guy.
----------------------------------------------------------
Hi Darin! No questions this week. It's really a message to tell you how much I (and I guess a lot of the fans also) appreciate your work and this mailbag - it's a great platform for the fans. A Happy New Year for the Old Guy of the mailbag but also for Will, Kristen, and Mick from the Happy Half Hour podcast, Jordan and Jake (another great podcast), and especially for all the people on the organization that make all this content come through. Certainly, there's a lot of people that we can't even imagine doing work, but we can appreciate their hard work in making a great experience for the fans following the team even in hard times/losing season. So thanks, and see you all in 2022! — Fernando, Sao Paulo, Brazil
Thanks, Fernando. It takes an entire team to put this kind of content into the world. There's a lot of interesting stuff coming in 2022, and we appreciate all you regulars, all across the globe, for joining us on the journey.
And with that, we'll leave you for this week, and get ready for Week 18 and beyond.