CHARLOTTE – Keep striving. Keep leading. Keep pushing. Keep parenting.
Jonathan Stewart offered words of gratitude and encouragement to those gathered for his retirement ceremony Wednesday at Freedom Park, and the leading rusher in Panthers history made it clear that he too intends to do all of the above in his post-football life.
The usually reserved Stewart spoke for more than 30 minutes and was overcome by his emotions on several occasions. That included when he thanked his family and especially his wife, Natalie, whom he said had helped him become "a better man, more of a man these last three years than ever been in my entire life."
Stewart also was emotional when talking about his extended family – his football family. About a dozen former teammates attended Stewart's sendoff, among them wide receiver Steve Smith, who on Wednesday flew back and forth from Nashville (site of the 2019 NFL Draft) to celebrate with Stewart.
"Your passion in everything is unmatched," Stewart said to Smith, fighting tears. "I just really appreciate you and the intensity that you bring to everything that you do, as a business man, as a family man and broadcaster – and obviously as a football player.
"I remember the first touchdown I scored in preseason against the Redskins (in 2008). I took off down the sideline [50 yards], and you were the first one there in the end zone to congratulate me. That's a dream come true, out of the gate."
Here's a sampling of what Stewart had to say about other people who cleared the path – literally and figuratively - for his decade of production in a Panthers uniform.
On general manager Marty Hurney, who selected Stewart 13th overall in the 2008 draft: "I want to say thank you for taking a chance on me and rolling the dice. When things weren't really certain with my health, you still believed in me. When there was a lot of doubt being talked about, you still believed in me. I'm forever grateful for the opportunity you gave me to play football for the Carolina Panthers."
On head coach Ron Rivera: "I want to thank Coach Rivera for helping me rise above the ashes. There was a time in my career where there was a lot of uncertainty, and I don't care how deep your faith is rooted in God, when you hit something difficult it's difficult for real. I've battled through a lot of injuries and tried to be the best teammate I could, and I just thank you for challenging me and helping me be the player that I always could be and for making football fun again."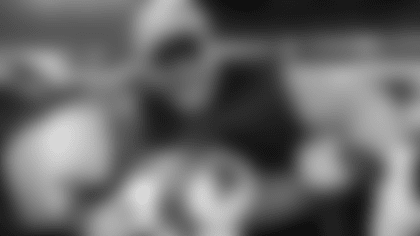 On recently retired center Ryan Kalil: "I just thank you for being big brother from the very beginning. … I love you like a brother, and I'm proud of you and everything that you've accomplished."
On running back Christian McCaffrey, whose emergence as a rookie in 2017 was followed by Stewart's release: "C-Mac, you're one-of-a-kind, bro. Your talent, no one has seen it before. … Just keep working, and by the end of it all you'll be right up here, too."
On linebacker Luke Kuechly: "Luke is my favorite player of all time. Your aggressiveness on the field is matched by your aggressiveness off the field in your philanthropic-ness. Your duty to serve, it's all in you.
"The first real interaction I had with Luke was in the training room. He came in there to grab a bag of ice or something and asked if anyone wanted something to eat from the cafeteria. I was like, 'What?' Usually people just go and get their own food. But he was like, 'I'm going by there. I can bring it back to you.' I almost got mad because he was being so nice. … You're going to be a Hall of Famer, I believe. Just keep striving for greatness."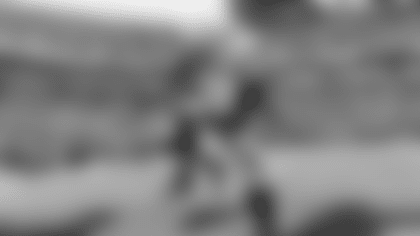 On quarterback Cam Newton: "You're a leader. Just keep leading. There was a time my last year playing here, the Falcons game where I had two fumbles that almost cost us the game in my mind. Cam, you came and picked me up with words of encouragement. That was the first time I was really in awe of your leadership."
On tight end Greg Olsen: "You were my confidence. Greg on a Wednesday would come up to me and say, 'Hey bud, don't worry about it. You don't need to practice. Just run for 150 on Sunday and we'll be all right.' "
On fullback Mike Tolbert, flanked by his two kids: "Thanks for leading the way, dog. And not just on the football field but on the sideline and with your family life. I look up to you."
On all his teammates through the years: "Without you guys, I definitely wouldn't have played 11 years. … Everyone that sacrificed their bodies, their time, their family time to get me to the stage I am now, retiring as a Panther: Everything I accomplished – my yards that I battled for - it wasn't just me; it was we. I just thank you guys for sacrificing and for sacrificing with love."
Steve Smith and Ryan Kalil were among the former teammates who were there to see Carolina's all-time leading rusher deliver an emotional speech at Freedom Park following a Play 60 camp.