SPARTANBURG — All offseason, the Panthers have talked about all the young talent they've collected on defense.
Wednesday morning, it was finally all together.
Defensive end Brian Burns was back on the field for the first practice of training camp, after spending the offseason program watching from the sidelines (sort of) as he recovered from shoulder surgery.
So for the first time, they could see free-agent acquisition Haason Reddick on one side and Burns on the other, and begin visualizing what 21.5 sacks, 37 quarterback hits, 23 tackles for loss, and nine forced fumbles (their combined 2020 stats) look like.
"I think he's going to bring out the dog in me," Burns said of Reddick. "It's going to be fun to have help, one, but it's going to push me to work harder and get there faster because I know he's going to. So it's great to have him on the other side."
The help might be useful to him, but Burns was already in a pretty good place.
The 23-year-old pass-rusher is what football scouts call an ascending player, and his 9.0 sacks don't begin to show the pressure he was creating last year. He had 21 quarterback hits last year, and was frustrated by a number of near-misses that could have pushed him well into double-digits in terms of sacks.
In fact, when the Panthers talk about Burns, there's almost a tone of amazement, because they see what he can be.
"Burns? I mean, there's not very many guys as athletic, and can do as many things as he can in this league," defensive coordinator Phil Snow said when asked what the ceiling was for the former first-rounder. "To me, his ceiling is really high."
Likewise, teammate Morgan Fox just shook his head when asked about Burns. Fox came from the Rams, where he played next to All-Pro defensive tackle Aaron Donald, so he knows about unique athletes.
"He's special," Fox said. "He's twitchy. He's got elite get-off, he's an elite player. There is no ceiling for him; he can be a real special player."
And for all that potential, the reality is that Burns has not put it together yet, even from a physical standpoint.
He played in college at 230 pounds. He showed up for the Scouting Combine in 2019 at 253. By the end of minicamp his rookie year he was at 243, and he's bounced around.
The shoulder surgery he had this offseason kept him from lifting the way he could, but Burns said he had put on 12 pounds of muscle this offseason, and that he felt "100 percent."
"One of the main goals during the offseason is to maintain, but I wanted to gain," Burns said. "I'm just going to keep gaining. I want to keep filling out my body."
All of that points to a player who is still developing physically, which could be frightening. The Panthers think he will eventually get and stay in the 255-pound range, which will add an element of strength to the quickness and burst he's already shown.
He wears a wristband that reads "Different Breed," and it's certainly appropriate.
"That's kind of a mindset," he said of the reminder on his left arm. "I feel like I'm different than other edges, other ends. I feel like I bring something different in terms of my bend, my flexibility, and my speed."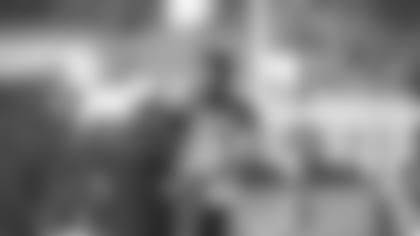 He said he'd studied his own tape, and found areas he believes he can improve, including "finishing at the top of the rush," and not playing for strip-sacks as often.
But you can tell he's eager to get started, because of the way he's been bouncing around.
While he was wearing a red jersey and not participating in OTAs, he'd still slide into defensive huddles, and would be there chest-bumping with teammates to celebrate interceptions or other big plays in practice.
That enthusiasm is contagious, and the fact he's still young and growing is a big part of the reason they're optimistic.
"We're super young, a lot of high-level guys," Burns said. "They really took a big jump last year, and I think we're can keep building on that. The leaders are stepping into their roles, and we have all this talent. I feel like there's a lot of energy, a lot of juice."
And having him back on the field adds that much more.