Here's all of the information you need to follow Carolina's Week 13 game at Tampa Bay on television, radio and the internet.
TELEVISION BROADCAST: FOX (WJZY in Charlotte). Kickoff set for 1:00 p.m.
On The Call: Kenny Albert, Ronde Barber, Sara Walsh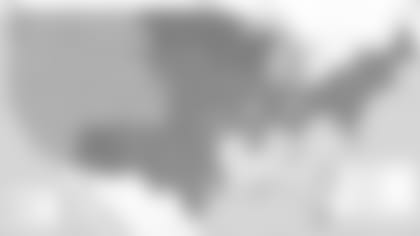 On The Call: Mick Mixon, Jim Szoke, Eugene Robinson, Kevin Donnalley
The Panthers Radio Network features eight hours of game day coverage, beginning three hours before the game and concluding with two hours of wrap up reaction and analysis after the game.
SPANISH RADIO BROADCAST: WGSP 102.3 FM in Charlotte. More information on our Spanish radio broadcast can be found here.
On The Call: Jaime Moreno, Luis Moreno, Jr.
ONLINE: NFL Game Pass is your way to access more football. NFL Fans can replay all regular season and postseason games on-demand. NFL Game Pass comes loaded with features including:
• Replays of all 256 Regular Season games on-demand, in HD and commercial free
• Replay the 2016 NFL Playoffs and Super Bowl 51, on-demand
• Thousands of games available in the game archive, dating back to the 2009 Season
• An expanded Super Bowl archive allowing you to relive classic Super Bowl matchups
• NFL Films and NFL Network exclusive content, on-demand, including shows like Hard Knocks and A Football Life
NFL Game Pass is available at www.NFL.com/GamePass, as well as on Smartphones and Tablets via NFL Mobile, and Connected TVs (Xbox One, Apple TV, PlayStation Vue) via the NFL app.
MOBILE: Fans can download the Carolina Panthers official mobile and tablet app for live scores and stats, news and more. Fans living inside the region of North Carolina and South Carolina can also listen to the radio broadcast for free on the app. To download the app, click here.
SOCIAL MEDIA: Follow the Panthers for live updates and behind-the-scenes content during the game.
ADDITIONAL PANTHERS TV PROGRAMMING:
(TV) Sunday, Dec. 2 at 10:35pm on WAXN (Ch. 64)
(TV) Sunday, Dec. 2 at 11:35pm on WSOC (Ch. 9)
"Game Day" Highlights Show
(TV) Sunday, Dec. 2 at 11:30pm on Spectrum News 14 (Ch. 14 & Ch. 200 on Charter/Spectrum). This version of the show is 1 hour long with the 2nd half hour being exclusive to Spectrum News 14.
(TV) Sunday, Dec. 2 immediately following the late news on WCNC/NBC (Ch. 36 / Ch. 6 on Charter/Spectrum). This version is 30 minutes long.
(Radio - Live) Monday, Dec. 3 at 6:05pm on WBT-AM/FM (1110AM/99.3FM)
(TV - Delayed) Monday, Dec. 3 at 7:30pm on Spectrum News 14 (Ch. 14 & 200 on Charter/Spectrum Cable)