CHARLOTTE – Before he signed as a free agent, Bruce Irvin and the Panthers never really got along.
The dynamic pass rusher kept sacking Cam Newton, predominantly during his four-year run with the Seahawks, who as we all know became a legit rival for Carolina.
"Kind of hated him when he was on Seattle," defensive tackle Kawann Short said with a smile. "He's one of those guys you hate when you're playing against him, but you're glad to have him on your team.
"Getting to know him, I'm glad to have him on our squad. He's going to bring the juice."
Yup, that's been on display during the first week of OTAs.
While most of the players on defense are adjusting to the new hybrid scheme, Irvin has hit the ground running. It's a defense he's very comfortable in. When he signed in March, Irvin said he knew it like the back of his hand.
"I'm an eight-year vet. For me, it's not hard to get acclimated," Irvin said following Wednesday's OTA session. "And coming to a familiar scheme makes it much easier."
Luke Kuechly also makes the transition easier. The All-Pro linebacker goes out of his way make sure new members of the defense feel at home, so it was no surprise to hear Irvin mention Kuechly's name when asked about the connection with his new teammates.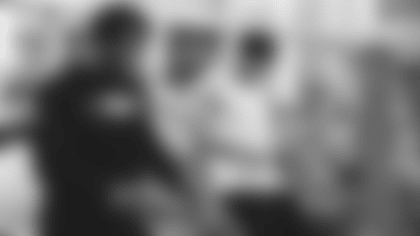 Irvin always knew Kuechly was one of the best linebackers in football. Now he knows why people always have such nice things to say about him.
"Luke is a hell of a guy. Hell of a football player but a better person," Irvin said. "He'll help you out any way he can.
"He sends me and my wife restaurant (recommendations) to go try every night."
Irvin is still getting to know his new teammates, but he isn't new to the NFL and is already taking it upon himself to mentor the young edge rushers on the roster and set the pace for the group day after day.
"It's May, but I'm trying to show these guys that I go hard in practice and put that on film," Irvin said. "That's my biggest thing is to lead by example.
"I couldn't ask for a better situation. Great team, a great vibe."