It's hard to find the words when you see Cam Newton and Taylor Deckard embrace in the 10-year-old's hospital room.
"You can't really explain it," Newton said.
That moment, captured on video and spread across the internet almost instantly, has so much power. It touched everyone who watched it.
And it most certainly touched the Panthers' star quarterback.
"When I first went in there, it was like he froze. Then he just hugged me," Newton said. "My heart falls for a child in any situation. I was just there to comfort him. I don't know man, it was just something that happened naturally."
Thanks to the quick work of the Make-A-Wish Foundation, word made its way to Newton that Taylor's Christmas wish was to meet him. Taylor, who is battling a severe heart condition, was in his hospital room in Atlanta Tuesday night when his wish came true.
"Taylor is kind of like a big deal. He created a big splash over social media," Newton said. "I tell you no lie – people were calling me out. A person of my magnitude, I pay people to make sure that my number is not easy to get. And I was hearing voice messages left and right. I told him his impact has been felt by so many people.
"I'm just thankful that I had the time to do it."
Newton spent a few hours at the hospital with Taylor. They played with Nerf guns and talked about their favorite foods (Newton was amazed that Taylor loves sushi).
"The energy that he had – it was so contagious," said Newton, using words that are so often applied to the reigning NFL MVP.
"Just as soon as everything was going good, just like that he didn't feel so good," Newton said. "As a person who has kids, I can only imagine as a father what Timothy is going through."
The strength displayed by Taylor's father, Timothy, had a profound impact on Newton.
"As a parent, looking at a strong man in Timothy, who will not let his son see him bat an eye. He has all the words to say, he has all the comfort to give. It inspires me because I have kids. I plan on being that rock for them," Newton said.
"Those are things that I put into my little daddy notebook."
Newton, as he prepares for the regular season finale against Tampa Bay, will be keeping tabs on Taylor as he prepares for surgery.
The season will end with Carolina missing the playoffs for the first time in four years, a disappointing conclusion for the 2015 NFC champions.
But moments like the one he experienced Tuesday night remind Newton of what's truly most important.
"I'm a person that people obviously look at and they critique – in a positive way or a negative way. But my job as a person is to always be a great example for those who are watching," Newton said. "I try to use my influence in a positive way.
"I was just lucky enough to be able to grant a person a wish."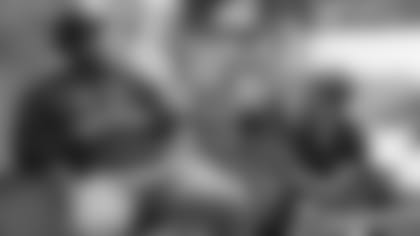 Photo courtesy of Auburn Tigers.