CHARLOTTE – For a guy who didn't practice all that much, Cam Newton sure didn't show it on Sunday.
Carolina's star quarterback was limited throughout the week as a result of soreness in his throwing shoulder – not exactly an ideal situation for the signal caller or his targets leading up to a game against Baltimore's top-ranked defense.
"I didn't have the practice reps that I wanted to have, and when I was supposed to practice, it got shut down because of the rain and whatnot," Newton said. "Just as much as pressure as it is to me, it's for everybody else."
Newton, as much as he values practice reps, isn't one to make excuses. And there were none needed after a sparkling performance in Carolina's 36-21 victory.
Newton finished 21-of-29 for 219 yards with two touchdowns and no interceptions for a passer rating of 116.9. He was also the game's leading rusher, carrying the ball 10 times for 52 yards and a touchdown.
When describing the challenge of facing Newton, Ravens defensive coordinator Don Martindale said watching the tape was like "watching scary movies all week."
Martindale watched a new one play out right before his eyes on Sunday. And while Newton was the star, offensive coordinator Norv Turner was the director.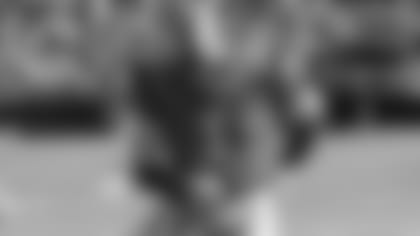 "Norv Turner did a great job scheming us up," Ravens head coach John Harbaugh said. "He forced us to put certain personnel groups out there and then he had counters for it."
Added Baltimore safety Eric Weddle: "It was tough to get in a rhythm with them, and Cam played an outstanding game. He hit some big throws and extended some plays."
Newton connected with eight different targets and Carolina used a wide variety of misdirection plays and personnel groupings to keep Baltimore's aggressive defense off balance.
"We possess a lot of issues for the defense and that's what this offense was built for," Newton said. "We have dynamic players all around the field."
Newton is utilizing those weapons well. His completion percentage (66.4 on the year) is on the rise after his best game yet in that department. And his red zone statistics are gaudy: nine touchdowns and zero interceptions with a league-best 120.7 passer rating.
Rivera was asked after the game if he sees a difference in Newton this season.
"I do, most certainly," Rivera said. "A little bit is also his maturation as a football player and understanding the game even more so.
"He has done a great job embracing the changes and the demands that (come with) this style of offense that Coach Turner has brought. I'm pretty excited about it."
Newton's decision-making is one of the things Rivera is most excited about, and one in particular stood out from Sunday's win over the Ravens.
On fourth down from midfield in the final seconds of the first half, Newton gave way to backup quarterback Taylor Heinicke. Newton, who has completed only four passes this season that have traveled more than 20 yards past the line of scrimmage, told Rivera he didn't want to strain his throwing shoulder with a deep heave.
Everyone looked brilliant when Heinicke connected with tight end Greg Olsen for 13 yards to set up a 54-yard field goal conversion as time expired.
"I thought it was a heck of a decision by him, just being upfront," Rivera said. "We have a little bit of a new normal with him as far as where we have to be smart."
If the new normal for Newton includes completing around 70 percent of his passes, maybe the Panthers don't need Newton to uncork long balls each week. It appears there is a new winning formula.
"It was a great team win for us," Newton said. "Today presented a lot of different issues, and we just have to find ways to win."