SPARTANBURG — Previously, the Panthers have worked Taylor Moton at left tackle in camp out of curiosity.
Monday, it was more out of necessity.
With Cameron Erving out of practice and nursing a shoulder injury and Dennis Daley excused to deal with a family matter, Moton got his most extensive work of camp on the left side.
"Yeah, I didn't notice Taylor, which is a good thing," Panthers head coach Matt Rhule said with a laugh.
The practice was a short one, around an hour and a half, featuring a lot of special teams work. But when they were in team drills, they were live, and working on two-minute situations and facing more pressure from the defense than quarterback Sam Darnold has seen so far.
Rhule often points out that he can't make a full and accurate read on a practice until he watches it on tape, and he said he looked forward to seeing how Moton held up against a more complex defense.
"This will be a good film, because it wasn't a ton of reps, but it was live," Rhule said. "First time we've seen him really in pads playing left tackle. I'd have to see the tape before I said anything, to be honest."
If Daley had been there, Moton might not have gotten as much work there. But Daley's also a versatile player who can plug into four spots, and Rhule referred to him as "a uniquely powerful guard."
With Moton at left tackle, Trent Scott worked at right tackle. And with Matt Paradis out with an excused absence, Pat Elflein worked at center, and Matt Kaskey worked with the ones at left guard.
— Wide receiver Robby Anderson was back at practice Monday after missing the last two practices to return to Florida to deal with a family matter.
It didn't take him long to remind people what he was doing before he left.
During team drills, he made a sensational one-handed grab, making it look as casual as he is.
The touchdown came after a play-action fake by Darnold, and was well-placed into a spot where only Anderson was going to be able to get it.
While a lot of receivers wear gloves to help things stick, Anderson said he's avoided them this camp, and will likely stay that way into the season.
"It's so hot; your hands get all wet," he said. "So I feel like if I can catch without gloves, I can catch with them."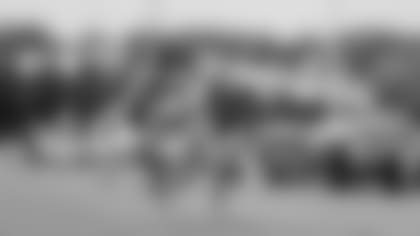 — The Panthers were without 12 players in practice Monday (between injuries and excused absences), the most that have been out this camp.
And at least one of those absences seems to be turning into a longer one.
Rhule said linebacker Denzel Perryman was "still a ways away," leaving them thin at linebacker.
While Shaq Thompson has returned to pair with Jermaine Carter (who had a nice interception Monday) in the first group, the depth has been challenged.
Backups Julian Stanford and Clay Johnston were each wearing red jerseys, and Johnston had a small walking boot on his right foot.
That's pushed rookie Paddy Fisher and newcomers Nate Hall and Jonathan Celestin into more practice reps.
In addition to the players mentioned above, wide receivers Keith Kirkwood and Krishawn Hogan, cornerback A.J. Bouye, safety Myles Hartsfield, running back Darius Clark, and defensive tackle Caraun Reid weren't practicing fully or at all.
— The Panthers got off to a later start Monday, pushing the start time to 10 a.m.
Rhule said the primary reason was to try to get a dryer field. Last week when the temperatures were cooler, the field was still dewy when they took it at 8:30 a.m., and they were hoping going later would provide better footing.
— Rhule said the team's vaccinated players (which is most of them) are taking an outing to Topgolf in Greenville, S.C. tonight, to get a little time away.