SPARTANBURG — The Panthers signed off on training camp with a flourish Thursday, with an impressive display on defense against the Ravens in their final joint practice of the preseason.
The Panthers had five interceptions on the day, swarming to the ball throughout the session.
Defensive tackle Daviyon Nixon had a pair of them, along with linebacker Shaq Thompson, cornerback Donte Jackson, and safety Kenny Robinson.
Jackson's pick of Ravens star Lamar Jackson was the highlight of the day, at least in terms of celebrations. Since it came in a period of end-of-game situations, it was effectively a game-winner.
As the entire defense followed Jackson to the end zone, Thompson ended up with the ball and punted it. The referees calling practice threw a flag on him for taunting, but it didn't ruin the mood.
"They were having fun," defensive coordinator Phil Snow said when asked about the penalty. "Now if they do it in game and it costs us, ..."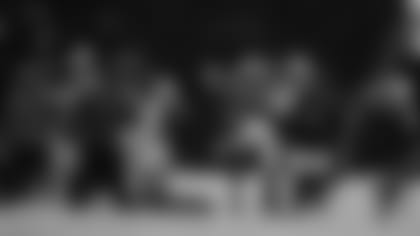 Since a flat performance in the first day of joint practices with the Colts last week, the Panthers' defense has played much better, setting the tone for the entire team.
And with the emphasis this offseason on adding playmakers to that side of the ball, it was the kind of performance they were looking for to close camp.
Panthers head coach Matt Rhule was focusing on the offensive field, as he's done throughout the practices with the Colts and Ravens, but he could tell the action was on the other side.
"We're definitely better than last year," Rhule said. "I was watching from the other field, but I kept seeing guys running down the field. I think they're playing much harder, much more physical. Some of the additions, some of the developing guys. I think the biggest thing we have to do on that defense is just eliminate the Hey-I-thought-this, I-thought-that. Get everyone on the same page. No excuses, elite accountability. Great defense means everyone does their job and trusts their teammates to do their job.
"That was a focus coming out of yesterday into today, and it looked like the results were pretty good."
— Rhule said the plan for Saturday's game was to play some starters, but some injuries might limit what they're able to do.
He said quarterback Sam Darnold and some starters would play "a small amount" against the Ravens, with the focus on more extended playing time in the preseason finale against the Steelers.
The starters didn't play at all last week in Indianapolis, so they want to get them a little work this week.
Rhule has maintained that the joint practice work is better than preseason game time anyway, since the starters got 50 or 60 snaps against the Colts without worrying about getting quarterbacks hit, and the Ravens provided another look.
"That's a full season's worth of different blitzes we saw today," he said after Thursday's work.
— As it pertains to Darnold, his workload could be limited because of the people around him.
Left tackle Cameron Erving got dinged up during practice, leading Taylor Moton to get more work on the left again. Right guard John Miller was also held out of Thursday's practice.
Wide receiver Robby Anderson didn't practice because of a hamstring strain, and fellow starter DJ Moore left about halfway through, after his back tightened up.
Rhule said Moore wanted to continue, but he pulled him out since he was hit in the back and landed awkwardly the day before.
"DJ is an absolute warrior," Rhule said. "A lot of guys would say, 'Coach, I can't go today.' He came out here and warmed up and he went, and then he got hit, and it tightened up on him. He wanted to keep going. He wasn't happy when I said, 'Hey, you're done.' DJ wanted to keep practicing. If we could all have DJ's mentality about getting on the practice field, that would be good."
By the end of practice, Darnold was left working with backup receivers and a makeshift line, and they don't want to risk putting him in a game for too long without a full complement of players around him.
— Defensive end Marquis Haynes Sr. was in a sling, and Rhule said he might miss a week or two with a shoulder issue, but that it wasn't overly serious.
Wide receiver Keith Kirkwood was cleared for practice, his first work since he suffered a concussion on Aug. 3.
— While the Panthers defense had a good day, it's still worth pointing out that the Ravens were not operating at 100 percent.
They were practicing without their two starting tackles, and five of their top six receivers.
That doesn't mean the Panthers defense didn't pull a good shift, but context matters.