Travelle Wharton had a classroom of students transfixed as he read Dr. Seuss's Oh, The Places You'll Go! (PHOTO: ANDREW MASON / PANTHERS.COM)
CHARLOTTE -- Behind the kind smiles and warm countenances lay an intractable message for students at First Ward Elementary on Thursday.
Read -- or face a dire future.
"My job requires me to read and understand a playbook, and if I don't, I'll be fired," counseled left guard Travelle Wharton to a classroom of fifth-graders as he sat down to read them Dr. Seuss's Oh, the Places You'll Go!
The book reminds its young readers that their possibilities are limitless -- but only if they pay due diligence and take advantage of the opportunities presented them, a primary lesson imparted as the Panthers visited to commemorate Read Across America Day.
"With the economy the way it is, the deciding factor in getting a job could be having a college degree," said linebacker Thomas Davis, who found himself with some younger students, reading another Seuss tome, Fox in Socks. "It makes a difference, so you definitely have to get an education."
Which is why three Panthers, a slew of TopCats and mascot Sir Purr were at this school on the fringe of downtown Charlotte.  They studied, they flourished, and now, they find themselves reading Seuss to their own children, just as his books were read to them decades earlier.
Green Eggs and Ham is Wharton's personal favorite, but he reads them all to his young daughter -- "whatever book she wants to read that night," he said.
Perhaps none could relate to the students more than wide receiver Kenneth Moore, a Charlotte native and Butler High School product who has already lived out Seuss's optimistic words, matriculating at Wake Forest, helping them to a first-ever Orange Bowl appearance and finally completing the circle by joining the Panthers last season.
"The thing is, I don't even remember somebody like a professional athlete coming back to my school and talking to us," Moore said. "I can understand and imagine how I would have felt if that had happened for me, so it felt great to come here, help these kids out and show them that there are things they can do to lead them to bigger things."
And as Moore has learned, those bigger things can lead you back home ... to a chance to guide the next generation.
"It means a lot," he said. "Being from here and knowing kids locally, it means a lot just to be able to show my face and show that I care about the kids."
Moore and the Panthers left more than just their words -- they left the words of Seuss himself, donating autographed copies of his books as well as six volumes of J.K. Rowling's Harry Potter series at the First Ward school library.  Anything to get the youngsters to stick their noses in books, because as Wharton, Davis and Moore can attest, success in adulthood depends on it -- even when your occupation is "football player."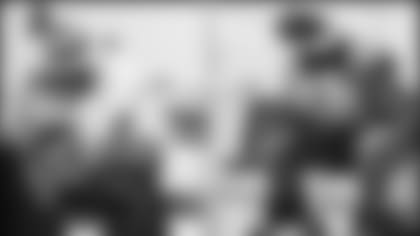 Moore and Davis joined Wharton in reading to separate classes.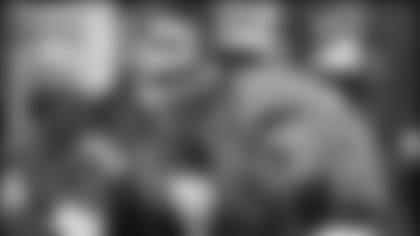 Plenty of high-fives and cheering students awaited Moore ...
... as they did for Wharton and Davis when they entered the school's cafetorium.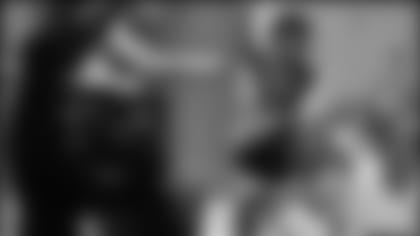 Sir Purr, a true Cat in the Hat, leads the cheers during a school-wide assembly.