CHARLOTTE — With a little luck, Christian McCaffrey is getting some rest today.
Because two weeks from now, his break is over.
The Panthers star running back has had the preseason off, at least in terms of playing in games. While they've wanted to see what quarterback Sam Darnold and the rest of the roster can do, they have a better idea of what McCaffrey's all about, so he hasn't played in any of the three preseason contests. He put on a uniform and went through pregame warm-ups, but was then kept safely on the sidelines.
That'll change once the regular season starts, as saving the tread on his tires in August implicitly means they're ready to put the rubber on the road in September.
Offensive coordinator Joe Brady acknowledged as much last week, saying they know they have an asset they want to use, but after playing without him last year, they know they need to be mindful of a valuable resource.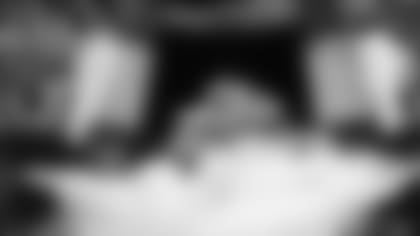 "You go into a game with a mindset on how many plays are in a game, and how many times you'd like him to get the ball, if there are 70 times you'd like him to get the ball 70 times. But the reality is we have to be smart with that. We're not sitting there with the mindset of, it's 300 touches, it's 400 touches, it's a game-to-game and situationally, we evaluate it week to week."
McCaffrey missed 13 games last year with a collection of injuries, but prior to that, he was what they call in the business a bell-cow back.
He had 403 touches in 2019, and his league-high 2,392 yards from scrimmage proved what he could do with a high workload.
McCaffrey joked last week that the best way to keep from taking abuse was to literally not take as much abuse.
"Yeah, I think just make people miss and not get tackled, that's probably the best way you can limit hits," McCaffrey said. "But nah, it's part of football. I think it's the best position on the field. The whole thing, and you've always got to stay physically prepared, mentally prepared, and emotionally prepared, and if you kind of check those boxes every day, and fall in love with your routine throughout the week and make it consistent, just be proactive with it."
Of course, this year presents even more of a challenge of budgeting how much to use him, since there's at least one more game. With the league expanding the regular season to 17 games, Brady said they have to be even more mindful of the workload.
That's why they tried to diversify the offense this offseason, bringing in tight end Dan Arnold to add a pass-catching threat at that position, and drafting linemen and wideout Terrace Marshall Jr.. and tight end Tommy Tremble to help give Darnold more weapons.
"That's a big reason why this offseason we felt like we've continued to develop that running back room, the tight end room, the quarterback position," Brady said. "Everybody else is going to help Christian McCaffrey, and help potentially take the load off Christian. If you ask Christian, Christian is ready for whatever it takes.
"Yeah, we're definitely cognizant of that and understand the situation. It's not a situation where game one, we're going to touch it 80 times and evaluate. We're going to be smart about it, but we're going to do everything we can to put ourselves in position to have success."