CHARLOTTE — Ryan Santoso is the only kicker on the Panthers roster at the moment.
That is not the same as having the kicking job secure.
Panthers head coach Matt Rhule said Saturday he was impressed with the way Santoso came in and hit a 52-yard field goal Friday night less than 24 hours after landing in Charlotte. But the process of finding their new kicker after releasing Joey Slye was ongoing.
"As of today," Rhule replied when asked if they were proceeding with the expectation that Santoso was the guy. "Just like everyone on our team he's got to, ... He's only been with us for one day.
"What he did yesterday was really hard, to come in, a new operation and go out there and made his kicks, and we're excited to see where he's at. But he'll compete and we'll take the next several days to evaluate him and see if he's our best option."
The Panthers gave a conditional seventh-round pick to the Giants in exchange for Graham Gano's former backup, but the condition is that he's on the regular-season roster for two games. That basically makes this a free trial period, and if they want to go with someone else soon, it won't cost them anything. That makes the coming week of practice important for Santoso as he gets to know new teammates.
Asked why the team potentially gave up an asset instead of adding someone after cuts, Rhule said Santoso was a player they wanted a closer look at.
"We felt like he was the option we wanted," Rhule said. "We had seen enough to know that he was the guy we wanted to bring in here for a few days and see if he's the right guy for us. For him to get off the plane basically, with a whole new operation, and make a 52-yarder, I thought that showed tremendous moxie from him.
"So we just felt compelled that he'd be the guy we take the first look at, so he's here, and we'll see how he does the next couple of days."
That's far from giving a man his own parking place.
— The news must have been relatively good on wide receiver Shi Smith, after he left last night's game with a shoulder injury. After describing it as "significant" in the moments after the game, Rhule offered a more optimistic note Saturday.
"He'll be out not too long, hopefully," Rhule said.
Smith has shown enough in camp to suggest that his spot on the 53-man roster is secure. Teams still have unlimited use of returning players from IR after as little as three weeks this season, but players have to be on the initial 53-man roster for that to happen.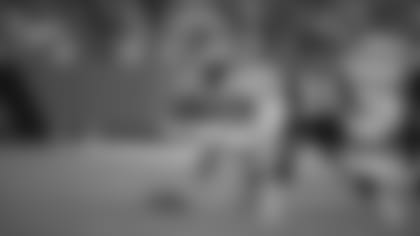 — While Rhule wasn't getting into too much detail about his plans for the regular-season opener against the Jets, he did seem confident in sticking with his offensive line as presently constructed.
They started Cameron Erving at left tackle, Pat Elflein at left guard, Matt Paradis at center, John Miller at right guard, and Taylor Moton at right tackle against the Steelers, and that will likely be the lineup in the opener.
"If we played today, those would be the five we put out there," Rhule said.
While rookie Brady Christensen played more at left tackle in the second half against the Steelers than he had practically all of training camp, Rhule said they still see his future at right tackle or guard.
— The Panthers still aren't particularly deep at linebacker, but Rhule said the team had some "sneaky, hidden depth" at the position.
He specifically mentioned Frankie Luvu's ability to play inside as well as out, or Marquis Haynes Sr.' ability to move from defensive end to outside linebacker, or safety Jeremy Chinn's ability to come up as a factor when they look for the five or six linebackers they'll carry into the regular season.
That said, they're still likely looking for some help at inside linebacker, and that's a spot where it's generally easier to pick up someone with experience.
— Players will have Sunday off, and return to practice Monday. The team still has to make 17 cuts (plus moving cornerback A.J. Bouye to the reserve/suspended list for the first two weeks of the regular season) to get to the regular-season limit of 53.