CHARLOTTE – Teddy Bridgewater said he's approaching the offseason as if he's the Panthers' starting quarterback in 2021 — as he should.
Head coach Matt Rhule said he wants to make the whole offense better, and hesitated to make any global declaration about anyone's job status — as he should.
On the first day of a long offseason, the questions about the future of the most important position on the offense were as central as they should be for a team that finished 5-11 and has the eighth overall pick in the 2021 NFL Draft.
Rhule was frank, acknowledging that Bridgewater "hasn't played his best ball" the last month. Rhule mentioned the knee injury that happened in the second half of the second Tampa Bay game (though Bridgewater hasn't been on the injury report since Week 12), but also emphasized the need for improvements beyond the one guy.
"Teddy has to have a tremendous offseason," Rhule said. "It's been a long time since he's played an entire year. And part of being a quarterback in this league is being able to withstand the physical toll of the season, and playing your best football at the end of the year. I don't know that I've seen that from him, so my encouragement for him has been to have a great offseason.
"I think we'll see what happens moving forward. Teddy's here, I have a lot of respect. I believe in what he can do, I've seen glimpses and flashes of us as an offense looking really good. I think we need to get Christian (McCaffrey) back. We need a run game we can rely on. We need more consistency in things we ask them to do.
"In regards to draft and players and all those things, we'll look at every opportunity to have the best we can have at every position, and that includes quarterback."
That's a long way of saying, "Ask me later," though many are already making the connection between a top-10 pick and the inevitability of a young and pedigreed quarterback joining Bridgewater here.
And it's also reasonable. Bridgewater's salary falls in the middle of the pack among quarterbacks, so he's not expected to be a guy who carries a team on his own. He's a facilitator. His 69.1 completion percentage was fifth in the NFL (trailing Aaron Rodgers, Drew Brees, Deshaun Watson, and Josh Allen), but his 92.1 passer rating was 22nd in the league. His 3,733 passing yards were good, his 15 touchdowns need to be better, especially considering only one of those came in the fourth quarter.
He's clearly not a player they're eager to discard, but the message that he needs to improve was equally clear.
For his part, Bridgewater said he's trying to take things step-by-step, but his goals remained consistent.
"Who knows what tomorrow will bring? So from there, I just approach that situation when it comes," he said. "It's one of those deals where this is my team, and I'm going to continue to conduct myself that way.
"We have a great group of guys in that locker room who look toward me for leadership. I just want to continue to do a great job of being the leader I can be, and everything else will fall into place."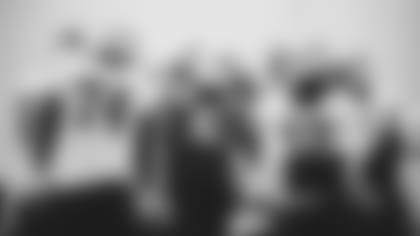 Bridgewater did not specifically address the part of the question that concerned whether he'd be willing to mentor another young quarterback, though that one enters the realm of, "What's he supposed to say?"
Despite the late struggles, Bridgewater still has the support of players around him, and one of the most important pieces for potential offensive improvement was firm in his response.
Asked if he'd be confident entering next year with Bridgewater at quarterback, McCaffrey replied: "Yes, I would."
"And I think Teddy's a great leader," McCaffrey continued. "I think for me, that's one thing I notice is poise. Through good times and bad times, he's poised, he's always trying to get better. He corrects his mistakes and moves forward, and he's a great leader."
Rhule wasn't ready to commit to anything, a reasonable position on the day after a long season. And with many questions coming his way, he tried to make it as clear as possible.
"I don't know that I'll ever answer that with a resounding yes at any position, I so believe in competition," Rhule said. "That said, we're just going to have to wait and see. I believe that Teddy's going have a tremendous offseason and come back and be ready to go."
And on the first day of the offseason, that's the only logical place to be.
View photos from the Panthers locker room as players swap jerseys, sign gear and clean out their lockers after the 2020 season.